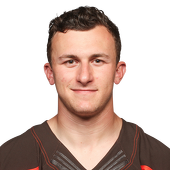 Own

11%

Start

2%

QB Rank

NR
Player News
The Dallas Police Department has reopened its investigation into an alleged domestic violence incident committed by Manziel last Saturday morning. On Friday, the department received a complaint of the alleged assault, spurring a renewed effort to determine if anything criminal occurred during the encounter. As the listed suspect, Manziel could now be facing legal concerns in addition to any discipline that the NFL may hand down.

Manziel won't be charged by either the Fort Worth or Dallas police departments in connection to an alleged domestic violence incident from Saturday morning, Nate Ulrich of the Akron Beacon Journal reports. Manziel's exit from NFL circles seems to be more assured by the week, especially after details emerged from his most recent brush with the law. On Saturday, an argument with an ex-girlfriend turned into a harrowing experience in which he "restrained" and struck her multiple times across two separate jurisdictions. Eventually, he ran from her residence, but not before police were called and a helicopter dispatched in search of the quarterback. Although he has avoided criminal charges, the NFL is investigating the matter to determine whether discipline is in order.

Manziel will be released by the Browns when the new league year begins on March 9, Ian Rapoport of NFL.com reports. Manziel added to his long list of off-field issues this past weekend when another domestic disturbance resulted in the authorities being called in to investigate. The Browns' front office has now officially had enough of Manziel and the distractions he brings with him and will opt to release him after just two seasons in Cleveland. However, the Browns cannot make the move official until the new league year begins in March. Now that Manziel's tenure in Cleveland has come to a close, it will be one of the stories of the offseason to see whether the embattled former Heisman Trophy winner can turn things around and convince a team to give him a second chance.

Fort Worth police released the full report on the incident involving Manziel from Saturday morning, which states that Fort Worth police are working with Dallas police to determine whether a criminal offense occurred, though there has been no arrest to this point. The new information is somewhat convoluted but concerning in any case. The report states that a call was made alerting police to a potential assault, though upon arriving at the location police only located a woman now identified as Manziel's ex-girlfriend, who apparently was not the caller. The woman said that she was involved with a disturbance with her ex-boyfriend (Manziel) earlier in the evening, in Dallas, though she evidently did not cooperate with Fort Worth police further. The Fort Worth police forwarded the report to the Dallas Police Department, and the matter appears to be in their hands at this point. The woman otherwise told Fort Worth police that she was concerned for the well-being of Manziel, but police eventually determined that he was in no danger. It sounds like another very messy situation for Manziel, whose presumed exit from Cleveland might be hastened as a result.

Police filed an information report regarding a dispute between Manziel and his girlfriend Saturday morning, NBC 5 Dallas/Fort Worth's David Watkins reports. According to Watkins, police were called early Saturday morning to look into a dispute between Manziel and his girlfriend, but there was no arrest made. It's not clear at this point what any of the specifics of the situation were, but either way this is more bad attention for a player who has no PR capital left. More reporting on the matter figures to be available in the near future.
Recent Tweets
If Johnny Manziel wants help, NFL is ready to give it (from @AP) https://t.co/uqzGDkg5dS

Roger Goodell Asked About two #Browns -- Josh Gordon and Johnny Manziel -- at the Super Bowl https://t.co/NyN58P4gUf https://t.co/PFIC2QB3La

REPOST: Johnny Manziel's father worried quarterback self-destructing (from @AP) https://t.co/naLxuNoYCZ
Completed Games
WK
OPP
PAATT
PACMP
PAYD
PATD
PAINT
RUYD
RUTD
FPTS
1
@NYJ
24
13
182
1
1
35
0
15
2
TEN
15
8
172
2
0
1
0
18

*

3
OAK
0
0
0
0
0
0
0
0

*

4
@SD
0
0
0
0
0
0
0
0

*

5
@BAL
0
0
0
0
0
0
0
0

*

6
DEN
0
0
0
0
0
0
0
0
7
@STL
5
4
27
0
0
5
0
1
8
ARI
6
3
12
0
0
1
0
0
9
@CIN
33
15
168
1
0
31
0
15
10
@PIT
45
33
372
1
1
17
0
20
11
BYE
-
-
-
-
-
-
-
-

*

12
BAL
0
0
0
0
0
0
0
0

*

13
CIN
0
0
0
0
0
0
0
0
14
SF
31
21
270
1
1
15
0
16
15
@SEA
32
19
161
1
1
17
0
12
16
@KC
32
13
136
0
1
108
0
14

*

17
PIT
0
0
0
0
0
0
0
0
PROJECTION
79
43.8
594
2.6
2.7
33.1
0.3
31.7
Scheduled Games
| WK | DATE | OPP | OPP RANK | OPP FPTS |
| --- | --- | --- | --- | --- |
Career Stats
| Season | CmpPct | PaYd | PaTD | PaInt | RuYd | RuTD | FPTS |
| --- | --- | --- | --- | --- | --- | --- | --- |
| 2015 | 57.8 | 1500 | 7 | 5 | 230 | 0 | 120 |
| 2014 | 51.4 | 175 | 0 | 2 | 29 | 1 | 13 |
| 3 Year Avg | 51.4 | 175 | 0 | 2 | 29 | 1 | 13 |
| Career | 57.0 | 1675 | 7 | 7 | 259 | 1 | |
Depth Chart
| | QB |
| --- | --- |
| | |