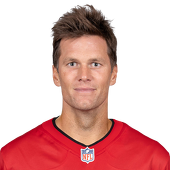 Own

100%

Start

80%

QB Rank

9
Latest News
Brady completed 23 of 42 passes for 280 yards and three touchdowns in Sunday's 30-24 overtime loss to the Broncos. Brady faced a tough defense in the snow, with a depleted offensive line and receiving corps only making things more difficult. Even worse, the Patriots lost Rob Gronkowski (knee) in the fourth quarter, though initial signs suggest the injury isn't too serious, according to NFL.com's Ian Rapoport. Brady still did more than enough to keep his owners happy, albeit with a completion percentage under 55 for a second straight week. Even with the continued injury concerns, Brady will be one of the top options at his position for a favorable Week 13 matchup with the plummeting Philadelphia defense.

Brady completed 26-of-42 passes for 334 yards with two touchdowns and an interception in Sunday's dramatic 27-26 win against the Giants. He also fumbled twice, losing one of them. It was a mixed bag for Brady, who made a couple of monster throws, including a 76-yard touchdown to Rob Gronkowski in the fourth quarter, but also committed three turnovers. His interception came late in the fourth quarter right at the goal line with the Patriots leading by one point, and was nearly costly. Eli Manning marched all the way down the field, and appeared to throw a touchdown pass to Odell Beckham at the two-minute warning, but the ball was slapped away at the last moment, and the Giants ultimately had to settle for a field goal. Trailing by two points with around a minute to go, Brady led the Pats down the field for the game-winning field goal, although it wasn't without some excitement, as he had to convert a key fourth down at one point and was lucky that a Giants' defender dropped an interception to start the drive. The veteran QB continues to play at an incredibly high level, with at least two touchdown passes in all nine games this season (the only QB to do so in 2015). The season-ending loss of Dion Lewis (knee) didn't seem to affect Brady, but he also lost wideout Julian Edleman to an ankle injury in the first half Sunday. The star QB will face the Bills at home next week, before a showdown with the Broncos in Week 12 at Denver.

Brady completed 26 of 39 passes for 299 yards, with two TDs and a pick in Sunday's 27-10 win over Washington. The beat goes on for Brady and the Patriots, who are now 8-0. One negative development in the team's offense Sunday was that RB Dion Lewis -- who has been doing an excellent job in a change-of-pace role for the team -- suffered a knee injury of undetermined severity in the contest.

Brady completed 26 of 38 passes for 356 yards and four touchdown in Thursday's 36-7 win over the Dolphins. The Patriots struggled on third downs in the first half, but they were otherwise so efficient that it didn't matter. Brady was once again fantastic in terms of both decision-making and accuracy, easily picking apart a Miami defense that was excellent the previous two weeks. He was busy until the middle of the fourth quarter, with his final touchdown pass giving the Patriots a 29-point lead with under eight minutes remaining. Enjoying one of the best seasons by a quarterback in league history, Brady is the top option at his position most weeks. He even seems to do better in his more difficult matchups, as the Patriots barely bother to run the ball against tough defenses until the fourth quarter. Brady shouldn't have much trouble with the Redskins defense in Week 9.

Patriots quarterback Tom Brady completed 34 of 54 passes for 355 yards, with two touchdowns in Sunday's 30-23 win over the Jets. He also ran four times for 15 yards with a TD. With Sunday's fantasy-friendly effort, Brady helped the Patriots up their record to 6-0 in advance of this coming Thursday's tilt against the Dolphins. Brady's Week 7 numbers could actually have been bigger were it not for a number of drops committed by the team's pass-catchers, but wideout Brandon LaFell's multiple drops can be largely attributed to rust, given that he was making his regular season debut after being removed from the PUP list Saturday.
Recent Tweets
Stopwatch: Halftime adjustments by Broncos force Tom Brady off game+https://t.co/PiA2xRlL9Q

#Patriots Release WR Chris Harper via @tomecurran https://t.co/1fJACjO1Up https://t.co/g2Pg1mh89W

As @tomecurran reported, Patriots informed WR Chris Harper he is being waived today. Likely returns to practice squad if he clears waivers.
Completed Games
WK
OPP
PAATT
PACMP
PAYD
PATD
PAINT
RUYD
RUTD
FPTS
1
PIT
32
25
288
4
0
1
0
35
2
@BUF
59
38
466
3
0
-4
0
36
3
JAC
42
33
358
2
0
4
0
26
4
BYE
-
-
-
-
-
-
-
-
5
@DAL
27
20
275
2
0
3
1
29
6
@IND
37
23
312
3
1
0
0
29
7
NYJ
54
34
355
2
0
15
1
33
8
MIA
38
26
356
4
0
1
0
38
9
WAS
39
26
299
2
1
-1
0
22
10
@NYG
42
26
334
2
1
9
0
24
11
BUF
39
20
277
1
1
0
0
16
12
@DEN
42
23
280
3
0
0
0
29
PROJECTION
607
380
4293
31.6
13
52
0.9
346
Career Stats
| Season | CmpPct | PaYd | PaTD | PaInt | RuYd | RuTD | FPTS |
| --- | --- | --- | --- | --- | --- | --- | --- |
| 2015 | 65.2 | 3600 | 28 | 4 | 28 | 2 | 322 |
| 2014 | 64.1 | 4109 | 33 | 9 | 57 | 0 | 358 |
| 2013 | 60.5 | 4343 | 25 | 11 | 18 | 0 | 313 |
| 2012 | 63.0 | 4827 | 34 | 8 | 32 | 4 | 416 |
| 2011 | 65.6 | 5235 | 39 | 12 | 109 | 3 | 459 |
| 2010 | 65.9 | 3900 | 36 | 4 | 30 | 1 | 377 |
| 2009 | 65.7 | 4398 | 28 | 13 | 44 | 1 | 340 |
| 2008 | 63.6 | 76 | 0 | 0 | 0 | 0 | 3 |
| 2007 | 68.9 | 4806 | 50 | 8 | 98 | 2 | 505 |
| 2006 | 61.8 | 3529 | 24 | 12 | 102 | 0 | 283 |
| 2005 | 63.0 | 4110 | 26 | 14 | 89 | 1 | 320 |
| 2004 | 60.8 | 3692 | 28 | 14 | 28 | 0 | 303 |
| 2003 | 60.2 | 3620 | 23 | 12 | 63 | 1 | 282 |
| 2002 | 62.1 | 3764 | 28 | 14 | 110 | 1 | 321 |
| 2001 | 63.9 | 2843 | 18 | 12 | 43 | 0 | 215 |
| 2000 | 33.3 | 6 | 0 | 0 | 0 | 0 | 0 |
| 3 Year Avg | 62.5 | 4426 | 31 | 9 | 36 | 1 | 365 |
| Career | 63.6 | 56858 | 420 | 147 | 851 | 16 | |
Depth Chart
| | QB |
| --- | --- |
| | |