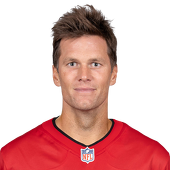 Own

100%

Start

90%

QB Rank

9
Player News
Brady completed just 27 of 56 passes for 310 yards, a touchdown and a pair of interceptions in Sunday's loss to the Broncos in the AFC championship game. Up against a ferocious Broncos defense, Brady wasn't able to establish a rhythm until the fourth quarter, when he led a furious comeback attempt that fell one two-point conversion short of tying the game. The ageless Brady enjoyed another fine season, throwing 36 touchdowns and just seven interceptions, which represents the second-fewest of his storied career. Brady clearly intends to play again in 2016, when the Patriots will once again be among the favorites to come out of the AFC.

Brady completed 28 of 42 passes for 302 yards and two touchdowns in Saturday's 27-20 Divisional Round playoff victory over the Chiefs. He also gained six yards on six rushes and tallied a rushing touchdown on a second-quarter one-yard sneak. Brady looked like a new man with all of his weapons once again at his disposal, a far cry from the forgettable last two games of the regular season against the Jets and Dolphins. The future Hall-of-Famer reveled in the embarassment of riches in the passing game, completing passes to eight different players. He also threw for over 300 yards for the first time since Week 13 against the Eagles, which tied him with Peyton Manning for most career post-season games of 300 yards (nine). Brady looks primed for another AFC Championship Game next week against either the Steelers or the Manning-led Broncos.

Brady (ankle) is active for Saturday's divisional round game against the Chiefs. Brady sustained an ankle injury in the regular season finale, but after a bye and another full week of practice, he's as healthy as can be heading into the postseason. Seeking yet another appearance in the big game, he'll have the entire receiving corps at his disposal, though Rob Gronkowski had an injection in his right knee during the week while Julian Edelman (foot) is logging his first game action since Nov. 15.

Brady (ankle) is listed as probable for Saturday's game against the Chiefs. While Brady's availability for the contest is not in question, the status of, and potential effectiveness of key Patriots' passing weapons Rob Gronkowski (knee/back) and Julian Edelman (foot) is less certain at this stage.

Brady (ankle) was a full participant at Wednesday's practice. Brady no doubt benefited from the Patriots' first-round bye, and his full participation in practice Wednesday confirms that he's firmly on track to start Saturday's playoff contest against the Chiefs.
Recent Tweets
Robert Kraft gives his viewpoint on Tom Brady being booed at Super Bowl https://t.co/OlT0E2xfE0

NFL MVP Win Shares: Tom Brady Deserves An Extra Half of an MVP Award from Peyton Manning https://t.co/NplhtmxOFq https://t.co/yS45YHlykO
Completed Games
WK
OPP
PAATT
PACMP
PAYD
PATD
PAINT
RUYD
RUTD
FPTS
1
PIT
32
25
288
4
0
1
0
35
2
@BUF
59
38
466
3
0
-4
0
36
3
JAC
42
33
358
2
0
4
0
26
4
BYE
-
-
-
-
-
-
-
-
5
@DAL
27
20
275
2
0
3
1
29
6
@IND
37
23
312
3
1
0
0
29
7
NYJ
54
34
355
2
0
15
1
33
8
MIA
38
26
356
4
0
1
0
38
9
WAS
39
26
299
2
1
-1
0
22
10
@NYG
42
26
334
2
1
9
0
24
11
BUF
39
20
277
1
1
0
0
16
12
@DEN
42
23
280
3
0
0
0
29
13
PHI
56
29
312
3
2
17
1
38
14
@HOU
30
22
226
2
0
10
0
22
15
TEN
35
23
267
2
0
0
0
22
16
@NYJ
31
22
231
1
1
-1
0
14
17
@MIA
21
12
134
0
0
-1
0
5
PROJECTION
607
380
4293
31.6
13
52
0.9
346
Scheduled Games
| WK | DATE | OPP | OPP RANK | OPP FPTS |
| --- | --- | --- | --- | --- |
Career Stats
| Season | CmpPct | PaYd | PaTD | PaInt | RuYd | RuTD | FPTS |
| --- | --- | --- | --- | --- | --- | --- | --- |
| 2015 | 64.4 | 4770 | 36 | 7 | 53 | 3 | 425 |
| 2014 | 64.1 | 4109 | 33 | 9 | 57 | 0 | 358 |
| 2013 | 60.5 | 4343 | 25 | 11 | 18 | 0 | 313 |
| 2012 | 63.0 | 4827 | 34 | 8 | 32 | 4 | 416 |
| 2011 | 65.6 | 5235 | 39 | 12 | 109 | 3 | 459 |
| 2010 | 65.9 | 3900 | 36 | 4 | 30 | 1 | 377 |
| 2009 | 65.7 | 4398 | 28 | 13 | 44 | 1 | 340 |
| 2008 | 63.6 | 76 | 0 | 0 | 0 | 0 | 3 |
| 2007 | 68.9 | 4806 | 50 | 8 | 98 | 2 | 505 |
| 2006 | 61.8 | 3529 | 24 | 12 | 102 | 0 | 283 |
| 2005 | 63.0 | 4110 | 26 | 14 | 89 | 1 | 320 |
| 2004 | 60.8 | 3692 | 28 | 14 | 28 | 0 | 303 |
| 2003 | 60.2 | 3620 | 23 | 12 | 63 | 1 | 282 |
| 2002 | 62.1 | 3764 | 28 | 14 | 110 | 1 | 321 |
| 2001 | 63.9 | 2843 | 18 | 12 | 43 | 0 | 215 |
| 2000 | 33.3 | 6 | 0 | 0 | 0 | 0 | 0 |
| 3 Year Avg | 62.5 | 4426 | 31 | 9 | 36 | 1 | 365 |
| Career | 63.6 | 58028 | 428 | 150 | 876 | 17 | |
Depth Chart
| | QB |
| --- | --- |
| | |