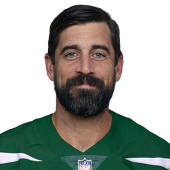 Own

100%

Start

96%

QB Rank

2
Latest News
Rodgers said he lost feeling in the fingers on his left hand during the second half of Thursday's loss to the Bears, ESPN.com reports. Rodgers, who took a hard hit to his left elbow early in the third quarter, said after the game that two of his fingers still didn't have feeling. He didn't miss any snaps and also said that it shouldn't be an issue in future weeks. It sounds as if hand-offs were the biggest problem, but fortunately for the Packers, Rodgers prepared for such a scenario earlier in the year by practicing back-handed hand-offs with his right hand.

Rodgers completed 22/43 passes for one touchdown and one interception in Green Bay's 13-17 loss to the Bears. Rodgers continued to struggle in a prime time game in Lambeau where you would normally expect him to put up impressive numbers. It was a rainy night in Green Bay and the weather did lead to a number of drops from Packer receivers. Rodgers will look to get back on track when Green Bay travels to Detroit for another prime time game next Thursday.

Rodgers completed 16 of 34 passes for 212 yards and two touchdowns in Sunday's 30-13 win at Minnesota. In a tough matchup against a good defense, Rodgers didn't complete a lot of passes, but made some big throws, including a gorgeous 27-yard touchdown to James Jones in the fourth quarter. Rodgers' streak of two 300-yard passing games came to an end, and was held to two or fewer touchdowns for the eighth time this season, but the offense functioned a bit better, as Eddie Lacy got back on track by rumbling for a season-high 100 yards on 22 carries. The veteran QB should find things easier next week, facing the Bears at Lambeau Field.

Rodgers (shoulder) is active for Sunday's contest in Minnesota, Jason Wilde of ESPN Wisconsin reports. The Packers' offense has been in disarray for three consecutive games, and to make matters worse, Rodgers landed on the injury report this week with a right shoulder issue. Neither Rodgers nor head coach Mike McCarthy expressed worry about his Week 11 availability, which cleared up following full practices Thursday and Friday. However, the matchup with the Vikings presents all manner of obstacles, namely an eighth-ranked pass defense that can ably match up with Randall Cobb, Davante Adams, and company.

Rodgers (shoulder) is listed as probable for Sunday's game against the Vikings. Rodgers was limited at Wednesday's practice but then logged full sessions Thursday and Friday. His shoulder appears to be a non-issue, but the same can't be said of Green Bay's recent offensive performance. The matchup is also difficult, with the Vikings sporting a strong pass rush and allowing just 6.9 yards per pass attempt. Of course, this is still Aaron Rodgers we're dealing with, so a big game wouldn't surprise anyone.
Recent Tweets
Aaron Rodgers became the fastest QB in NFL history to 250 #touchdown passes. Read: https://t.co/kRXr1HAREv https://t.co/24oiZbXeox

"We have to get on the same page." Aaron Rodgers talks #Packers passing game: https://t.co/nZwJRnfuPQ https://t.co/VpKiw1SGTp

Rodgers: "Have to make sure my preparation is as high as it's ever been cuz we've got to get on the same page." https://t.co/5UtVSz8NQY
Completed Games
WK
OPP
PAATT
PACMP
PAYD
PATD
PAINT
RUYD
RUTD
FPTS
1
@CHI
23
18
189
3
0
35
0
28
2
SEA
33
25
249
2
0
23
0
25
3
KC
35
24
333
5
0
16
0
44
4
@SF
32
22
224
1
0
33
0
17
5
STL
30
19
241
2
2
39
0
22
6
SD
29
16
255
2
0
14
0
23
7
BYE
-
-
-
-
-
-
-
-
8
@DEN
22
14
77
0
0
31
0
6
9
@CAR
48
25
369
4
1
22
0
41
10
DET
61
35
333
2
0
8
0
25
11
@MIN
34
16
212
2
0
6
0
22
12
CHI
43
22
202
1
1
33
0
16
PROJECTION
522
341
4239
33.2
11.3
252
1.7
376.1
Career Stats
| Season | CmpPct | PaYd | PaTD | PaInt | RuYd | RuTD | FPTS |
| --- | --- | --- | --- | --- | --- | --- | --- |
| 2015 | 60.5 | 2684 | 24 | 4 | 260 | 0 | 279 |
| 2014 | 65.6 | 4381 | 38 | 5 | 269 | 2 | 438 |
| 2013 | 66.6 | 2536 | 17 | 6 | 120 | 0 | 209 |
| 2012 | 67.2 | 4295 | 39 | 8 | 259 | 2 | 434 |
| 2011 | 68.3 | 4643 | 45 | 6 | 257 | 3 | 492 |
| 2010 | 65.7 | 3922 | 28 | 11 | 356 | 4 | 372 |
| 2009 | 64.7 | 4434 | 30 | 7 | 316 | 5 | 411 |
| 2008 | 63.6 | 4038 | 28 | 13 | 207 | 4 | 360 |
| 2007 | 71.4 | 218 | 1 | 0 | 29 | 0 | 16 |
| 2006 | 40.0 | 46 | 0 | 0 | 11 | 0 | 2 |
| 2005 | 56.2 | 65 | 0 | 1 | 7 | 0 | 1 |
| 3 Year Avg | 66.5 | 3737 | 31 | 6 | 216 | 1 | 358 |
| Career | 65.3 | 31262 | 250 | 61 | 2091 | 20 | |
Depth Chart
| | QB |
| --- | --- |
| | |