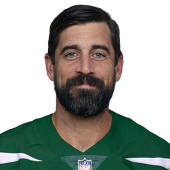 Own

100%

Start

83%

QB Rank

2
Player News
Rodgers said this week that his knee feels "great" after undergoing arthroscopic surgery last month, USA Today reports. Rodgers is participating in the Pebble Beach Pro-Am, marking his first round of golf since last July. The aforementioned procedure was intended to clean up an old injury, and his ability to make it through 18 holes is an encouraging sign in his recovery. Expect Rodgers to be healthy once the offseason program kicks off in April.

Rodgers underwent arthroscopic knee surgery after the Packers' season ended on Jan. 16, Rob Demovsky of ESPN.com reports. Rodgers has never been listed with a knee issue in the course of his professional career, but the procedure was performed as a "cleanup of an old injury," which could be a reference to reconstructive surgery that was performed on his left knee in January of 2004 at the University of California. Arthroscopic surgeries aren't accompanied by lengthy recovery periods, and the quarterback himself stated Friday that he's "doing well" and "recovering on schedule." As a result, he pulled himself out of Sunday's Pro Bowl but shouldn't have any problem being available for the entirety of the offseason program.

Rodgers completed 24 of 44 passes for 261 yards with two touchdowns and an interception in Saturday's 26-20 divisional round overtime loss to the Cardinals. He also gained 21 yards on two rushes. The All-Pro quarterback somehow managed another miraculous Hail Mary, completing a 41-yard off-balance heave to Jeff Janis with zeros on the clock to help send the game into overtime. Although he only suffered one sack on the night after having been brought down an eye-popping eight times in the Week 16 meeting between the two teams, Rodgers was under fairly heavy pressure on a number of occasions and also lost primary receiver Randall Cobb to a chest injury in the first half. Considering he played the balance of the game with Jeff Janis, James Jones and Jared Abbrederis as his top three wideouts, Rodgers' effort was certainly a valiant one that fell short due to the heroics of Carson Palmer and Larry Fitzgerald.

Rodgers connected on 21 of his 36 passes for 210 yards and two touchdowns in Sunday's win over Washington. Rodgers had been picked off in five of the Packers' final six games of the season and had been held to a single touchdown in four of them. He righted the path in the second quarter, getting Washington to jump offsides - setting up a free play that ended on a Randall Cobb touchdown. He connected with Davante for a second score just before halftime. Next up for Rodgers is the challenge of Arizona's eighth-ranked pass defense - the same defense that held Rodgers to 151 yards in Week 16.

Rodgers completed 28 of 44 passes for 291 yards, with a touchdown and an interception in Sunday's 20-13 loss to the Vikings. Rodgers added 12 yards on five carries, was sacked five times and lost a fumble. Once again, he made a bunch of plays that were reminiscent of his form from previous seasons, but with quite a few ugly throws also mixed in. Though it was an improvement from the previous week's massacre in Arizona, Rodgers still looks very uncomfortable in a Green Bay offense that's been decimated by injuries. Sunday's loss may have cost the Packers a division title and home playoff game, but it does mean that Rodgers will get to face the Washington defense, whereas Teddy Bridgewater will have his hands full with the Seahawks.
Recent Tweets
🏈➡️⛳️ @AaronRodgers12 at the Pebble Beach Pro-Am https://t.co/DTZXU7bD9r

Rodgers: Knee feels 'great' after surgery https://t.co/Tpv1NLaWhn https://t.co/ock2gUTj36

New at @247Sports: #Packers calendar: Aaron Rodgers faces cut day at Pebble Beach https://t.co/GKn1Har41T
Completed Games
WK
OPP
PAATT
PACMP
PAYD
PATD
PAINT
RUYD
RUTD
FPTS
1
@CHI
23
18
189
3
0
35
0
28
2
SEA
33
25
249
2
0
23
0
25
3
KC
35
24
333
5
0
16
0
44
4
@SF
32
22
224
1
0
33
0
17
5
STL
30
19
241
2
2
39
0
22
6
SD
29
16
255
2
0
14
0
23
7
BYE
-
-
-
-
-
-
-
-
8
@DEN
22
14
77
0
0
31
0
6
9
@CAR
48
25
369
4
1
22
0
41
10
DET
61
35
333
2
0
8
0
25
11
@MIN
34
16
212
2
0
6
0
22
12
CHI
43
22
202
1
1
33
0
16
13
@DET
36
24
273
2
1
27
1
29
14
DAL
35
22
218
2
0
27
0
22
15
@OAK
39
22
204
1
1
-1
0
13
16
@ARI
28
15
151
1
1
19
0
14
17
MIN
44
28
291
1
1
12
0
17
PROJECTION
522
341
4239
33.2
11.3
252
1.7
376.1
Scheduled Games
| WK | DATE | OPP | OPP RANK | OPP FPTS |
| --- | --- | --- | --- | --- |
Career Stats
| Season | CmpPct | PaYd | PaTD | PaInt | RuYd | RuTD | FPTS |
| --- | --- | --- | --- | --- | --- | --- | --- |
| 2015 | 60.7 | 3821 | 31 | 8 | 344 | 1 | 378 |
| 2014 | 65.6 | 4381 | 38 | 5 | 269 | 2 | 438 |
| 2013 | 66.6 | 2536 | 17 | 6 | 120 | 0 | 209 |
| 2012 | 67.2 | 4295 | 39 | 8 | 259 | 2 | 434 |
| 2011 | 68.3 | 4643 | 45 | 6 | 257 | 3 | 492 |
| 2010 | 65.7 | 3922 | 28 | 11 | 356 | 4 | 372 |
| 2009 | 64.7 | 4434 | 30 | 7 | 316 | 5 | 411 |
| 2008 | 63.6 | 4038 | 28 | 13 | 207 | 4 | 360 |
| 2007 | 71.4 | 218 | 1 | 0 | 29 | 0 | 16 |
| 2006 | 40.0 | 46 | 0 | 0 | 11 | 0 | 2 |
| 2005 | 56.2 | 65 | 0 | 1 | 7 | 0 | 1 |
| 3 Year Avg | 66.5 | 3737 | 31 | 6 | 216 | 1 | 358 |
| Career | 65.1 | 32399 | 257 | 65 | 2175 | 21 | |
Depth Chart
| | QB |
| --- | --- |
| | |