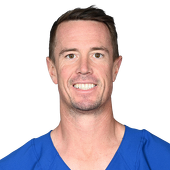 Own

87%

Start

34%

QB Rank

5
Player News
Ryan acknowledged that he had a tough time adjusting to Kyle Shanahan's scheme, but the quarterback also said that his offensive coordinator did a nice job late in the season, ESPN.com reports. This is one of the more amusing January storylines, as the early-season narrative gave new offensive coordinator Kyle Shanahan a significant portion of the credit for Atlanta's September success. If adjustment to a new scheme was really the problem, the Falcons offense probably wouldn't have been at its best at the beginning of the season. The obvious issue was the lack of a secondary receiving threat behind Julio Jones, which led to a massive number of dump-offs to Devonta Freeman. It may be more interesting to blame Ryan or Shanahan, but both have proven to be perfectly competent during their successful NFL careers. The Falcons will likely prioritize the acquisition of a starting-caliber No. 2 wide receiver and/or tight end this offseason.

Ryan completed 24 of 36 passes for 334 yards, two touchdowns, an interception and a fumble in Sunday's loss to New Orleans. Ryan was consistently sloppy with the football for much of the season, recording a turnover in 11 of Atlanta's final 12 games, including each of the team's seven games following its bye. It hasn't been as if Ryan has been incredibly productive to make up for his penchant for turnovers. Ryan threw multiple touchdown passes in just six games this season, Sunday breaking a five-game streak of one or fewer scoring passes per game. Getting the franchise quarterback on the same page as offensive coordinator Kyle Shanahan will be one of the stories of the offseason in Atlanta.

Ryan (hip) is active for Sunday's game against the Saints. Ryan took a shot to his hip last Sunday versus the Panthers, yet the ailment didn't affect his practice participation one bit in the subsequent week of prep. Because the Saints' pass defense has given up an all-time worst 43 touchdown throws this season, he should be afforded plenty of opportunities to pile on with Drew Brees operating on the other side.

Ryan (hip) is listed as probable for Sunday's game against the Saints. A full participant throughout the week of practice, Ryan will look to finish his disappointing season on a strong note, facing a New Orleans defense that has consistently been shredded this year.

Ryan (hip) practiced in full Wednesday, Vaughn McClure of ESPN.com reports. Ryan emerged from Sunday's win over the Panthers with some soreness in his hip, which stemmed from a hard hit in the course of the contest. However, his ability to handle every drill to open Week 17 prep puts aside any doubt about his ability to play this Sunday against the Saints.
Recent Tweets
There are a bunch of guys who can start at some point in their career and contribute enough to be at least an Andy Dalton/Matt Stafford type

What former MVP Rich Gannon told Arthur Blank about Matt Ryan. https://t.co/AXMNQhGtHJ

Arthur Blank met with Matt Ryan, and the owner ``absolutely'' believes Ryan can take the Falcons to the Super Bowl. https://t.co/AXMNQhGtHJ
Completed Games
WK
OPP
PAATT
PACMP
PAYD
PATD
PAINT
RUYD
RUTD
FPTS
1
PHI
34
23
298
2
2
7
0
21
2
@NYG
46
30
363
1
0
-1
0
20
3
@DAL
36
24
285
2
0
17
0
26
4
HOU
27
19
256
1
0
-1
0
16
5
WAS
42
24
254
0
2
20
0
10
6
@NO
44
30
295
2
0
10
0
24
7
@TEN
38
22
251
1
2
-3
0
14
8
TB
45
37
397
2
1
2
0
26
9
@SF
45
30
303
1
0
2
0
18
10
BYE
-
-
-
-
-
-
-
-
11
IND
46
25
280
3
3
7
0
26
12
MIN
31
22
230
1
2
-1
0
13
13
@TB
45
30
269
1
1
4
0
15
14
@CAR
34
22
224
0
1
-1
0
7
15
@JAC
35
22
246
1
1
0
0
14
16
CAR
30
23
306
1
0
1
0
18
17
NO
36
24
334
2
1
0
0
24
PROJECTION
626
414
4658
26.3
17.8
114
0.2
324.2
Scheduled Games
| WK | DATE | OPP | OPP RANK | OPP FPTS |
| --- | --- | --- | --- | --- |
Career Stats
| Season | CmpPct | PaYd | PaTD | PaInt | RuYd | RuTD | FPTS |
| --- | --- | --- | --- | --- | --- | --- | --- |
| 2015 | 66.3 | 4591 | 21 | 16 | 63 | 0 | 301 |
| 2014 | 66.1 | 4694 | 28 | 14 | 145 | 0 | 357 |
| 2013 | 67.4 | 4515 | 26 | 17 | 55 | 0 | 324 |
| 2012 | 68.6 | 4719 | 32 | 14 | 141 | 1 | 386 |
| 2011 | 61.3 | 4177 | 29 | 12 | 84 | 2 | 349 |
| 2010 | 62.5 | 3705 | 28 | 9 | 122 | 0 | 319 |
| 2009 | 58.3 | 2916 | 22 | 14 | 49 | 1 | 244 |
| 2008 | 61.1 | 3440 | 16 | 11 | 104 | 1 | 238 |
| 3 Year Avg | 67.4 | 4643 | 29 | 15 | 113 | 0 | 355 |
| Career | 64.3 | 32757 | 202 | 107 | 763 | 5 | |
Depth Chart
| | QB |
| --- | --- |
| | |