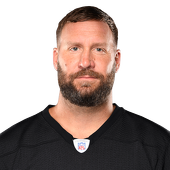 Own

99%

Start

44%

QB Rank

7
Latest News
Roethlisberger (foot) completed 22-of-33 passes for 379 yards with three touchdowns and one interception in Pittsburgh's win over Cleveland on Sunday. Fantasy owners were not expecting Roethlisberger to play, but an ankle injury to Landry Jones forced Big Ben in to action. If he was feeling any ill effects from the injury that knocked him out of the game in Week 9 it didn't show, as he moved well, was sacked just once, and finished with his best effort of the season. At 6-4, the Steelers can now rest Roethlisberger as they head in to their bye week.

Roethlisberger (foot) entered Sunday's game against the Browns, following Landry Jones' first-quarter exit from the contest with a left ankle injury. Roethlisberger began the game in a backup capacity, with the Steelers setting the stage for him to rest Sunday in advance of next week's bye. With Mike Vick inactive this week, however, the team was forced to turn to Roethlisberger -- who has been dealing with a left foot sprain -- once Jones was carted off due to his ankle injury.

Though Roethlisberger (foot) is in uniform for Sunday's game against the Browns, Landry Jones is slated to get the nod at QB for the Steelers in the contest, NFL.com reports. Though Roethlisberger is not in line to start Sunday, the fact that he was able to participate in practice - albeit in a limited capacity - both Thursday and Friday, suggests that he has a pretty solid chance of returning to the team's starting lineup on Nov. 29 against the Seahawks, following the team's Week 11 bye.

Roethlisberger (foot) is not expected to start Sunday against the Browns, according to Ian Rapoport of NFL Network. Roethlisberger is officially listed as questionable to play, but there were reports Friday that he had no shot to actually play. He is reportedly progressing in his recovery much faster than expected, but fantasy owners will have to wait until at least Week 12 to slot him back into their lineups.

While the Steelers officially list Roethlisberger (foot) as questionable for Sunday's game against the Browns, Gerry Dulac of the Pittsburgh Post-Gazette suggests that the QB has "no chance of playing" in the contest. The report does acknowledge more encouragingly, however, that Roethlisberger is "progressing ahead of schedule." In any case, while the Steelers haven't officially ruled Big Ben out this week, pennlive.com relays that when when asked if it looked like he'd serve as Landry Jones' backup this weekend, reserve QB Michael Vick said, "yeah, absolutely, definitely." Confirmation either way, of Roethlisberger's Week 10 status will thus arrive upon the release of the Steelers' inactives in advance of Sunday's 1:00 ET kickoff.
Recent Tweets
Dinosaur thoughts: Well, he's back, so no need to suspend. Men will be men. What's a bent brain stem between rivals? https://t.co/T3JhTCzFVY

#Steelers' Roethlisberger feeling good | NFL from the Sidelines | Observer-Reporter https://t.co/LysztOaY9N

Scouting Report: Taking a Look at Seattle #Seahawks Michael Bennett. #Steelers https://t.co/UL8WKMcRoc https://t.co/ldWV2MHUy4
Completed Games
WK
OPP
PAATT
PACMP
PAYD
PATD
PAINT
RUYD
RUTD
FPTS
1
@NE
38
26
351
1
1
0
0
21
2
SF
27
21
369
3
0
-1
0
36
3
@STL
24
20
192
0
1
0
0
6

*

4
BAL
0
0
0
0
0
0
0
0

*

5
@SD
0
0
0
0
0
0
0
0

*

6
ARI
0
0
0
0
0
0
0
0

*

7
@KC
0
0
0
0
0
0
0
0
8
CIN
45
28
262
1
3
0
0
13
9
OAK
44
24
334
2
1
0
0
26
10
CLE
33
22
379
3
1
-2
0
34
11
BYE
-
-
-
-
-
-
-
-
PROJECTION
606
399
4730
28.4
12.6
59
0.3
341.6
Career Stats
| Season | CmpPct | PaYd | PaTD | PaInt | RuYd | RuTD | FPTS |
| --- | --- | --- | --- | --- | --- | --- | --- |
| 2015 | 66.8 | 1887 | 10 | 7 | -3 | 0 | 138 |
| 2014 | 67.1 | 4952 | 32 | 9 | 27 | 0 | 389 |
| 2013 | 64.2 | 4261 | 28 | 14 | 99 | 1 | 339 |
| 2012 | 63.3 | 3265 | 26 | 8 | 92 | 0 | 287 |
| 2011 | 63.2 | 4077 | 21 | 14 | 70 | 0 | 282 |
| 2010 | 61.7 | 3200 | 17 | 5 | 176 | 2 | 254 |
| 2009 | 66.6 | 4328 | 26 | 12 | 82 | 2 | 337 |
| 2008 | 59.9 | 3301 | 17 | 15 | 101 | 2 | 241 |
| 2007 | 65.3 | 3154 | 32 | 11 | 204 | 2 | 339 |
| 2006 | 59.7 | 3513 | 18 | 23 | 98 | 2 | 246 |
| 2005 | 62.7 | 2385 | 17 | 9 | 69 | 3 | 212 |
| 2004 | 66.4 | 2621 | 17 | 11 | 144 | 1 | 215 |
| 3 Year Avg | 65.1 | 4159 | 29 | 10 | 73 | 0 | 339 |
| Career | 63.9 | 40944 | 261 | 138 | 1159 | 15 | |
Depth Chart
| | QB |
| --- | --- |
| | |