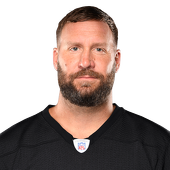 Own

100%

Start

77%

QB Rank

7
Player News
Roethlisberger (shoulder) does not think he will need surgery during the offseason, the Pittsburgh Post-Gazette reports. Roethlisberger did acknowledge that he might eventually require a minor procedure to clean out the arthritis and scars caused by his torn ligaments. Regardless, he should be ready for the start of training camp, and he'll be surrounded by a top-notch supporting cast. Roethlisberger did turn in a few clunkers this season, but injuries -- both his own and his teammates' -- played a large role in the limited struggles. Even with his style of play inevitably creating a heightened injury risk, he'll be one of the top quarterbacks to target in 2016 drafts.

Roethlisberger completed 24 of 37 passes for 339 yards in Sunday's loss to the Broncos. He failed to connect on a single touchdown pass. The veteran played as well as one could've asked, considering that he was dealing with an injury and the Steelers were without Antonio Brown and DeAngelo Williams, but he found touchdowns hard to come by against a stingy Broncos defense. Despite all of the factors working against him, Roethlisberger still kept his team in the game until late in the fourth quarter, demonstrating why he has become known as one of the best postseason performers at his position. Big Ben had a productive season despite dealing with multiple injuries and missing several of his top weapons throughout the year, and he should be a strong fantasy option next season when everyone is back to full strength.

Roethlisberger (shoulder) completed 24 of 37 passes for 339 yards in Pittsburgh's loss to Denver on Sunday. The AC Joint sprain and torn ligaments suffered to his throwing shoulder did not seem to be an issue, as Roethlisberger rebounded from his sub-par, 18 of 31, 229 yard performance in last week's win over Cincinnati. Big Ben finished the regular season completing 319 of 469 passes for 3,938 yards with a 21:16 touchdowns to interception ratio. He also ran for 29 yards on 15 carries. With 21 touchdown passes, Roethlisberger extended his consecutive seasons with at least 20 scoring throws to five - a Steelers record. It was also his fourth straight season with 300 completions to set a franchise record for the most consecutive 300-completion seasons. He is now 113-56 as a starter during the regular season, increasing his Steelers' franchise record for most wins as a starting quarterback (Terry Bradshaw, 107). Roethlisberger is an elite fantasy quarterback worthy of top 10 consideration in 2016, but is always an injury risk, having missed four game in 2015 and three or more games in three of the last six seasons.

Roethlisberger (shoulder) is listed as active for Sunday's game against the Broncos. With Mike Vick inactive for the playoff contest, the Steelers will roll with a QB duo of the banged up Roethlisberger and backup Landry Jones. Roethlisberger is thus in line to tough things out against Denver's No. 1 ranked pass defense Sunday, minus two key offensive cogs in WR Antonio Brown and RB DeAngelo Williams.

While there's an expectation that Roethlisberger's throwing arm won't be at full strength due to his shoulder injury, NFL Network's Ian Rapoport relays that his understanding is, that "the (Steelers') full playbook is available" to the QB in Sunday's divisional-round playoff game against the Broncos. Roethlisberger -- who reportedly threw well in practice Friday -- is officially listed as questionable in advance Sunday's 4:40 ET kickoff, but he's expected to give it a go, albeit at less that full strength, thanks to his balky right shoulder. Aside from his injury woes, Roethlisberger will further be challenged Sunday by the fact that he'll take aim at NFL's No. 1 ranked pass defense minus two key offensive weapons in WR Antonio Brown and RB DeAngelo Williams.
Recent Tweets
#Steelers Ben Roethlisberger participates in the annual "Shear Da Beard" event https://t.co/zWdiKQRM2n https://t.co/9ncI9JJ8BW

Report: #Bengals LB Vontaze Burfict's appeal denied; will serve out full suspension https://t.co/OM6cusdUQw https://t.co/36WSZDgSjn

Protecting QB Ben Roethlisberger paramount for the #Steelers going into the 2016 Season https://t.co/QOBo9NVgvN https://t.co/VWQtMg0RdQ
Completed Games
WK
OPP
PAATT
PACMP
PAYD
PATD
PAINT
RUYD
RUTD
FPTS
1
@NE
38
26
351
1
1
0
0
21
2
SF
27
21
369
3
0
-1
0
36
3
@STL
24
20
192
0
1
0
0
6

*

4
BAL
0
0
0
0
0
0
0
0

*

5
@SD
0
0
0
0
0
0
0
0

*

6
ARI
0
0
0
0
0
0
0
0

*

7
@KC
0
0
0
0
0
0
0
0
8
CIN
45
28
262
1
3
0
0
13
9
OAK
44
24
334
2
1
0
0
26
10
CLE
33
22
379
3
1
-2
0
34
11
BYE
-
-
-
-
-
-
-
-
12
@SEA
55
36
456
1
2
18
0
25
13
IND
39
24
364
4
0
13
0
41
14
@CIN
39
30
282
0
1
6
0
10
15
DEN
55
40
380
3
2
-3
0
31
16
@BAL
34
24
220
0
2
0
0
6
17
@CLE
36
24
349
3
2
-2
0
31
PROJECTION
606
399
4730
28.4
12.6
59
0.3
341.6
Scheduled Games
| WK | DATE | OPP | OPP RANK | OPP FPTS |
| --- | --- | --- | --- | --- |
Career Stats
| Season | CmpPct | PaYd | PaTD | PaInt | RuYd | RuTD | FPTS |
| --- | --- | --- | --- | --- | --- | --- | --- |
| 2015 | 68.0 | 3938 | 21 | 16 | 29 | 0 | 285 |
| 2014 | 67.1 | 4952 | 32 | 9 | 27 | 0 | 389 |
| 2013 | 64.2 | 4261 | 28 | 14 | 99 | 1 | 339 |
| 2012 | 63.3 | 3265 | 26 | 8 | 92 | 0 | 287 |
| 2011 | 63.2 | 4077 | 21 | 14 | 70 | 0 | 282 |
| 2010 | 61.7 | 3200 | 17 | 5 | 176 | 2 | 254 |
| 2009 | 66.6 | 4328 | 26 | 12 | 82 | 2 | 337 |
| 2008 | 59.9 | 3301 | 17 | 15 | 101 | 2 | 241 |
| 2007 | 65.3 | 3154 | 32 | 11 | 204 | 2 | 339 |
| 2006 | 59.7 | 3513 | 18 | 23 | 98 | 2 | 246 |
| 2005 | 62.7 | 2385 | 17 | 9 | 69 | 3 | 212 |
| 2004 | 66.4 | 2621 | 17 | 11 | 144 | 1 | 215 |
| 3 Year Avg | 65.1 | 4159 | 29 | 10 | 73 | 0 | 339 |
| Career | 64.1 | 42995 | 272 | 147 | 1191 | 15 | |
Depth Chart
| | QB |
| --- | --- |
| | |