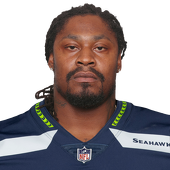 Own

80%

Start

3%

RB Rank

4
Player News
Lynch suggested on his twitter account that he plans to retire this offseason. Lynch tweeted a hand making the 'peace' symbol, accompanied by a picture of green cleats hanging from a nail. Given the timing of his announcement -- during the fourth quarter of the Super Bowl -- there's perhaps some chance that Lynch is just messing with the media. However, it seems far more likely that he really does intend to retire, as there have been rumors to that effect since the end of Seattle's season.

According to Adam Schefter of ESPN, Lynch has shared his intention to retire with both teammates and some within the Seahawks' organization. Lynch had been a model of reliability during his time in Seattle, playing in 85 of 86 games between his arrival in 2010 and last year's Super Bowl. However, the additional reps taken on due to successive deep playoff runs appeared to take a toll in 2015, as he suffered through a hamstring injury early and abdominal surgery that combined to hold him out of nine regular season contests. After staying home during the Seahawks' wild-card win at Minnesota, he returned for the divisional round in Carolina but managed only six carries for 20 yards and two receptions for 15 yards. If he decides to hang up the cleats and tinted visor, he'll conclude his career with 9,122 rushing yards, 1,979 receiving yards, and 83 touchdowns (74 on the ground) in 127 games between the Seahawks and Bills.

Lynch is leaning toward retirement, according to Seahawks' general manager John Schneider, The Seattle Times reports. Lynch's future with the Seahawks stands in considerable question to begin this offseason, but in speaking about Lynch during a radio interview, Schneider said, "I'm under the impression he is leaning towards retirement." That revelation comes as the Seahawks are reportedly prepared to release Lynch, or at least require him to restructure his contract ahead of next season. An enigma himself, Lynch may ultimately supersede any move by deciding to retire anyway. That being said, as usual with Lynch, it's tough to project what will end up happening.

Lynch is unlikely to be back with the Seahawks at his scheduled 2016 salary, 710 AM ESPN Seattle reports. Assuming he wants to continue his career, which shouldn't be taken for granted, Lynch will likely be asked to take a pay cut or else be outright released. He's still a difficult man to tackle, but with Thomas Rawls (ankle) coming off an impressive rookie season, the Seahawks have an attractive alternative at the position, assuming Rawls' recovery from a broken ankle goes well.

Lynch rushed for 20 yards on six carries and added two catches off of three target for 15 yards in Sunday's loss to Carolina. Falling behind by so much so early no doubt impacted Seattle's game plan as the team rushed just 12 times, half of which went to Lynch. Sunday was Lynch's first game action since Nov. 15 as he was sidelined for two months with an abdominal injury. Lynch has played on a year-to-year basis recently and, following his worst season in Seattle, it wouldn't be a surprise if Sunday was his final game in uniform.
Recent Tweets
Seahawks teammates react to Marshawn Lynch's retirement tweet: https://t.co/55FWg2A0L7

Real in the Field Gulls instant reaction: Broncos end Cam show, Marshawn Lynch retires https://t.co/nI7D4xpG3D https://t.co/uuWXvOM73e

Commentary: Lynch retirement is a disappointing but clean break for #Seahawks https://t.co/7SAbNIPT7a Thank you for everything, Beast Mode!
Completed Games
WK
OPP
RUATT
RUYD
RUTD
RECPT
REYD
RETD
FPTS
1
@STL
18
73
0
5
31
0
12
2
@GB
15
41
0
3
21
0
6
3
CHI
5
14
0
1
9
0
1

*

4
DET
0
0
0
0
0
0
0

*

5
@CIN
0
0
0
0
0
0
0
6
CAR
17
54
1
1
0
0
11
7
@SF
27
122
1
0
0
0
18
8
@DAL
21
71
0
2
11
0
8
9
BYE
-
-
-
-
-
-
-
10
ARI
8
42
1
1
8
0
10

*

11
SF
0
0
0
0
0
0
0

*

12
PIT
0
0
0
0
0
0
0

*

13
@MIN
0
0
0
0
0
0
0

*

14
@BAL
0
0
0
0
0
0
0

*

15
CLE
0
0
0
0
0
0
0

*

16
STL
0
0
0
0
0
0
0

*

17
@ARI
0
0
0
0
0
0
0
PROJECTION
302
1482
10.8
33.5
342
3.5
252.8
Scheduled Games
| WK | DATE | OPP | OPP RANK | OPP FPTS |
| --- | --- | --- | --- | --- |
Career Stats
| Season | RuAtt | RuYd | RuTD | Recpt | ReYd | ReTD | FPTS |
| --- | --- | --- | --- | --- | --- | --- | --- |
| 2015 | 111 | 417 | 3 | 13 | 80 | 0 | 69 |
| 2014 | 280 | 1306 | 13 | 37 | 367 | 4 | 268 |
| 2013 | 301 | 1257 | 12 | 36 | 316 | 2 | 240 |
| 2012 | 315 | 1590 | 11 | 23 | 196 | 1 | 250 |
| 2011 | 285 | 1204 | 12 | 28 | 212 | 1 | 219 |
| 2010 | 165 | 573 | 6 | 21 | 138 | 0 | 106 |
| 2009 | 120 | 450 | 2 | 28 | 179 | 0 | 74 |
| 2008 | 250 | 1036 | 8 | 47 | 300 | 1 | 187 |
| 2007 | 280 | 1115 | 7 | 18 | 184 | 0 | 177 |
| 3 Year Avg | 299 | 1384 | 12 | 32 | 293 | 2 | 251 |
| Career | 2144 | 9112 | 74 | 252 | 1979 | 9 | |