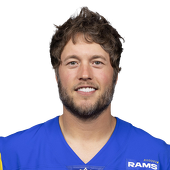 Matthew Stafford
#9 QB / Detroit Lions / EXP: 7YRS
Height: 6-3
Weight: 226 lb
Age: 28
College: Georgia
Bye 9,18,19,20,21
Own

99%

Start

70%

QB Rank

10
by RotoWire Staff | Special to CBSSports.com

Lions' Matthew Stafford: Posts best completion percentage of career

Stafford ended the season having completed 398 of 592 passes for 4,262 yards, 32 touchdowns and 13 interceptions. Stafford's 67.2 completion percentage shattered his previous career high by nearly four percentage points and he narrowly missed setting a new career high in passer rating, an impressive feat given how the season started. During the first eight weeks of the season, Stafford had completed a respectable 64.5 percent of his passes and 260 yards per game, but with a rough 13-to-11 touchdown-to-interception ratio. After the Lions' Week 9 bye, Stafford improved slightly with a 70 percent completion percentage and 272 yards per game, but his touchdown-interception ration really shined, jumping to 19-2. The primary difference between the two halves was who was calling plays, as Joe Lombardi was fired shortly before the bye and replaced by quarterbacks coach Jim Bob Cooter. An offseason to further adjust the offense should be great for Stafford, but Detroit has a lot of questions this offseason, ranging from whether head coach Jim Caldwell will be back to the possible retirement of Calvin Johnson.

by RotoWire Staff | Special to CBSSports.com

Lions' Matthew Stafford: Tosses three touchdowns against Chicago

Stafford connected on 28 of 39 of his attempts for 298 yards and three touchdowns in Sunday's win over Chicago. He added 10 yards on the ground. Less than two months ago, the Lions were heading into their bye with a 1-7 record and the future of Stafford was in doubt. The Lions finished the season's second half with a 6-2 record and a three-game winning streak and Stafford looks like he's back on track. During the season's final eight games, Stafford completed just shy of 70 percent of his passes and boasted a 19-2 touchdown-to-interception ratio. He averaged 272 yards per game during the span. Given Calvin Johnson's enormous contract, change may be coming one way or the other in Detroit, but if head coach Jim Caldwell and offensive coordinator Jim Bob Cooter are able permitted to stay, Stafford may be in line for a big 2016.

by RotoWire Staff | Special to CBSSports.com

Lions' Matthew Stafford: Throws for 301 yards, two touchdowns

Stafford completed 29 of 37 passes for 301 yards and two touchdowns in Sunday's win over the 49ers. He added 11 yards on the ground on five carries. Before the beginning of the season, the talk in Detroit was that fans were about to see the next step in Stafford's development as a more composed, efficient passer. It took the firing of offensive coordinator Joe Lombardi, but Lions fans and fantasy owners are beginning to see what was being hyped. Since the bye week, Stafford has tossed 16 touchdown passes and just two picks in seven games. Stafford will close the season against the Chicago Bears, a team that is ninth worst in oppsing quarterback rating this season.

by RotoWire Staff | Special to CBSSports.com

Lions' Matthew Stafford: Three touchdowns against Saints

Stafford completed 22-of-25 passes for 254 yards, three touchdowns and no interceptions in Monday night's win over the Saints. Stafford was nothing short of brilliant Monday night, throwing for as many touchdowns as incompletions. In fact, Stafford totaled three touchdown passes by halftime, taking advantage of a dreadful Saints defense while continuing his strong close to this season. To that point, Stafford has thrown for 12 touchdowns and just one interception over the Lions' last four games, putting him in excellent form ahead of Sunday's home game against the 49ers.

by RotoWire Staff | Special to CBSSports.com

Lions' Matthew Stafford: Throws for two scores against Rams

Stafford completed 30 of 46 passes for 245 yards, two touchdowns and a pick in Sunday's loss to the Rams. He ran for five more yards and added a fumble during the game. Stafford snapped a three-game streak during which he did not throw a pick, his longest such run of the season. From Weeks 3 through 5, Stafford scared off owners while totaling just two touchdowns, a sum that he has met or topped in six of his last eight games. The Rams' stingy pass defense managed to take Stafford's strength, the deep ball, away on Sunday as Stafford was unable to complete a pass of at least 20 yards for just the second time this season. The next few weeks promise for better results as the Lions take on two of the NFL's worst pass defenses in Weeks 15 and 16.

by RotoWire Staff | Special to CBSSports.com

Lions' Matthew Stafford: Comes up just short

Stafford completed 23 of 35 passes for 220 yards and two touchdowns in Thursday's 27-23 loss to the Packers, adding two carries for 22 yards with a lost fumble. Stafford didn't play a bad game overall, but he mostly settled for short passes, and then lost a crucial fumble in the third quarter to let Green Bay right back into the contest. He later redeemed himself with a 29-yard completion to T.J. Jones that seemingly sealed the game, but the Packers got the ball back with 23 seconds remaining and won on a hail mary. Despite the disappointment of losing out on any last-ditch playoff hopes, Stafford and the rest of the Detroit offense have undeniably shown significant improvement in recent weeks. The Lions will get some extra rest ahead of a Week 14 road matchup with a Rams defense that has recently felt the toll of some key injuries.

by RotoWire Staff | Special to CBSSports.com

Lions' Matthew Stafford: Tosses Five TD passes Thursday

Stafford, who completed 27 of 38 passes for 337 yards in Thursday's 45-14 win over the Eagles, tied a career-high by tossing five TD passes, ESPN.com reports. Things are suddenly looking up for Stafford and the Lions, who have now won three straight games. Highlighting Stafford's big day on Thanksgiving against a porous Philly D was the chemistry he displayed with top wideout Calvin Johnson, who caught three TDs in the contest. Next up for Stafford is a less favorable Week 13 matchup against the Packers.

by RotoWire Staff | Special to CBSSports.com

Lions' Matthew Stafford: Runs for a touchdown against Oakland

Stafford completed 22 of 35 passes for 282 yards in Sunday's win over Oakland. He added six carries for 31 yards and a touchdown. With his team trailing 13-9 early in the fourth quarter, Stafford ran in a five-yard score on a quarterback draw. It was just the third rushing touchdown of the season for Detroit, and the first since Week 3. Overall, Sunday was one of Stafford's cleaner performances of the season as the team got back to pushing the ball down field, completing five passes of 20 or more yards after averaging just three per game coming into Sunday. With bye weeks now over, Stafford has lost his value as a fill-in, but he may be worth keeping around in case the Lions continue their climb out of the abyss.

by RotoWire Staff | Special to CBSSports.com

Lions' Matthew Stafford: Tosses two touchdowns against Green Bay

Stafford competed 24 of 38 passes for 242 yards, two touchdowns and an interception in Sunday's win over Green Bay. He also recorded a fumble during the contest. Stafford delivered a pair of touchdowns on quick slants in the end zone by Brandon Pettigrew and Lance Moore. The Lions' offense still fails to show the the ability to push the ball down field, the team's lone play of over 20 yards on Sunday coming on a 43-yard catch and run by Golden Tate late in the 4th quarter, but Sunday can be seen as a step in the right direction as Stafford was kept clean after being sacked 13 times in the team's previous two contests. Stafford is likely not worth a pickup unless a team's regular quarterback is on a bye, as turnovers continue to be an issue as he has gone just two games this season without at least one. Stafford also faces a ton of pressure to produce without a bonafide running attack to lean on.

by RotoWire Staff | Special to CBSSports.com

Lions' Matthew Stafford: Gets new offensive coordinator's backing

New Lions offensive coordinator Jim Bob Cooter claims that Stafford has not struggled to absorb Detroit's scheme, the Detroit Free Press reports. Rumors that Stafford couldn't handle former offensive coordinator Joe Lombardi's scheme never really rang true as Stafford was being credited for playing some of the most disciplined football of his career in 2014 with Lombardi calling plays. Stafford is on pace to complete the highest percentage of passes in his career, but curiously also set a career high in turnovers while seeing his passing yards reduced for the fourth consecutive season. It seems more likely that Stafford, and the Lions' offense as a whole, is suffering from a rushing attack that is gaining 13 fewer yards than the next poorest running game in the league and pass protectors that are on pace to allow 44 sacks, both of which are unlikely to be hidden by a new playcaller.