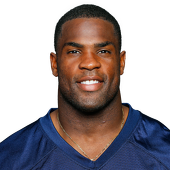 Own

93%

Start

40%

RB Rank

9
by RotoWire Staff | Special to CBSSports.com

Eagles' DeMarco Murray: Finds end zone in season finale versus Giants

Murray carried 12 times for 69 yards and a touchdown in Sunday's win over the Giants. He was targeted once in the passing game but did not record a reception. The nightmare season came to a close for Murray, who ran for fewer than half of the 1,845 yards he recorded last year with the Cowboys. Despite scoring in each of the last two weeks, the 28-year-old also found the end zone just seven times after compiling at least 11 touchdowns in each of his previous two seasons. Coach Chip Kelly's departure could have a positive effect on Murray's usage, and he will look to rebound in 2016.

by RotoWire Staff | Special to CBSSports.com

Eagles' DeMarco Murray: Touchdown in loss

Murray rushed five times for 27 yards and a touchdown during Saturday's loss to Washington. He also caught three of four targets for 24 receiving yards. The Eagles split their backfield touches fairly evenly, as Darren Sproles rushed five times for nine yards and Ryan Mathews rushed four times for five yards and a touchdown. Obviously, Murray was the most productive of the bunch, but it did little to get him significantly more touches. Additionally, Sproles was very active in the passing game, catching seven of nine targets for 56 yards. With the Eagles clearly not preferring any one running back over the others, Murray's fantasy value will continue to be limited.

by RotoWire Staff | Special to CBSSports.com

Eagles' DeMarco Murray: Gets just two carries

Murray had two carries for three yards in Sunday's 40-17 loss to the Cardinals Chip Kelly attributed Murray's lack of work to game flow, even though Ryan Mathews and Darren Sproles combined for 17 carries and six targets. Murray probably would've gotten a couple more carries if the game had stayed close, but it's pretty clear that Kelly prefers to mostly lean on Mathews and Sproles.

by RotoWire Staff | Special to CBSSports.com

Eagles' DeMarco Murray: Splits time with Ryan Mathews and Darren Sproles

Murray finished with 34 rushing yards on 11 carries, and two catches for three yards on two targets Sunday against the Bills. Murray was slightly out-gained by both Ryan Mathews (consussion/groin) and Darren Sproles, as all three running backs saw similar workloads. It's going to be tough for Murray to find consistent traction if he's only getting about one third of the action in Philly's backfield, and his 3.1 yards-per-carry average in this one certainly didn't help his cause. A bounce-back performance should be hard to come by against a well-rested Cardinals defense next week.

by RotoWire Staff | Special to CBSSports.com

Eagles RB DeMarco Murray active Sunday, but workload is uncertain

Murray is active for Sunday's game against the Bills. However, Murray's workload for the contest remains very uncertain, with NFL.com's Ian Rapoport reporting earlier in the day that Murray could be as low as fourth on the depth chart at running back. Murray's first season in Philadelphia has been an extremely rocky ride, and after seeing just eight carries on 14 snaps last week against New England while seeing his rushing average plunge to just 3.5 yards per carry on the campaign, it appears that coach Chip Kelly is beginning to lose faith in the running back. The Eagles will keep all four of their running backs active Sunday, but it appears likely that either Ryan Mathews or Darren Sproles will spearhead the team's platoon at the position, potentially leaving Murray and Kenjon Barner to pick up the scraps. Given the likelihood that he'll see minimal carries Sunday, not to mention his ineffectiveness this season, it's difficult to justify starting Murray in most leagues this week.

by RotoWire Staff | Special to CBSSports.com

Report: Eagles RB DeMarco Murray might not be active Week 14

As Sunday's game against the Bills approaches, per NFL Network's Ian Rapoport, the Eagles "have weighed all options with running back DeMarco Murray, even sitting him." Meanwhile, NFL Network's Albert Breer doesn't expect Murray to get much more work in Week 14 than he did last weekend, when the running back was limited to 14 snaps. With that in mind, Rapoport suggests that Darren Sproles could head the team's backfield Sunday, while Breer notes that Ryan Mathews -- who is expected to return from a concussion -- could also see some early-down work ahead of Murray, with Sproles and Kenjon Barner representing the team's top options on passing downs. Either way, Murray is a very risky play in Week 14, considering reports that he he could well be the Eagles' fourth-most used running back Sunday.

by RotoWire Staff | Special to CBSSports.com

Eagles' DeMarco Murray: Losing grip on role

Eagles head coach Chip Kelly and offensive coordinator Pat Shurmur both declined to say that Murray is still the lead back, The News Journal reports. Kelly and Shurmur were unsurprisingly asked multiple questions about Murray, who reportedly expressed frustration to Eagles owner Jeffrey Lurie after getting just eight of the 38 running-back touches in Sunday's 35-28 win over the Patriots. Kelly and Shurmur both said that Murray's lack of involvement was due to the gameplan rather than a demotion, but with Ryan Mathews (concussion) finally back at practice Tuesday, it's quite possible Murray is no longer considered the lead back. A real answer may not come until Sunday's game against Buffalo, as the Philadelphia coaching staff has quickly become adept at dodging questions regarding Murray's role.

by RotoWire Staff | Special to CBSSports.com

Eagles' DeMarco Murray: Quiet in upset win at New England

Murray had just eight carries for 24 yards in Sunday's 35-28 upset win at New England. He was not targeted once in the passing game. If you just looked at the final score, you'd probably assume that Murray had a strong game in an upset win on the road. The Eagles got three return touchdowns, however, and Darren Sproles was the most effective runner for Philadelphia on Sunday, rushing for 66 yards on 15 carries. Even reserve RB Kenjon Barner was more involved than Murray, rushing for 39 yards on nine carries, although he almost blew the game, losing a fumble in the final two minutes to give Tom Brady one last shot. Murray's lack of production is not isolated to Sunday's game, as he rushed for a total of 94 yards on 27 carries over the previous three games, and that's despite not having to share carries with the talented Ryan Mathews (concussion). Whether Mathews returns next week or not, Murray will have a stiff challenge against an excellent Bills' rush defense.

by RotoWire Staff | Special to CBSSports.com

Eagles' DeMarco Murray: Stymied Thursday

Murray was stymied in Thursday's defeat at Detroit, managing 14 carries for 30 yards and going without a target. The Eagles committed to the ground game for just one quarter, but cascading touchdown throws from Matthew Stafford forced Chip Kelly to turn to the pass to attempt to keep pace. While Mark Sanchez put together an efficient, but unspectacular, performance (199 yards on 27 pass attempts), Murray wasn't on the receiving end of any of his throws. As a result, Murray was unable to augment his dismal rushing total for those in PPR formats.

by RotoWire Staff | Special to CBSSports.com

Eagles' DeMarco Murray: Tallies 91 yards against Tampa Bay

Murray carried the ball 13 times for 64 yards in Sunday's loss to Tampa Bay. He added four catches on five targets for 27 yards and fumbled during the game. The fumble could spur memories of Murray's fumbling problems from 2014, but all five of Murray's fumbles last season came in the season's first eight games and he had gone 17 fumble-free games until Sunday's mishap. Though the score forced Philadelphia to limit the run, Sunday's 4.9 yards-per-carry average was Murray's second highest of the season. Murray also caught at least four passes for the sixth time this season and moved up to second on the team in receptions. Fantasy owners may be disappointed with his five total touchdowns after last season's tally of 13, but the fifth-year back is collecting enough yardage on the ground and through the air to make it worth it to wait for scores.