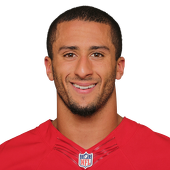 Own

10%

Start

0%

QB Rank

22
INJURY ALERT:
IR | Left shoulder | IR. Out for season
by RotoWire Staff | Special to CBSSports.com

49ers' Colin Kaepernick: Has surgery to repair labrum

Kaepernick (shoulder) had surgery to repair a torn left labrum, and he is expected to require four-to-six months for recovery, according to Matt Maiocco of CSNBayArea.com. Kaepernick should be healthy long before training camp, especially considering that the injury is to his non-throwing shoulder. The bigger question at this point is whether he has a future in the San Francisco organization, and while we probably won't get an answer anytime soon, the 49ers are headed for a top-five pick that would allow them to select one of the draft's top signal-callers.

by RotoWire Staff | Special to CBSSports.com

49ers QB Colin Kaepernick placed on IR

Kaepernick (shoulder) will miss the remainder of the season after being placed on injury reserve by the 49ers, Adam Caplan of ESPN reports. It appears as though the the 49ers have officially given up on Kaepernick this season after placing him on injury reserve. Dylan Thompson has been signed off the practice squad to replace him. Barring injury, Blaine Gabbert will likely run the show under center for the remainder of the season. This certainly raises questions for Kaepernick's future with the organization, and will be something to monitor in the offseason.

by RotoWire Staff | Special to CBSSports.com

49ers' Colin Kaepernick: Loses starting QB job

Kaepernick has lost the San Francisco starting quarterback job with Blaine Gabbert set start next week against Atlanta, NFL Network reports. Kaepernick has thrown for just six touchdowns against 5 interceptions in six games. It's not clear if this is a permanent move, but this may be the end of Kaepernick's tenure in San Francisco.

by RotoWire Staff | Special to CBSSports.com

49ers' Colin Kaepernick: Team in evaluation mode

When asked Monday if Kaepernick would remain the 49ers' starter at QB, coach Jim Tomsula fell short of confirming such an outcome, CSN Bay Area reports. "We're evaluating everything right now," Tomsula said Monday. "We're in the middle of it right now and I don't have any comments on any position on our field right now." Following Tomsula's comments Monday, the 2-6 49ers dealt long-time TE Vernon Davis to the Broncos, seemingly backing up the coach's assertion that the team is in evaluation mode. If the 49ers -- who are currently dealing with a very banged up backfield -- decide to shake things up at QB, which remains a speculative notion at this time, Blaine Gabbert is the team's No. 2 signal-caller.

by RotoWire Staff | Special to CBSSports.com

49ers' Colin Kaepernick: Held scoreless in St. Louis

Kaepernick completed 20-of-41 passes for 162 yards in Sunday's loss to St. Louis. He added 28 yards on the ground on six carries. Kaepernick's slow decline through mediocrity continued against the Rams' stout defense. Much has been made about Kaepernick's mistakes, but all five of his interceptions came in Weeks 3 and 4. If anything, the young quarterback should be commended for not turning the ball over for four straight games. Where Kaepernick's struggles have really shown themselves is in a failure to make positive plays. The dual-threat quarterback has been held without a passing touchdown in five of the 49ers' eight games and held without a touchdown of any kind in four contests. It's that lack of positive plays, not a run of negative plays, that should keep Kaepernick out of lineups.

by RotoWire Staff | Special to CBSSports.com

49ers' Colin Kaepernick: Struggles in ugly loss

Kaepernick completed 13 of 24 passes for 124 yards in Thursday's 20-3 loss to the Seahawks. Kaepernick lacked accuracy, touch and poise, but he also didn't have much of a chance, as Seahawks defensive ends Michael Bennett and Cliff Avril dominated the San Francisco line. Kaepernick was sacked six times in 30 dropbacks and failed to record a carry for the first time since taking over the starting job in 2012. The San Francisco offense has actually been fine against weaker opponents, but the unit has shown no ability whatsoever to throw the ball against decent defenses, which doesn't bode well for a Week 8 game in St. Louis.

by RotoWire Staff | Special to CBSSports.com

49ers' Colin Kaepernick: Another strong game

Kaepernick completed 16-of-27 passes for 340 yards and two touchdowns in Sunday's 25-20 win over Baltimore. He had three carries for just 10 yards as a runner. Kaepernick made several nice deep throws, including a 76-yard touchdown to Torrey Smith and 51-yard completion to Anquan Boldin. A week after Kaepernick played perhaps his best game of the season against the Giants, he followed it up with another strong performance. While the rushing production was minimal Sunday, Kaepernick has been great as a runner in general. He won't find things easy next week, facing a rugged Seahawks' defense.

by RotoWire Staff | Special to CBSSports.com

49ers QB Colin Kaepernick throws for 160 yards in loss

49ers quarterback Colin Kaepernick completed just 13 of 25 pass attempts for 160 yards with no touchdowns and an interception in Sunday's 17-3 loss to the Packers. He did contribute 57 rushing yards on 10 carries. Kaepernick failed to rebound, after last week's horrific four-interception game at Arizona, and with just a 2:5 TD:INT ratio in four games this season, he hasn't helped fantasy owners through the air, although he's run for a total of 195 yards and a touchdown. Next week, Kaepernick will try to get on track against the Giants.

by Michael Hurcomb | Fantasy Writer

49ers' Tomsula: 'I believe in Colin Kaepernick. He's our quarterback'

49ers quarterback Colin Kaepernick received a vote of confidence Monday from coach Jim Tomsula following a four-interception outing Sunday against the Cardinals. "I believe in Colin Kaepernick," Tomsula said, per ESPN.com. "And, I think he's got the tools to be a darn good quarterback in this football league, in this league." Kaepernick has completed 64.8 percent of his passes (59 of 91) through three games. He has two passing touchdowns to four interceptions, while rushing for 138 yards and one touchdown on 23 attempts. "I mean, yes, he's our starting quarterback," Tomsula said. "But, we're in a game of football. I mean, infinity and statements to that term at any position (are false), but I've had no thoughts of him not being our quarterback. He's our quarterback."

by RotoWire Staff | Special to CBSSports.com

49ers QB Colin Kaepernick picked off four times in Week 3

49ers quarterback Colin Kaepernick completed just 9 of 19 passes for 67 yards with four interceptions in Sunday's 47-7 loss at Arizona. He did manage to contribute a touchdown on the ground, and finished wit 46 yards on seven carries. Kaepernick had two of his interceptions returned for a touchdown in the first six minutes of the game, and all of his picks seemed to be legitimate bad throws. He was facing a tough defense on the road, but that is obviously of little consolation to fantasy owners. He'll look to improve in Week 4, facing the Packers at home.