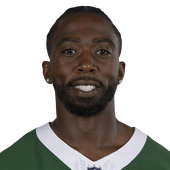 Own

86%

Start

38%

QB Rank

27
by RotoWire Staff | Special to CBSSports.com

Bills' Tyrod Taylor: Gets mild support from Whaley

Bills general manager Doug Whaley said Taylor did enough in 2015 for the team to "continue down the road to see if he can be the franchise guy of the future", The Buffalo News reports. Whaley seemingly intended for his comment to be taken as praise, but it's still a bit perplexing how hesitant the Bills have been to commit to Taylor as their quarterback of the future, perhaps because acknowledging the extent of his success would illuminate just how disappointing the rest of the organization was this season. In addition to his obvious running prowess, Taylor overcame a mediocre receiving corps to complete 63.7 percent of his passes for 8.0 yards per attempt, with a 20:6 TD:INT ratio. Even with the Bills sporting a potent rushing attack, it was odd to see how conservative the team typically played on offense in the first half of games, seemingly unaware that it had an effective quarterback and a lousy defense. Buffalo still managed to go 8-6 in the games Taylor played, and with slightly better health and coaching, the team likely would've contended for a playoff spot. In any case, Taylor probably won't face any competition for the starting job next season, but it does seem the Bills are hesitant to extended his contract beyond 2016.

by RotoWire Staff | Special to CBSSports.com

Bills' Tyrod Taylor: Leads Bills to win over Jets

Taylor (shoulder) completed 18 of 28 passes for 182 yards and rushed 10 times for 51 yards and a touchdown during Sunday's 22-17 win over the Jets. Taylor connected with only four receivers, with wideout Sammy Watkins dominating the targets and catching 11 passes for 136 yards, while Greg Salas was the only other player to register more than four receiving yards. Taylor finishes the season with 3,035 passing yards and 20 touchdowns plus 568 rushing yards and four scores on the ground in 14 games, his first full season as a starter. Taylor will be a free agent after next season, and he could be in line for a new contract this offseason after his fine play this year, though the Bills have a little salary cap maneuvering before that can be completed.

by RotoWire Staff | Special to CBSSports.com

Bills' Tyrod Taylor: Poor weather game

Sunday's weather forecast for Taylor and the Bills calls for potential snow and winds around 20 mph. Taylor played in wintry Buffalo weather last week and only threw 18 times, so more of the same could be in store Sunday if the game is close or the Bills get a lead. If you're counting on Taylor for production in Week 17, he may have to help you with his feet again, which he's capable of doing. The first-year starter has rushed at least seven times in the last four games, and ran it 14 times for 67 yards in last week's win.

by RotoWire Staff | Special to CBSSports.com

Bills' Tyrod Taylor: Probable for Week 17

Taylor (right shoulder) is listed as probable for Sunday's game against the Jets. Taylor was listed as limited at practice this week, but there was never much doubt that he'd be a go Sunday in the 7-8 Bills' season finale against coach Rex Ryan's former team. They'll close out their season Sunday minus a pair of key offensive cogs, RB LeSean McCoy and TE Charles Clay.

by RotoWire Staff | Special to CBSSports.com

Bills' Tyrod Taylor: Limited at practice, but says he'll start this week

Taylor was listed as a limited practice participant Wednesday with a right shoulder issue. That said, the QB insists that he has "no doubt at all" about starting Sunday's season finale against the Jets, while indicating that despite being listed as limited by the Bills, he took "every rep" during Wednesday's practice session.

by RotoWire Staff | Special to CBSSports.com

Bills' Tyrod Taylor: Struggles in win over Cowboys

Taylor threw for just 179 yards and an interception while completing 13-of-18 passes Sunday against the Cowboys, but did have 67 rushing yards on 14 carries. Taylor's 14 carries marked a season high, as he was often flushed out of the pocket due to his receivers' inability to get open. While he turned in an above-average rushing performance, this was Taylor's first game with under 200 yards passing since Week 10. Things don't get any easier next week against a Jets secondary that held the 26-year-old quarterback to 158 passing yards on a season-low 5.9 yards per attempt in their last meeting.

by RotoWire Staff | Special to CBSSports.com

Bills' Tyrod Taylor: Rough weather in store?

Taylor and the Bills are expected to have an afternoon of heavy winds Sunday when they take on the Cowboys, BuffaloBills.com reports. The Bills are a running team to begin with and typically win the games when they can keep Taylor to less than 30 throws. With Robert Woods and Charles Clay already ruled out this week in addition to the potentially wintry weather, Taylor owners might have to hope he can do enough damage with his legs - the Dallas defense is often vulnerable in this area - to make up for what could be a challenging day through the air.

by RotoWire Staff | Special to CBSSports.com

Bills' Tyrod Taylor: Tosses two touchdowns against Washington

Taylor completed 16 of 27 passes for 235 yards and two touchdowns in Sunday's loss to Washington. He added 79 yards on nine carries and fumbled during the game. Washington jumped out to a 21-0 halftime lead, putting Buffalo's offense in a tough spot. The Bills responded well, however, leading a solid comeback effort as Taylor threw for multiple touchdowns for the third time in his past four games after just two such performances in his first eight contests. Taylor has become a low-risk option at quarterback as his five interceptions this season are the fewest among quarterbacks with 20 or more touchdown passes. The fact that only Cam Newton and Russell Wilson have more rushing yards among quarterbacks adds to his value.

by RotoWire Staff | Special to CBSSports.com

Bills' Tyrod Taylor: Tops 300 total yards in Philadelphia

Taylor threw for 268 yards with a touchdown and an interception while completing 19-of-36 passes, and rushed for 53 yards on eight carries Sunday in Philadelphia. Taylor topped 40 rushing yards for the sixth time this season, as the dual-threat's rushing ability continues to enhance his fantasy value. Even though he came back down to earth after two consecutive games with three touchdown passes, Taylor's 18:5 touchdown-to-interception ratio is still very impressive. The 26-year-old quarterback's ability to contribute in multiple ways without turning the ball over makes him a solid high-floor option against the Redskins next week.

by RotoWire Staff | Special to CBSSports.com

Bills' Tyrod Taylor: Scores four TDs in win

Taylor (shoulder) completed 11 of 21 passes for 211 yards and three touchdowns Sunday against the Texans. He also rushed seven times for 28 yards and another score. Taylor connected with only five different receivers, with wideout Sammy Watkins leading the team with 109 yards and a touchdown. Taylor's other scores went to Charles Clay (four catches for 66 yards) and Robert Woods (two for 19), as he threw for three touchdowns for the fourth time this season, including both of the last two games. He's been very good at not turning the ball over, as he has just one lost fumble this season and his last interception came back in Week 4. Up next is a Week 14 trip to Philadelphia to take on an Eagles defense that has allowed the second-most passing touchdowns this season.