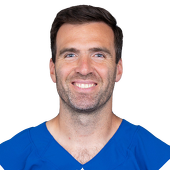 Joe Flacco
#5 QB / Baltimore Ravens / EXP: 8YRS
Height: 6-6
Weight: 245 lb
Age: 31
College: Delaware
Bye 9,18,19,20,21
Own

22%

Start

1%

QB Rank

24
INJURY ALERT:
IR | Knee | IR. Out for season
by RotoWire Staff | Special to CBSSports.com

Ravens' Joe Flacco: Says recovery is going well

Flacco (torn ACL) said his recovery is going well so far, the Baltimore Sun reports. The Ravens tentatively expect Flacco to be ready by Week 1, and the quarterback recently echoed that sentiment in an interview with Baltimore's WBAL Radio. He tore his ACL on Nov. 22 and had surgery Dec. 8, giving him nine months to recover before the start of the 2016 season. It remains to be seen what kind of talent he'll be surrounded by, as Steve Smith (Achilles) and 2015 first-round draft pick Breshad Perriman (knee) are working their way back from serious injuries of their own. The Ravens also have 2015 breakout performer Kamer Aiken, along with a promising group of tight ends, but it wouldn't be surprising to see the team add more skill-position talent in the draft. Although a potential contract renegotiation might lead to some offseason headlines, Flacco is certain to be back with the team in 2016. Any negotiating will just be a matter of deferring part of his cap hit to 2017 and 2018.

by RotoWire Staff | Special to CBSSports.com

Ravens' Joe Flacco: ACL and MCL tear confirmed

An MRI confirmed that Flacco tore both his ACL and MCL in Sunday's win over the Rams, ESPN's Jamison Hensley reports. Per the report, coach John Harbaugh noted that indications at this stage are that Flacco will be ready for training camp next season, but in the meantime, the Ravens will turn to veteran signal-caller Matt Schaub and a backup to be named later.

by RotoWire Staff | Special to CBSSports.com

Ravens QB Joe Flacco out for season with ACL tear

Ravensquarterback Joe Flacco is done for the season due to a knee injury that he sustained in Sunday's win over the Rams. Per ESPN's Adam Schefter, it's a torn ACL for Flacco, with Matt Schaub currently the Ravens' only healthy option at the QB position for the time being.

by RotoWire Staff | Special to CBSSports.com

Ravens' Joe Flacco: Throws three touchdowns in sloppy performance

Flacco completed 34-of-45 passes for 316 yards and three touchdowns, but also turned the ball over three times with a fumble and two interceptions Sunday against Jacksonville. He added two carries for 17 yards on the ground. Flacco posted robust totals in the yardage and touchdown categories, but his season-high three turnovers proved costly as Baltimore ultimately lost the game. He has surpassed 300 passing yards in three of his last four games, and seemed to cope fairly well with the absence of top receiver Steve Smith (Achilles) in this one. Flacco faces a tough Rams pass defense at home next week, so he will have to clean up his game if he wants to replicate his recent success.

by RotoWire Staff | Special to CBSSports.com

Ravens' Joe Flacco: Two TDs in win over Chargers

Flacco completed 25-of-37 passes for 319 yards and a touchdown Sunday against the Chargers. He also rushed four times for two yards and scored on the ground. Flacco connected with nine different receivers, though the biggest news out of the game is that wideout Steve Smith, who led the team with 82 yards Sunday, suffered a torn Achilles and will miss the rest of the season. The Ravens' wideouts aren't exactly an elite unit, and now Flacco will be without his top target. Fantasy owners will have to look for a short-term replacement anyway, as the Ravens are off in Week 9 before facing the Jaguars in Week 10.

by RotoWire Staff | Special to CBSSports.com

Ravens QB Joe Flacco passes for 252 yards in loss to Arizona

Ravens quarterback Joe Flacco completed 26 of 40 passes for 252 yards, one touchdown and one interception in Monday night's loss to the Cardinals. Flacco averaged under 6.5 yards per attempt for the fourth straight game, evidencing the struggles Baltimore's passing game has endured with a patchwork group of wide receivers. However, with the Ravens also struggling to run the ball Monday, Flacco still engineered a late-game drive to put them in position to force overtime. While his lone interception ultimately came on that final drive, Flacco did toss a touchdown and complete a two-point conversion earlier in the game. On the whole, Flacco did well considering the options at his disposal, but once again the Ravens fell short of winning.

by RotoWire Staff | Special to CBSSports.com

Ravens' Joe Flacco: Throws for 343 yards in loss

Flacco completed 33-of-53 passes for 343 yards with two touchdowns and a pair of interceptions in Sunday's 25-20 loss at San Francisco. While Flacco posted a big statistical game, he didn't really play that well, as he missed a lot of throws. One of his interceptions was simply a terrible decision, throwing the ball up for grabs in the middle of the field for no reason. It has been an odd year for Flacco, but he's dealing with a lack of playmakers on offense, although he did get back Steve Smith (back) and Crockett Gillmore (calf) on Sunday. He'll have a tougher test in Week 7, playing the Cardinals at University of Phoenix Stadium.

by RotoWire Staff | Special to CBSSports.com

Ravens QB Joe Flacco does his damage on the ground in loss Sunday

Ravens quarterback Joe Flacco completed 19 of 35 passes for 210 yards and a touchdown in Sunday's loss to Cleveland. He added a pair of one-yard scores on the ground. For some reason or another, Flacco is a common target for the "Is he elite?" questioning. While there is a difference between real and fantasy football, it is clear that Flacco is more fringe starter than golden boy in fantasy right now. At the end of Sunday's game he ranked 11th in the league in yards and had thrown as many touchdowns as picks. In fairness, it is difficult to be great with the dearth of targets at his disposal. Despite missing Sunday's game, Steve Smith still has 20 more targets than any other Ravens receiver and 13 more catches. With such a one-receiver offense currently without that receiver, it may be wise to Flacco on your bench until Smith returns from his back injury.

by RotoWire Staff | Special to CBSSports.com

Report: Ravens could trade for wideout to help Joe Flacco

The Ravens may explore trades to give Flacco more help at wide receiver, ESPN.com reports. Steve Smith (back) will miss at least one game, Michael Campanaro (back) is done for the year and Breshad Perriman (knee) is out indefinitely. Flacco is thus left with Kamar Aiken, Marlon Brown, Darren Waller and Chris Givens, whom was recently acquired for a seventh-round draft pick. The Ravens might consider making a bigger splash, but their cap situation only allows for so much and there aren't many teams that can spare a starting-caliber wide receiver. Flacco will have a decimated supporting cast for a Week 5 matchup with a Cleveland team that can't stop the run. Unless the Ravens fall behind by multiple scores, Flacco will likely take a backseat to the running game.

by RotoWire Staff | Special to CBSSports.com

Ravens QB Joe Flacco throws for 189 yards, TD in win

Ravens quarterback Joe Flacco completed 20 of 33 passes for 189 yards, with one touchdown and one interception, in Thursday's 23-20 overtime win over the Steelers. Flacco threw a terrible interception for the second straight week, but his touchdown pass was a perfect 15-yard strike to Kamar Aiken. The Ravens' signal-caller otherwise had a nondescript performance, with his team largely relying on Justin Forsett's running to move the ball. Already stuck with an incredibly thin receiving corps, Flacco played most of the fourth quarter and overtime without wide receivers Steve Smith (back) and Michael Campanaro (undisclosed). Though Smith's injury didn't appear too serious, Flacco's value will take a significant hit if his go-to receiver misses any time. The Ravens have a Week 5 home game against the Browns.