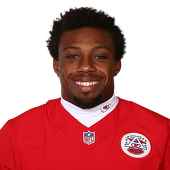 Own

9%

Start

4%

FS Rank

NR
by RotoWire Staff | Special to CBSSports.com

Chiefs' Eric Berry: Returns to form in 2015

Berry finished the 2015 campaign with 61 tackles (55 solo) and two interceptions. After missing a the 2014 campaign due to a bout with cancer, Berry emerged better than ever, and returned to his previous form in 2015. He'll likely put his name in the hat for the Comeback Player of the Year award alongside teammate Derrick Johnson, but he will enter the offseason as an unrestricted free agent. It seems likely the Chiefs will make a push to re-sign Berry, but there's no guarantee he will be back in Kansas City for 2016.

by Shawn Krest | CBSSports.com

Chiefs' Eric Berry ready to return to practice after lymphoma battle

The Chiefs announced that safety Eric Berry has been medically cleared, after a battle with Hodgkins Lymphoma. Berry was diagnosed in December and completed treatment in June. He'll return to practice on Wednesday.

by Marty Gitlin | CBSSports.com

Reid gives encouraging report on Chiefs S Eric Berry

Andy Reid has declared that Chiefs safety Eric Berry doing "well" and has been through all his treatments, the Kansas City Star is reporting. The 26-year-old Berry is battling Hodgkin's lymphoma, which limited him to six games last season. It remains to be seen if and when he returns to the field.

by Dave Peters | CBSSports.com

Chiefs S Eric Berry doing well in treatment process

Chiefs safety Eric Berry is staying positive and doing well in his treatment to battle Hodgkin lymphoma, according to the Kansas City Star. "He's doing well in that treatment process, but that's a tough process to go through," said Clark Hunt, who visited Berry in Atlanta in January and gets regular updates on his status. Head coach Andy Reid also reiterated that Berry is progressing well. "He's doing well," said Reid, who said he last spoke to Berry a week before he arrived for the meetings. "(He's) positive and upbeat." Berry, 26, has 289 total tackles, 5.5 sacks, eight interceptions and 31 passes defensed in five seasons with the Chiefs.

by Larry Hartstein | Senior Analyst

Chiefs GM getting 'very positive' reports about Eric Berry

Chiefs general manager John Dorsey told Sirius XM NFL Radio that safety Eric Berry's battle with Hodgkin's lymphoma is going well. "Well, anybody who knows Eric Berry knows that if there's a challenge presented to him, he will attack it with a vengeance," Dorsey said, per NFL.com. "And he will do that. Everything that I have gotten back has been very positive. I have not spoken with him on the phone for probably six weeks, but I have texts. We communicated through texts. He's in good spirits, he's fine, he's driving, and he's going to conquer it."Berry, 26, was diagnosed in December. His career is on hold while he fights the treatable disease.

by Jason Butt | CBSSports.com

Chiefs' Andy Reid has 'special place in my heart' for S Eric Berry

Chiefs coach Andy Reid told reporters at the NFL combine that safety Eric Berry is still in the midst of his battle with Hodgkin's lymphoma. Reid was diagnosed with the cancer in December, ending his season early. "He's a stud … special place in my heart for a guy like that," Reid said, via the Kansas City Star. Reid also gave updates on linebacker Derrick Johnson and defensive end Mike DeVito, saying both players are in great shape. Both suffered Achilles tendon tears in 2014. Read more here: http://www.kansascity.com/sports/nfl/kansas-city-chiefs/article10618655.html#storylink=cpy

by Marty Gitlin | CBSSports.com

Chiefs SS Eric Berry diagnosed with Hodgkin's lymphoma

What was feared is now official. The Chiefs have announced that strong safety Eric Berry has been diagnosed with Hodgkin's lymphoma. Berry, who was placed on the non-football injury list two weeks ago, played in just six games this season. He will now begin chemotherapy for what doctors have described as a "very treatable and potentially curable" form of cancer.

by Sean d'Oliveira | CBSSports.com

Chiefs sign DL Nick Williams to replace Eric Berry

The Chiefs signed defensive lineman Nick Williams off the Steelers' practice squad Monday, reports ESPN. The Chiefs had an extra spot on their 53-man roster after safety Eric Berry was placed on the non-football injury list with lymphoma. Williams has yet to play in an NFL regular season game.

by Igor Mello | CBSSports.com

Chiefs S Eric Berry placed on NFI list with possible lymphoma

Chiefs safety Eric Berry has been placed in the non-football injury list with a mass on the right side of his chest, team trainer Rick Burkholder told reporters on Monday. Burkholder told reporters Berry did not experience discomfort until the Oakland game on Thursday. The team believes what Berry has right now is lymphoma. He is expected to go to Emory University hospital for further evaluation. According to coach Andy Reid, Berry addressed his teammates before leaving the team. "Right now, he needs to be a beast. He'll attack this," coach Andy Reid said. Berry released the following statement: "I am truly thankful for all of the support from family, friends, coaches, teammates and the entire Chiefs kingdom. At first I was in shock with the diagnosis on Saturday and did not even want to miss a game, but I understand that right now I have to concentrate on a new opponent. I have great confidence in the doctors and the plan they are going to put in place for me to win this fight. I believe that I am in God's hands and I have great peace in that. I know my coaches and teammates will hold things down here the rest of the season and until I am back running out of the tunnel at Arrowhead. I am so thankful and appreciative of being a part of this franchise and playing in front of the best fans in the NFL. I will be back!"

by Sean d'Oliveira | CBSSports.com

Chiefs' Eric Berry appears fully recovered from ankle injury

An ankle injury that cost Chiefs safety Eric Berry five games appears to be behind him. Berry played in every snap during the Week 10 win at Buffalo, according to ESPN. Berry was one of three defensive backs to play every snap for the Chiefs and totaled six tackles.