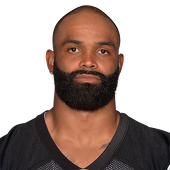 Own

0%

Start

0%

TE Rank

NR
INJURY ALERT:
IR | Ankle | IR. Out for season
by Shawn Krest | CBSSports.com

Redskins cut Silas Redd, put Logan Paulsen, Niles Paul on IR

The Redskins made roster moves with three injured players, the team announced on Sunday. The team waived/injured RB Silas Redd, who was injured in the first preseason game. He can be placed on IR if he's unclaimed. Tight ends Logan Paulsen and Niles Paul also went down to injury. Both were placed in injured reserve. To help fill the hole the injuries left at tight end, the Redskins signed Ernst Brun.

by Marty Gitlin | CBSSports.com

Redskins TE Niles Paul has fractured left ankle

Redskins tight end Niles Paul has sustained an ankle fracture dislocation and will miss the rest of the season. The injury occurred Thursday night in Cleveland when Paul landed awkwardly making a block. Paul had been established as a starter for Washington after a strong 2014 season.

by Marty Gitlin | CBSSports.com

Redskins TE Niles Paul leaves game with left ankle injury

Redskins starting tight end Niles Paul has been carted off the field after falling awkwardly on a block Thursday night in the preseason opener in Cleveland. The team has announced that he is out for the game with a left ankle injury, which was placed with an air cast. Paul broke through in 2014 with 39 catches for 507 yards and one touchdown.

by Marty Gitlin | CBSSports.com

Redskins TE Niles Paul tweaks shoulder Monday

Redskins starting tight end Niles Paul hurt his shoulder in full-team drills Monday, per ESPN. Paul appeared to be fine at first after speaking with trainers, but returned to the facility with them later. He declined comment on the situation. The team has claimed that Paul is being evaluated. One can only speculate on the severity of the injury. Paul enjoyed easily his finest season in 2014 with 39 catches for 507 yards and one touchdown.

by Igor Mello | CBSSports.com

Redskins bring back tight end Niles Paul on three-year deal

Redskins have re-signed tight end Niles Paul to a three-year deal worth approximately $10 million, per CBSSports.com NFL Insider Jason La Canfora reports. Paul, 25, caught 39 passes for 507 yards and one touchdown last season. He has 735 career receiving yards and two scores since joining the league in 2011.

by Chris Cwik | CBSSports.com

Washington's backup receivers do little Week 14

Washington's backup receivers did little Week 14 against the Rams. Santana Moss managed to pick up some slack with DeSean Jackson out. He finished second on the team in receiving yards, picking up 43 yards on three receptions. Tight end Jordan Reed also had three catches, gaining 25 yards. Andre Roberts hauled in two balls, picking up 11 yards. Niles Paul had one catch for 7 yards. Ryan Grant also had one catch. He finished with 4 yards. The group will look for more Week 15 against the Giants.

by Chris Towers | CBSSports.com

Timeshare limiting Redskins tight ends

The Redskins are making use of both Niles Paul and Jordan Reed, which makes it difficult for Fantasy owners to lean on either at this point. The players combined for 10 targets in Week 8 against the Cowboys, seven of which went Reed's way, however, that doesn't mean Reed was the bigger part of the offense. Reed actually played just 39 percent of the team's snaps Monday, compared to 57 percent for Paul. That represents a reversal from the previous week, when it was Reed who played the majority of snaps while Paul took a backseat. Reed has been featured more in the passing game than Paul over the last few weeks, but hasn't exactly lit it up, with just 9 Fantasy points in standard scoring over the last two weeks. With his role still somewhat limited, Reed is no sure-fire must-start Fantasy option at this point.

by Larry Hartstein | Senior Analyst

Redskins get offensive contributions Week 8

The Redskins got a slew of offensive contributions in Monday's overtime win at Dallas. Among them, running back Roy Helu ran five times for 29 yards and caught both his targets for 14 yards. Running back Silas Redd had a 5-yard rush. Tight end Niles Paul caught all three of his targets for 27 yards, and fullback Darrel Young had a 12-yard catch. Wideout Andre Roberts secured just one of his five targets for 11 yards. They'll all visit the Vikings in Week 9.

by Scott White | Senior Fantasy Writer

Jordan Reed pushes Niles Paul aside

So much for Niles Paul, I guess. Redskins tight end Jordan Reed, the intended starter at the beginning of the year, returned from a four-week absence for a hamstring injury Week 6 at Arizona and had a game to remember, catching eight passes for 92 yards. He also led the team in targets with 11. Paul, meanwhile, had one catch 7 yards. He was targeted twice. Paul mostly thrived in Reed's absence, averaging 4.5 catches for 58.3 yards in the four games Reed missed (and that's not even counting the four catches for 86 yards he had in Week 1, when Reed first went down), but the Redskins had been phasing him out in the weeks leading up to Reed's return. This one is pretty straightforward for Fantasy owners. Cut Paul and make sure Reed isn't available in your league.

by Scott White | Senior Fantasy Writer

Niles Paul becoming a worrisome play

After leaving early Week 4 against the Giants after suffering a concussion, tight end Niles Paul played 80 percent of the Redskins' snaps Week 5 against Seattle, but you wouldn't know it by his production. He had two passes thrown his way, catching one for 6 yards. It's a discouraging development with Jordan Reed inching closer to a return. The projected starter at the beginning of the year, Reed came close to returning from a three-week absence for a hamstring strain Monday. The Redskins decided to give him another week. Paul had been good enough in Reed's absence, averaging 5.3 catches for 78.3 yards in his first four games, to perhaps hold off Reed even after he returns, but this performance could change things. It's all speculation at this point, but I might avoid the Redskins' tight end situation altogether if I had viable alternatives on the waiver wire.