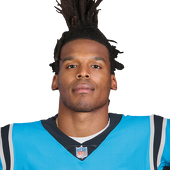 Own

100%

Start

94%

QB Rank

16
by RotoWire Staff | Special to CBSSports.com

Panthers' Cam Newton: Throws for 265 yards, one interception in Super Bowl loss

Newton completed 18 of 41 passes for 265 yards and an interception, and was also sacked six times in Sunday's 24-13 Super Bowl loss to the Denver Broncos He gained 45 yards on six rushes and fumbled twice, losing both. The sixth-year pro's adrenaline seemed to get the best of him early, and a relentless Broncos defense did him in the rest of the way. Newton looked as unsettled as he had all season, rarely enjoying the kind of time he had benefited from throughout his MVP season. He was brought down six times, knocked down on 12 occasions, and hurried 16 times overall. Newton also had several overthrows, and his offensive options were further compromised after receiver Philly Brown was forced from the game in the third quarter with a concussion. The Broncos' defensive gameplan and furious pass rush frequently stymied Newton's ability to make game-altering plays on the ground, and forced him into three particularly untimely miscues. Von Miller's sack of Newton in the first quarter led to a Malik Jackson fumble recovery that gave Denver an early 10-0 lead, while T.J Ward's interception of a pass intended for Ted Ginn, Jr. at the Broncos' 10-yard line short-circuited the Panthers' opening drive of the third quarter. The game was effectively over when Miller got to Newton again with 4:04 remaining in the fourth quarter and separated him from the ball for a second time, setting up the Broncos offense at the Panthers' five-yard line. Despite the season-ending disappointment, Newton and the Panthers established a formidable foundation on which to build for another championship run, an undertaking that figures to be greatly aided by the return of standout wide receiver Kelvin Benjamin from injury and any additional weapons acquired in the offseason.

by RotoWire Staff | Special to CBSSports.com

Panthers' Cam Newton: Named NFL MVP

Newton was named the NFL's 2015 MVP on Saturday, Gregg Rosenthal of NFL.com reports. Newton earned 48 of the possible 50 votes for MVP, with Tom Brady and Carson Palmer as the other two signal-callers receiving votes. With 2014's top wideout Kelvin Benjamin sidelined for the season with a knee injury, Newton elevated his level of play and transformed Carolina's offense into the top scoring unit in the league. Newton accounted for a career-high 45 touchdowns in the regular season (35 passing, 10 rushing) and threw a career-low 10 interceptions. He took home NFL Offensive Player of the Year as well on Saturday and will look to cap off the season with a Super Bowl victory Sunday against the Broncos.

by RotoWire Staff | Special to CBSSports.com

Panthers' Cam Newton: Accounts for four scores against Arizona

Newton completed 19 of 28 passes for 335 yards, two touchdowns and a pick in Sunday's NFC championship win over the Cardinals. He added another 47 yards and two scores on 10 carries. For the second consecutive week, Newton took advantage of the turnovers created by Carolina's defense on the way to shredding the opposition. Newton got into the groove early, connecting with Corey Brown on deep crosser for an 86-yard touchdown. Unlike last week, Carolina did not take its foot off the gas pedal in the second half, with Newton dashing for a touchdown run in the third quarter and putting the game out of reach with a scoring toss to Devin Funchess in the final minutes. Newton managed to punish an Arizona defense that ranked fifth in the league in total defense in 2015, but is rewarded by taking on the league's top unit, Denver, in the Super Bowl.

by RotoWire Staff | Special to CBSSports.com

Panthers' Cam Newton: Throws for touchdown against Seattle

Newton completed 16 of 22 passes for 161 yards and a touchdown in Sunday's win over Seattle. He added three yards on the ground on 11 carries. The three rushing yards were a season low and the 161 yards passing were Newton's third fewest this year. Early turnovers by Seattle gave Carolina an instant touchdown and a short field, and then a big lead gave the Panthers little reason to take chances - all contributing to Newton's modest totals. Sunday was just the third time this season that Newton was held to a single touchdown. In the prior two instances, Newton rebounded with three- and four-score games. Expect Newton to bounce back again next week, though an Arizona defense that ranked in the top 10 in the league against both the run and pass will make it difficult.

by RotoWire Staff | Special to CBSSports.com

Panthers' Cam Newton: Throws for 293 yards and totals four touchdowns in Week 17 victory

Newton completed 21 of 26 passes for 293 yards with two touchdowns and no interceptions in Sunday's 38-10 victory over the Bucs. He also gained 10 yards on six carries but scored two rushing touchdowns. The five-year pro put his stamp on an MVP-caliber regular season by posting at least one passing and rushing touchdown in the same game for the seventh time. He finished the season with a total of 45 end-zone visits (35 passing, 10 rushing), and his passing touchdown total represented a career high. Just as important, Newton threw a career-low 10 interceptions, a key to Carolina's 14-0 start. He thrived despite a receiving corps that many panned heading into the regular season after the loss of rookie Kelvin Benjamin in August, and finished the season with a remarkable 3,837 yards despite tight end Greg Olsen serving as the closest thing to a true No.1 receiver. Netwon appears primed to lead the Panthers deep into the playoffs at a minimum, and the team's opportunistic defense figures to provide him with some solid field position off turnovers along the way.

by RotoWire Staff | Special to CBSSports.com

Panthers' Cam Newton: Can't keep unbeaten streak going

Newton completed 17 of 30 passes for 142 yards and rushed seven times for 46 yards and a touchdown during Sunday's loss to Falcons. Newton connected with seven different receivers, but none were able to do a ton with them, as tight end Greg Olsen led the team with 40 receiving yards. Wideout Ted Ginn, who has been a favorite downfield target of Newton's in the previous few weeks, left in the first half with a calf injury, though he was able to return. It was only the second time this season Newton failed to throw a touchdown pass, and it came after he had 13 in the previous three games. Up next is a Week 17 home game against the Bucs, with a win helping to wrap up home-field advantage throughout the NFC playoffs.

by RotoWire Staff | Special to CBSSports.com

Panthers' Cam Newton: Active Sunday

Newton (non-injury) is active for Sunday's contest at Atlanta. Newton missed some practice reps Thursday for a personal reason, but his availability was never in question. Although the Falcons have an opportunity to spoil the Panthers' unblemished record, Newton has accounted for 19 touchdowns (18 passing, one rushing) over the past five games, including three through the air versus Atlanta in Week 14.

by RotoWire Staff | Special to CBSSports.com

Panthers' Cam Newton: Listed as probable this week

Newton (non-injury) is listed as probable for Sunday's game against the Falcons. Newton popped up on the Panthers' injury report Thursday, listed as a limited practice participant, but the designation was not injury-related. Over his last three starts for the 14-0 Panthers, Newton -- who ran eight times for 100 yards against the Giants in Week 15 -- has compiled a nifty 13:1 TD:INT ratio.

by RotoWire Staff | Special to CBSSports.com

Panthers' Cam Newton: Limited in practice due to personal matter

Newton (non-injury) was a limited practice participant Thursday, David Newton of ESPN.com reports. Newton is leaving the Panthers' practice facility for a few days to tend to a personal matter, according to Jonathan Jones of the Charlotte Observer. Hence, the abbreviated practice session Thursday, which will extend into Friday as Newton is expected to rejoin the team Saturday. Considering his Week 14 performance against the Falcons -- 15 of 21 passing for 265 yards and three touchdowns -- he's safe to trust for those vying for fantasy championships.

by RotoWire Staff | Special to CBSSports.com

Panthers' Cam Newton: Stellar performance keeps unbeaten season alive

Newton completed 25 of 45 passes for 340 yards and five touchdowns in Sunday's win over the Giants. He also gained 100 yards on just eight carries, although he did lose a fumble. The MVP caliber season continued for Newton Sunday, as he managed to set new season-highs in both passing and rushing en route to a dramatic last-second victory. Newton is in the midst of a truly special season, and the Panthers will continue to ride him, as a perfect regular season is now within their grasp. Expect the good times to continue next week as the Panthers travel to take on a Falcons team that they walloped 38-0 in Week 14.