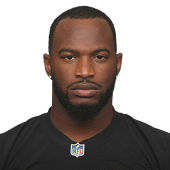 Own

8%

Start

1%

FB Rank

NR
by RotoWire Staff | Special to CBSSports.com

Raiders' Marcel Reece: Could see expanded role next week

Reece rushed thrice for 21 yards and was not targeted in the passing game Sunday in Pittsburgh, but he could get more action in the coming weeks if starter Latavius Murray (concussion) can't play. Reece is nominally a fullback, but he has served as a very competent fill-in at the running back position before. The 30-year-old would be especially useful in PPR formats if given an expanded role, as he has demonstrated sure hands out of the backfield throughout his career.

by RotoWire Staff | Special to CBSSports.com

Raiders' Marcel Reece: Hauls in Three Passes

Reece caught all three of his targets for 15 yards in Sunday's win over the Chargers. Reece continues to see a handful of targets from week-to-week, but he doesn't play enough snaps to make him a realistic fantasy option. The pass-catching fullback should continue to be a factor in the Raiders' passing game, but would only provide worthy production in the deepest of PPR leagues.

by RotoWire Staff | Special to CBSSports.com

Raiders FB Marcel Reece hauls in seven passes in Week 5 loss

Marcel Reece rushed for six yards on one carry and hauled in seven of his eight targets for 49 yards and a touchdown in the Raiders' Week 5 loss to Denver. Reece has seen just two carries on the ground in five games, but the Raiders really seem to enjoy his skills in the passing game. He plays a ton of snaps on third-downs and in obvious passing situations, and he led the team in catches on Sunday with seven. His eight targets were second only to Michael Crabtree's nine, and he should continue to see increased snaps in passing situations moving forward. Through five games, Reece has 14 catches, including three touchdowns through the air.

by RotoWire Staff | Special to CBSSports.com

Two-touchdown game a distant memory for Raiders RB Marcel Reece

Raiders running back Marcel Reece caught both of his targets for 16 yards in Sunday's Week 4 matchup against the Bears. Reece was actually the Raiders third-leading receiver Sunday, but he's been very quiet over the last three games after catching two touchdowns in Week 1. He's a good pass-catcher out of the backfield, but now that Roy Helu is healthy and in the mix, Reece will continue to see limited action.

by Ruben Palacios | Staff Writer

Raiders FB Marcel Reece catches two TDs in loss

Raiders fullback Marcel Reece was the lone bright spot in the team's lopsided loss to the Bengals on Sunday. Reece was targeted four times in the loss, catching three passes for 26 yards and two touchdowns. He scored on two fourth-quarter receptions when the game was long decided. The Raiders will play the Ravens Week 2.

by Scott White | Senior Fantasy Writer

Marcel Reece only useful in PPR leagues

Raiders running back Marcel Reece has been a difference-maker in PPR leagues before, catching 52 passes in 2012, so his back-to-back games with at least six catches are worth noting in Fantasy, especially since he scored on one of his seven grabs Week 14 against San Francisco. With the emergence of Latavius Murray as the primary ball carrier, Reece probably isn't versatile enough for standard-league use, but he's no less relevant than, say, Roy Helu. For more major takeaways from Week 14, be sure to check out my latest post to the Fantasy Football Today blog.

by Chris Cwik | CBSSports.com

Darren McFadden, Marcel Reece take lesser role for Raiders

Raiders running backs Darren McFadden and Marcel Reece took on lesser roles Week 14 against the 49ers. Latavius Murray got the bulk of the work, picking up 23 carries. McFadden was limited to just four carries. He gained 5 yards. He was not targeted in the passing game. Reece had just two carries for 2 yards. He was a much bigger threat in the passing game, gaining 64 yards on seven receptions. He managed to haul in a 9 yard touchdown in the third quarter. Both players will look for more Week 15 against the Chiefs.

by Larry Hartstein | Senior Analyst

Marcel Reece leads Raiders backfield Week 13

Fullback Marcel Reece was the most productive member of the Raiders' backfield Week 13 at St. Louis. Reece ran four times for 12 yards and caught six of eight targets for 48 yards. Running back Darren McFadden carried 11 times for 27 yards and caught both his targets for 18 yards. Running back Maurice Jones-Drew rushed five times for 21 yards and secured three of four targets for 23 yards. Oakland played without impressive second-year back Latavius Murray, who's recovering from a concussion. The Raiders face the 49ers in Week 14.

by Chris Cwik | CBSSports.com

Raiders carries will be determined by 'flow' of the game

The Raiders will distribute their carries based on the "flow" of the game on Sunday, according to the San Jose Mercury News. Latavius Murray has been ruled out due to a concussion, leaving Marcel Reece, Maurice Jones-Drew and Darren McFadden in the backfield. Head coach Tony Sparano confirmed that carries would depend on both "flow" and the game situation. It's unclear which player will get the start.

by R.J. White | CBSSports.com

Raiders RB Marcel Reece totals 45 yards in win vs. Chiefs

Raiders running back Marcel Reece rushed for 37 yards on eight carries and caught just one of his five targets for eight yards in his team's 24-20 win over the Chiefs in Week 12. The Raiders rushing attack received a much-needed spark from Latavius Murray, who scored touchdowns on two of his first three carries. However, Murray missed the entire second half with a concussion, allowing Reece to play a role as Darren McFadden and Maurice Jones-Drew sputtered. The Raiders will look for a second straight win in Week 13 against the Rams.