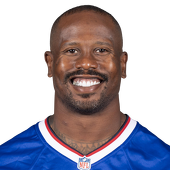 Own

32%

Start

23%

OLB Rank

NR
by RotoWire Staff | Special to CBSSports.com

Broncos' Von Miller: Secures Super Bowl MVP with 2.5 sacks, two forced fumbles

Miller totaled six tackles (five solo), 2.5 sacks, two forced fumbles and a pass defensed in Sunday's 24-10 Super Bowl victory over the Panthers. The five-year veteran's dominant afternoon rightfully secured him MVP honors, making him only the 10th defensive player to receive the award, and third linebacker overall. Miller's two strip-sacks of Cam Newton provided immeasurable benefit to a Broncos offense that would have otherwise been hard-pressed to piece together multiple lengthy drives. Miller's first knockdown of Newton directly led to Malik Jackson's fumble recovery for a touchdown and gave Denver a first quarter 10-0 lead, while his fourth-quarter sack set up the Broncos offense at the Panthers five-yard line following T.J. Ward's recovery of the fumble that Miller's hit triggered. The All-Pro linebacker also successfully defensed a pass to Jericho Cotchery in the first quarter, and was a formidable nuisance to an overmatched Panthers' line throughout the game. With unrestricted free agency on the horizon and one final and momentous piece of leverage under his belt, Miller is set for a considerable payday under a new multi-year agreement or at the very least, through the franchise tag that the Broncos have already indicated they'll utilize to retain him in a worst-case scenario.

by RotoWire Staff | Special to CBSSports.com

Broncos' Von Miller: In line for franchise tag?

The Broncos will attempt to work out a long-term contract with Miller in the offseason, but if inroads aren't made, the franchise tag will be used on the pass rusher, Adam Schefter of ESPN reports. Miller has matured from the Broncos' most-fined player as a rookie in 2011 to one of the NFL's premier pass rushers, accruing double-digit sacks in four of five professional campaigns. Only a six-game suspension and a torn ACL in 2013 stopped him from making it 5-for-5, but he's now the backbone of a defense that will attempt to corral Cam Newton and the Panthers in Super Bowl 50. In 18 games this season (including playoffs), he's notched 13.5 sacks among 42 tackles, to which he's added four forced fumbles and three fumble recoveries.

by RotoWire Staff | Special to CBSSports.com

Broncos' Von Miller: Records another sack

Miller tallied three solo tackles, a sack and a forced fumble in Sunday's loss to the Raiders. Miller recorded his 10th sack of the season on Sunday along with his fourth forced fumble in a defensive battle against the Raiders. He's now recorded a sack in five straight games, and he's shown no signs of slowing down. Miller is one of the top pass-rushers in the game and he'll continue to hold very strong IDP value moving forward.

by RotoWire Staff | Special to CBSSports.com

Broncos LB Von Miller records second sack of the season

Broncos linebacker Von Miller had four tackles and his second sack of the season Sunday against the Vikings. Miller has picked up a sack in two of his last three games, but as long as he's defined as a linebacker in most fantasy formats, his fantasy IDP value is limited because he doesn't get nearly as many tackles as most other players at his position.

by Sean d'Oliveira | CBSSports.com

Report: Broncos LB Von Miller no longer in NFL drug program

Broncos linebacker Von Miller was recently released from the NFL's drug program, a source told The Denver Post. With Miller not failing a drug test over the last two years along with a new drug policy, Miller has been removed from the program and will no longer require multiple tests each week. Miller violated the league's drug policy in 2013 and was suspended for six games.

by Sean d'Oliveira | CBSSports.com

Broncos LB Von Miller says new diet is helping weight loss

Broncos linebacker Von Miller has changed his diet during the offseason and he said it's starting to pay off, reports The Denver Post. "Sometimes you just have to step away from the burgers and stuff," Miller said. "It might not be hurting you, but it's definitely not helping you." As a result of the diet changes, Miller said he's gone from 252 pounds last season to 242 pounds. "I was in pretty good shape last year, but going to another level, it's always about how far you push yourself," Miller said. "I definitely feel like I'm in better shape than I was coming in to [organized team activities], and I'll be in even better shape coming into training camp."

by Chris Cwik | CBSSports.com

Wade Phillips wants Broncos to be more aggressive

Broncos defensive coordinator Wade Phillips is hoping to run a more aggressive defense in 2015, according to ESPN. "We're aggressive," Phillips said. "Defensive players, they're aggressive by nature. I think you take something away from them when you don't let them be." Phillips clarified that he won't necessarily get blitz-happy, but said he would have an "attack defense. That's the way players like to play," Phillips said. "You get the best results out of that and I think you play the best that way so we'll be that way." Phillips' strategy should be a welcome addition in Denver. Former defensive coordinator Jack Del Rio was often criticized for the team's lack of aggression on defense. Phillips already has the support of Von Miller and DeMarcus Ware. "This defense has the players to do it, we need just to get in the lab and figure out how to be better," Miller said. "Because we had moments where we showed what we can do, but we didn't do it enough, myself included, I know that." Ware added, "we feel like there's more we can do. We want every play to be hard on the quarterback."

by Jason Butt | CBSSports.com

Von Miller: Peyton Manning likely to return in 2015

Broncos linebacker Von Miller is in the camp that believes quarterback Peyton Manning will return to the Broncos for the 2015 season. "We can win a championship with Peyton," Miller told The Denver Post. "I think that's the only thing that matters," Miller said. "What else can I say? I think he's coming back. He said a long time ago that he would stop playing football when he felt like he was hurting a team more than helping a team. There's still so much he can do, so many wonderful things he can do for the Denver Broncos." Manning, 38, has been contemplating his future this since Denver's season ended in the divisional round of the playoffs against the Colts. On Monday, the NFL Network's Gil Brandt reported that Manning would "almost certainly" be back with the Broncos for another season. Manning threw for 4,727 yards and 39 touchdowns in 2014.

by R.J. White | CBSSports.com

DeMarcus Ware, Von Miller lead Broncos' Week 7 sack parade

The Broncos defense racked up six sacks in Week 7's 42-17 blowout win over the 49ers, with defensive end DeMarcus Ware leading the team with three sacks. Linebacker Von Miller added two sacks in the win as the Broncos pass rush abused a shorthanded 49ers offensive line that was struck by injuries to two centers in the game. Miller leads the league with eight sacks on the season in only six games, while Ware is right behind him with seven. The dangerous pass rush will square off with the Chargers on Thursday.

by Marty Gitlin | CBSSports.com

Scary thought for QBs: Broncos LB Von Miller sans knee brace

The knee brace worn by standout Broncos linebacker Von Miller since he underwent surgery in January is gone, according to teammate and defensive end DeMarcus Ware. "I think that really shows that he's 100 percent, he's ready to go and he's getting pressure on the quarterback," Ware told the Denver Post. Miller has six sacks in the first five games to rank third in the NFL. He has four in the last two games combined.