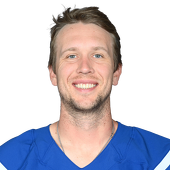 Own

13%

Start

1%

QB Rank

29
by RotoWire Staff | Special to CBSSports.com

Rams' Nick Foles: Preparing to start

The Rams are preparing for Foles to start Sunday's game in Cincinnati, Nick Wagoner of ESPN.com reports. Case Keenum (concussion) hasn't cleared the NFL's concussion protocol, but he is listed as questionable. Whichever quarterback ends up starting for the Rams will be among the least attractive Week 12 options at his position. The team wants to see how Keenum feels Saturday, at which point a final decision could be made.

by RotoWire Staff | Special to CBSSports.com

Rams' Nick Foles: Demoted to backup role

Foles was demoted in favor of Case Keenum was as the Rams' starting quarterback Monday. Foles is coming off only his second 200-plus yard performance of the season, in which he's completed a miserable 56.6 percent of his passes with seven touchdowns versus six interceptions. While Keenum boasts a 2-8 record as a starter, head coach Jeff Fisher will hope that the change will light a spark under an inept offense outside of Todd Gurley.

by RotoWire Staff | Special to CBSSports.com

Rams' Nick Foles: Struggles again in loss to Bears

Foles completed 17 of 36 passes for 200 yards and an interception in Sunday's loss to the Bears. The fourth-year pro failed to exploit a beatable Chicago secondary, going without a touchdown pass for the third time in four games. He has also failed to top 200 yards since the opening week of the season, and his 7:8 TD:Turnover ratio has him firmly off the fantasy radar at this point. The Rams face the Ravens and their exploitable secondary in Week 11, but expectations for Foles should be tempered.

by RotoWire Staff | Special to CBSSports.com

Rams' Nick Foles: Lackluster performance in loss to Vikings

Foles completed 18-of-38 passes for just 168 yards in Sunday's overtime loss to the Vikings. He also gained two yards on his only carry. Foles has now failed to eclipse the 200-yard mark in seven consecutive games, and has thrown for just six touchdowns during that span. His minimal role in the Rams' run-heavy offense has amounted to quite a few ineffective outings in fantasy terms, and he generally doesn't deserve much consideration, even with a plus matchup in hand. The Rams will face the generous Bears secondary in Week 10, but there are better options available.

by RotoWire Staff | Special to CBSSports.com

Rams' Nick Foles: Tosses touchdown against 49ers

Foles completed 14-of-23 passes for 191 yars and a touchdown in Sunday's win over the 49ers. Over a third of Foles' yards came on a 66-yard screen pass to Tavon Austin for a touchdown. Foles has been oft-unspectacular in his first year in St. Louis, the Rams passing offense ranking at the bottom of the league in passing yards per game. He has accounted for one or no touchdowns in five of seven games this season and has as many games with multiple total touchdowns, two, as games with multiple turnovers - a recipe for a quarterback that should continue wading in the free-agent pool.

by RotoWire Staff | Special to CBSSports.com

Rams QB Nick Foles turnover-free in Week 7 victory over Cleveland

Rams quarterback Nick Foles completed 15 of 23 passes for 163 yards without a touchdown or an interception in Sunday's win over the Browns. Foles mostly just handed the ball off to Todd Gurley and made safe passes, as there was no reason to take any risks with the Rams defense stifling Cleveland's offense. His yardage total was unimpressive, but this performance was still a significant step up from Foles' four-interception debacle against the Packers his last time out. The 26-year-old quarterback hasn't found much success this season when asked to do anything more than be a caretaker on offense.

by RotoWire Staff | Special to CBSSports.com

Rams' Nick Foles: Held in check by Packers

Foles completed just 11-of-31 passes for 141 yards, a touchdown and four interceptions in Sunday's loss to the Packers. The up-and-down season continues for the 26-year-old, as this clunker came on the heels of perhaps his best game as a Ram last week. St. Louis appears to be headed toward employing a more run-heavy approach, as Todd Gurley received 30 carries on Sunday after breaking out in Week 5. Foles will likely handle more of a game management role, with Gurley carrying a heavy load moving forward, and he will need to be more careful with the ball. The Rams will host the Browns in Week 7 after the upcoming bye.

by RotoWire Staff | Special to CBSSports.com

Rams TE Jared Cook catches trio of passes in Week 4 win

Rams tight end Jared Cook caught three passes for 22 yards in a 24-22 win against the Cardinals on Sunday. Cook received the second-most targets on the Rams with six, but didn't do much on Sunday. He appears to be Nick Foles' favorite target, but still only has 14 catches for 161 yards and no scores in four games.

by RotoWire Staff | Special to CBSSports.com

Rams QB Nick Foles throws for 171 yards, three TDs in win

Rams quarterback Nick Foles completed 16 of 24 passes for 171 yards and three touchdowns in Sunday's 24-22 upset win at Arizona. Facing a strong defense on the road, Foles made a number of nice throws, including a 47-yard bomb to Tavon Austin. He also showed a nice touch on his 18-yard touchdown to Stedman Bailey, perfectly placing the ball in the back of the end zone. It wasn't all on Foles' shoulders though, as rookie RB Todd Gurley stepped up with a career-high 146 yards. The Rams will travel to Green Bay in Week 5 for a tough matchup at Lambeau Field.

by RotoWire Staff | Special to CBSSports.com

Rams WR Kenny Britt fine for game against Cardinals

Rams veteran wideout Kenny Britt (shoulder) is active for the game Sunday at Arizona. Nick Foles has spread the wealth this season, and Britt will have even more competition for targets with Brian Quick making his season debut. With a tough Cardinals defense on tap - they've given up only 27 catches for 340 yards and two touchdowns on 52 targets to wide receivers this season - Britt will have even greater difficulty making an impact in Week 4.