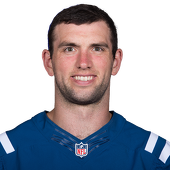 Own

88%

Start

1%

QB Rank

1
INJURY ALERT:
Out | Abdomen, kidney | Missed Week 12 vs. Tampa Bay
by RotoWire Staff | Special to CBSSports.com

Colts' Andrew Luck: Confident he'll return this season

Luck (abdomen/kidney) expects he'll be able to play again this season. "Yeah, very confident. Very confident I'll be able to return," he told TV 4 WTTV in Indianapolis. Luck made the comments in his first media availability since suffering a lacerated kidney and torn abdominal muscle Nov. 8. Luck says he's picked up his activity, but gave no timetable for when he may be able to return to practice. While Luck's comments are encouraging, there's always a risk he could be shut down if the Colts fall out of the playoff race.

by RotoWire Staff | Special to CBSSports.com

Colts' Andrew Luck: Mid-December return?

NFL Network's Ian Rapoport estimates "a mid-December return" to action for Luck (abdomen/kidney). As a result, Matt Hasselbeck remains on track to start the Colts' next few games, though Luck does appear to be in line to recover from his injuries in time to suit up for the team down the NFL stretch run.

by RotoWire Staff | Special to CBSSports.com

Colts' Andrew Luck: Likely out at least a month

While the Colts announced Tuesday that Luck would be out 2-to-6 weeks, the team realistically expects him to miss at least a month due to his kidney/abdominal injuries, ESPN's Ed Werder reports. A two-week timetable for Luck's recovery seemed optimistic, especially when considering Chargers receiver Keenan Allen was ruled out for the season with a similar injury, but the Colts likely were hopeful he would make a quick recovery, and have realized he is going to be out more than just a couple weeks. With the revised timetable, Luck should be considered out through the end of this month, and on track to return to action at some point in December.

by RotoWire Staff | Special to CBSSports.com

Colts QB Andrew Luck (abdominal, kidney) will be sidelined 2-6 weeks

Colts quarterback Andrew Luck suffered a lacerated kidney and a partial abdominal tear in Sunday's victory over the Broncos and is expected to be out 2-6 weeks, the team announced Tuesday. Luck felt some soreness following Sunday's game and tests taken Monday revealed the extent of his injuries. The Colts are hopeful he will not require surgery, but he is facing a multi-week absence either way. Matt Hasselbeck will once again take over as the Colts' starting quarterback until Luck is ready to return. The Colts are on a bye in Week 10.

by RotoWire Staff | Special to CBSSports.com

Colts' Andrew Luck: Tosses two scores against Denver

Luck completed 21-of-36 passes for 252 yards and two touchdowns in Sunday's win over Denver. He added 34 yards on the ground on six carries. Often under the pressure of Denver's pass rush, Luck came up with clutch throw after clutch throw and made a handful of big runs. Questioned throughout the year for his decision making and playing under new offensive coordinator Rob Chudzinski for the first time, Luck had just his second turnoverless game of the season. If he was able to put together this kind of performance against the NFL's top passing defense, owners should feel good about next week's matchup against the Atlanta Falcons, who entered this week with a passing defense in the bottom 10 of the league.

by RotoWire Staff | Special to CBSSports.com

Colts' Andrew Luck: Practices fully Thursday

Luck (ankle) practiced fully Thursday. There's little doubt that Luck will be available for Sunday's game against Denver, but he'll have his work cut out for him this week, facing a stout Broncos defense and potentially minus the services of one of his key targets, T.Y. Hilton, who is dealing with a foot injury.

by RotoWire Staff | Special to CBSSports.com

Colts' Andrew Luck: Ankle issue limits him Wednesday

Luck (ankle) was limited at practice Wednesday, Kevin Bowen of Colts.com reports. Per the report, Luck -- who has been dealing with shoulder and possibly rib issues -- "took the start of the first-team reps" during the media access portion of practice Wednesday, with the QB suggesting to Lindsay Jones of the USA Today that he feels "healthy, with no limitations." While Luck may end up listed as probable, or even questionable for Sunday's game against the Broncos, there's nothing at this stage to suggest that his availability for the contest is in question.

by RotoWire Staff | Special to CBSSports.com

Colts' Andrew Luck: Three interceptions in loss

Luck completed 23-of-47 passes for 231 yards, two touchdowns and three interceptions in Monday night's overtime loss to the Panthers. He also rushed six times for 35 yards. Luck once again struggled with his decision-making Monday night, as another trio of interceptions brought his league-high tally to 12 on the season. That includes a costly overtime pick thrown Monday night, even though extremely wet playing conditions made throwing the ball an even taller task against Carolina's stingy defense. On the bright side, Luck threw both of his touchdown passes during the fourth quarter, helping the Colts come back and force overtime, and he also tied his season-high with 35 rushing yards. Still, Luck's lack of ball security continues to hamper his fantasy value, and is a particularly worrisome trait when considering he faces the Broncos' defense in Week 9.

by RotoWire Staff | Special to CBSSports.com

Colts' Andrew Luck: Reportedly dealing with rib issue

Jay Glazer of Fox Sports indicated Sunday that Luck -- who previously missed time with a shoulder injury -- has been playing through what Glazer referred to as "multiple fractured ribs." Such an injury has not been confirmed by the Colts, with Luck not listed on the team's Week 8 injury report and in line to start Monday night's game against the Panthers. In any case, this is a situation to monitor, with Luck approaching Monday's contest with an 11:9 TD:INT ratio though his first five outings this season.

by RotoWire Staff | Special to CBSSports.com

Colts' Andrew Luck: Throws for three touchdowns, two picks

Luck completed 23-of-44 passes for 333 yards, three touchdowns and two interceptions in Sunday's loss to the Saints. He added 27 yards on the ground on three carries. It was a tale of two halves for Luck, a touchdownless first half during which he threw two interceptions and a three-touchdown second half where he almost managed to navigate Indianapolis out of the crater it placed itself in. He failed to continue on his three-touchdown-no-interception performance against New England last week and has now thrown multiple picks in four of his five starts and ranks second in the league in the category despite missing two games. His 56.6 percent completion rate is similarly abysmal, ranking among the worst in the league behind the likes of Nick Foles and Jameis Winston. Luck showed during the second half why fantasy owners picked him early this season, but the Colts and fantasy teams he is piloting likely can't take much more inconsistency.