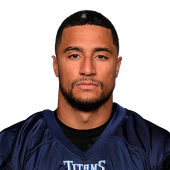 Own

16%

Start

8%

SS Rank

NR
by RotoWire Staff | Special to CBSSports.com

Saints' Kenny Vaccaro: First sack of the season

Vaccaro made five tackles (all solo), including a sack, in Sunday's win against the Colts. The sack was Vaccaro's first of the season, and he is second on the team in tackles, with 44 stops (30 solo) through seven games. Seemingly healthy after dealing with a malaise of injuries last season, Vaccaro should continue to be an excellent defensive back option in IDP leagues due to his aggressive, downhill playing style.

by RotoWire Staff | Special to CBSSports.com

Saints' Kenny Vaccaro: Saints' season leader in tackles

Vaccaro had five tackles (two solo) in Thursday's win against the Falcons. Vaccaro has notched at least nine tackles in half of the Saints' six games, including 11 stops in Week 5 against Philadelphia. In fact, Vaccaro leads the entire Saints' defense in tackles, with 39 take downs on the season. He has yet to force a turnover or even record a sack, but with the return to health of secondary mates Jairius Byrd and Keenan Lewis, Vaccaro's aggressive play near the line of scrimmage should continue, making him an excellent option at defensive back in most IDP leagues.

by RotoWire Staff | Special to CBSSports.com

Saints safety Kenny Vaccaro has back-to-back nine-tackle games

Saints safety Kenny Vaccaro made nine tackles (four solo) in Sunday's loss to the Panthers. After a quiet Week 1, in which Vaccaro had only a pair of tackles, the Saints promised to put him in a position where he was playing closer to the line of scrimmage. Since then, Vaccaro notched nine tackles in each of the last two games. The Saints may not be winning, but as long as the third-year safety continues to play in the box, he should continue to be an above average option in IDP leagues.

by Marty Gitlin | CBSSports.com

Quad injury had Saints SS Vaccaro sidelined Sunday

It has been revealed that Saints safety Kenny Vaccaro was inactive Sunday against Tampa Bay due to a quad injury that flared up in practice Friday. Vaccaro started 14 of the first 15 games this season.

by Marty Gitlin | CBSSports.com

Inactive status for Saints CB Vaccaro a head-scratcher

The inclusion of safety Kenny Vaccaro on the inactive list for the Saints on Sunday is a surprise, according to the New Orleans Times-Picayune. He practiced fully all week despite what has reportedly been a nagging quad injury. NFL Network had claimed before the game two weeks ago against Chicago that Vaccaro was destined to be benched, but he played in that game as a nickel back. He started in Week 16.

by Marty Gitlin | CBSSports.com

Healthy scratches dominate Saints inactive list

Tackle Terron Armstead is the lone injured player on the inactive list released by the Saints for their Week 17 game against Tampa Bay. He is dealing with a neck issue that prevented him from practicing all week. The healthy scratches are wide receiversSeantavius Jones and Brandon Coleman, cornerback Stanley Jean-Baptiste, linebackers Jerry Franklin and Moise Fokou and safety Kenny Vaccaro. The inclusion of the embattled Vaccaro is not a good sign for the 2013 first-round pick.

by Brandon Wise | Staff Writer

Saints defensive backs make case for Rob Ryan to stay in New Orleans

Saints defensive backs Keenan Lewis and Kenny Vaccaro both said Tuesday they want defensive coordinator Rob Ryan to return in 2015. "I want him back," Lewis told The Times Picayune. "I'm going to ride with him. He's a great coordinator. You just can't blame him when things go wrong. We're the ones out there playing." Vaccarro also said "Rob will be here." The Saints are currently 29th in passing yards allowed at 261.5 per game and 29th in rushing yards allowed per game at 129.5 per game. As a team, they are 31st in overall defense.

by Chris Cwik | CBSSports.com

Head coach mum on Saints' Kenny Vaccaro's role

Saints head coach Sean Payton did not elaborate on safety Kenny Vaccaro's role on Thursday. It was reported that Vaccaro would be benched on Tuesday, but Payton wouldn't completely confirm the news. "He's going to play a ton for us," Payton said. "The role he plays -- I'll leave it at that." Vaccaro seemed to confirm that his role was about to change, though didn't get into specifics. He said the whole situation has made him "put reset on everything." Vaccaro admitted he was still getting used to a new position, and that it would take time for him to adjust. "Like I tell people this countless times, I've never been back there," Vaccaro said. Vaccaro was used mostly in nickel formations last season, but has transitioned to safety this year.

by Larry Hartstein | Senior Analyst

Report: Desperate Saints benching S Kenny Vaccaro

The reeling Saints are benching 2013 first-round pick Kenny Vaccaro, reports NFL Network's Ian Rapoport. Rapoport called the news "incredible," noting the safety has earned several game balls. Vaccaro has played in every game this season, getting 66 tackles, two interceptions and a sack. Jamarca Sanford is his backup. The New Orleans Times-Picayune chimed in that Vaccaro hasn't been playing well but called his benching "a huge surprise."

by Scott White | Senior Fantasy Writer

Saints mainstays don't do much in opener

Saints defensive lineman Cameron Jordan and defensive back Kenny Vaccaro, normally two of the more productive players on their defense, didn't do much Week 1 at Atlanta. Jordan had one solo tackle and Vaccaro had four. Jordan was one of the league leaders in sacks last year with 12 1/2. Vaccaro had 79 tackles in only 14 games.