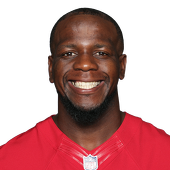 Own

6%

Start

1%

WR Rank

65
by RotoWire Staff | Special to CBSSports.com

Bengals' Mohamed Sanu: Totals 21 yards against Arizona

Sanu caught two passes off of three targets for 19 yards and added a two-yard rush in Sunday's loss to Arizona. Sanu has been consistent in his use all season, seeing between two and six targets every game. He's also been consistently modest in his production, topping 50 total yards just twice and scoring one touchdown. As the Bengals' third receiver, he is typically thought of as behind just A.J. Green, Marvin Jones and Tyler Eifert in the pecking order. Giovani Bernard's eight-catch game on Sunday served as a reminder, however, that he's more like fifth on the totem pole and unlikely to see enough touches to warrant a fantasy roster spot.

by RotoWire Staff | Special to CBSSports.com

Bengals' Mohamed Sanu: Held to one catch against Texans

Sanu caught one pass off of two targets for five yards in Monday's loss to Houston. Monday was Sanu's seventh game of fewer than 35 receiving yards this season, including four in a row. The Bengals' No. 3 receiver is on pace for his lowest total of targets and catches since his rookie season in 2012 due in large part to the emergence of tight end Tyler Eifert. Eifert's prominent role in the Bengals' offense, combined with the continued presence of star receiver A.J. Green, has also made touchdowns hard to come by as the duo has combined for 13 of the Bengals' 18 touchdown catches. Of the remaining five, Marvin Jones has collected three. It should be telling to fantasy owners that Sanu's lone score of the season has come on the ground.

by RotoWire Staff | Special to CBSSports.com

Bengals' Mohamed Sanu: Catches three passes against Browns

Sanu caught three passes off of three targets for 25 yards in Thursday's win over Cleveland. He added a 25-yards touchdown run on the ground. The score was Sanu's first of the season and the four touches were his second most of 2015. The fourth-year receiver's speed makes him a threat to make big plays, with seven of his 24 touches going for 20 or more yards. Situated behind A.J. Green, Tyler Eifert and Marvin Jones on the Bengals' pecking order, however, Sanu is more likely to deliver a dud than an occasional solid performance from a fantasy perspective.

by RotoWire Staff | Special to CBSSports.com

Bengals' Mohamed Sanu: Catches two passes against the Steelers

Sanu caught two passes off of three targets for 10 yards in Sunday's win over Pittsburgh. Sanu has been held to 34 receiving yards or fewer in five of seven games this season. Dating back to Week 10 of last season, Sanu has topped 50 yards receiving just twice in 15 games, including eight games of 20 yards or fewer. He has yet to score a touchdown this season and may be getting squeezed down the pecking order with the emergence of Tyler Eifert. Through seven games, Eifert, A.J. Green and Marvin Jones have accumulated over two thirds of the Bengals' targets, catches and receiving yards and all but two of the touchdown catches.

by RotoWire Staff | Special to CBSSports.com

Bengals' Mohamed Sanu: Quiet game against the Bills

Sanu had two catches for 30 yards and a carry for another eight yards in the Week 6 win over the Bills. Sanu was only targeted four times in the win, a game where the Bengals didn't need to throw the ball frequently in the fourth quarter after staking out a 31-14 lead in the third quarter.

by RotoWire Staff | Special to CBSSports.com

Bengals WR Mohamed Sanu snags five passes in Week 5 victory

Bengals wide receiver Mohamed Sanu caught five passes for 69 yards in Week 5's win over the Seahawks. Bengals quarterback Andy Dalton was able to spread the ball around fairly equally between A.J. Green, Tyler Eifert, Marvin Jones and Sanu against the Seahawks, with the Bengals purposefully avoiding Richard Sherman and Earl Thomas. Instead, they frequently targeted Kam Chancellor and Cary Williams. Sanu benefited from that strategy.

by R.J. White | CBSSports.com

Bengals receivers do little in Wild Card loss vs. Colts

The Bengals wide receivers and tight ends combined for just seven catches and 75 yards in the team's 26-10 Wild Card loss to the Colts, with wide receiver Mohamed Sanu recording three catches for 31 yards. With top wideout A.J. Green inactive Sunday, Sanu was the only Bengals receiver to make a catch in the game, racking up his three receptions on seven targets. Brandon Tate was targeted five times, Cobi Hamilton saw two targets and Greg Little was targeted once, but none of the three managed to record a catch. Tight end Kevin Brock drew the start in place of Jermaine Gresham and caught just one pass for seven years. Rookie tight end Ryan Hewitt caught three of his five targets for 37 yards. Nobody on the Bengals was able to crack 50 receiving yards, with running back Giovani Bernard leading the way with 46 yards on eight receptions.

by Larry Hartstein | Senior Analyst

Bengals wideouts an afterthought in Week 16

With receiver A.J. Green in and out of Monday's game with an arm injury, Bengals quarterback Andy Dalton did not target his wideouts heavily. Mohamed Sanu caught one of two targets for 16 yards, and Dane Sanzenbacher secured one of two targets for 11 yards. Brandon Tate added a 12-yard reception on his only target. They'll all visit the Steelers in Week 17.

by Marty Gitlin | CBSSports.com

Quartet of Bengals pitch in to easy victory

Several Bengals skill position players chipped into the lopsided victory Sunday in Cleveland. The most significant was running back Rex Burkhead, who scored his first career touchdown, a 10-yard bolt up the middle to put the cherry on top late in the fourth quarter. Another strong contributor was tight end Ryan Hewitt, who caught three passes for 34 yards. Wideout Mohamed Sanu added a catch for four yards while tight end Kevin Brock snagged one for two yards.

by Chris Towers | CBSSports.com

Still no signs of Mohamed Sanu

Bengals wide receiver Mohamed Sanu was a non-factor for the second game in a row in Week 14 against the Steelers, as he continues to fade into the background. Sanu, who starred in A.J. Green's absence, was held to just two catches for 16 yards Sunday, his second game in a row with two or fewer Fantasy points. He was also held out of the end zone for the second game in a row, and has now watched Green go off for 281 yards and two touchdowns in that span. Sanu has not topped 50 receiving yards in the last five games, and has just one touchdown in that span as well. Sanu has clearly shown he can be a big-time contributor when given the chance, but it's hard to fault the Bengals for leaning on Green as much as they have. At this point, Sanu cannot be trusted as a starting option in the Fantasy playoffs.