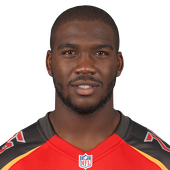 Own

0%

Start

0%

RB Rank

NR
by Marty Gitlin | CBSSports.com

Quartet of injured Buccaneers ruled out for Sunday

Several injured Buccaneers have been placed on the inactive list for the Sunday game against New Orleans, including linebacker Mason Foster (Achilles). Also hurt and out are running back Robert Herron (hip), wide receiver Solomon Patton (foot) and cornerback Isaiah Frey (ankle). Their healthy scratches are tackle Anthony Collins, running back Mike James and defensive end George Uko.

by Brandon Wise | Staff Writer

Buccaneers list seven inactives for Sunday against Green Bay

The Buccaneers have list the following players as inactive for Sunday's game against the Packers: wide receivers Robert Herron and Solomon Patton, running back Mike James, cornerback Isaiah Frey, tackle Anthony Collins, defensive lineman Lawrence Sidbury, and tight end/fullback Evan Rodriguez.

by Chris Cwik | CBSSports.com

Buccaneers list inactives for Week 12

The Buccaneers have listed WR Robert Herron, RB Mike James, CB Crezdon Butler, CB C.J. Wilson, LB Lavonte David, T Kevin Pamphile and DE Da'Quan Bowers as inactive against the Bears Week 12. David was the only player listed on the injury report. He came into the game questionable due to a hamstring injury. David was able to get through limited practice Wednesday, but did not participate in practice Thursday and Friday.

by Chris Towers | CBSSports.com

Buccaneers RBs struggle to stand out in loss

The Buccaneers split the workload in the backfield pretty evenly in Week 10, but none of their options really stood out in a 27-17 loss to the Falcons. Bobby Rainey got the start at running back for the Buccaneers, but was a non-factor in the rushing game, finishing with just 14 yards on six carries. However, neither of the team's other options did much more, as Mike James had just 16 yards on four carries, while Charles Sims had 23 yards on eight carries in his first action. Rainey made more of an impact in the passing game, catching four for 42 yards, but that might not be enough to keep him in the starting role. The Buccaneers are looking for someone who can run the ball well, and until they find a go-to option, the door is open. Rainey is the more proven commodity, and should be valued more than Sims for Fantasy purposes moving forward. However, the team probably also wants to see what they have in Sims, their third-round pick this year, so he will get his chance. At this point, both probably have just low-end value for Week 11 against Washington.

by Marty Gitlin | CBSSports.com

Three Buccaneers make minor contributions Sunday

A few Buccaneers chipped in to the offensive effort Sunday in a loss to Cleveland. Among them was running back Mike James, who managed nine yards on four carries. Also contributing was wideout Louis Murphy with two catches for 13 yards and tight end Austin Seferian-Jenkins with one reception for three yards.

by Larry Hartstein | Senior Analyst

Buccaneers get offensive contributions Week 8

The Buccaneers didn't do much offensively Week 8 against the Vikings, but several role players still made contributions. Wideout Louis Murphy caught both his targets for 11 yards, and tight end Brandon Myers had a 3-yard reception. Running back Mike James carried once for 1 yard. They'll all visit the Browns in Week 9.

by Marty Gitlin | CBSSports.com

Two injured players listed as inactive Sunday for Buccaneers

Defensive end Larry English (hamstring) and linebacker Mason Foster (shoulder) are the lone injured inactives for the Buccaneers on Sunday in Pittsburgh. The healthy scratches are quarterback Josh McCown, running backs Robert Herron and Mike James and offensive linemen Kevin Pamphile and Kadeem Edwards.

by Chris Cwik | CBSSports.com

Bucs backups do little in blowout

The Buccaneers backups did little in a 56-14 blowout against the Falcons. Mike James managed to pick up some carries, gaining 4 yards during the contest. He did not factor into the passing game. Tight end Brandon Myers wound up hauling in five passes for 33 yards. Luke Stocker caught two passes for 15 yards. Robert Herron made one catch for 5 yards. Mike James also caught a pass, but it went for -5 yards. They'll take on the Steelers Week 4.

by Michael Hurcomb | Fantasy Writer

Bucs might use three RBs Thursday

Even if Buccaneers running back Doug Martin, who is questionable due to a knee injury, suits up Thursday against the Falcons, coach Lovie Smith indicated the team will use multiple running backs to pace the rushing attack Week 3. Bobby Rainey rushed for 144 yards in a Week 2 loss vs. St. Louis and third-string running back Mike James had six carries with Martin sidelined Sunday. "We want to play more than one running back, two, maybe three," Smith said, per ESPN. "That's why we've had three (active) every time we could. That's just making our running back position stronger."

by Igor Mello | CBSSports.com

Three Buccaneers cleared for opener

As expected, Buccaneers running backs Mike James (shoulder) and Jorvorskie Lane (hand) and defensive back Mike Jenkins (hamstring) were all ruled active and ready to for for Week 1 against the Panthers.