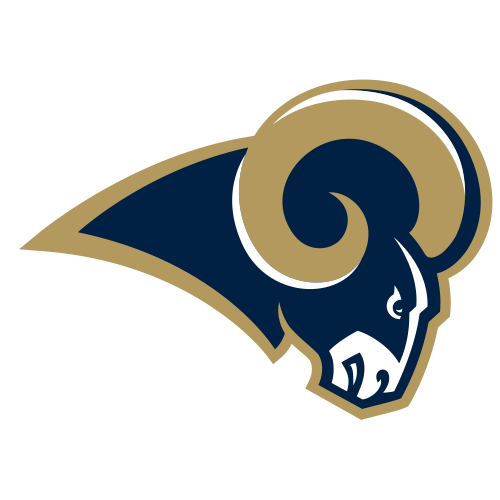 by RotoWire Staff | Special to CBSSports.com

Rams' Rodney McLeod: Scores touchdown in win

McLeod recovered a fumble and ran it back for a touchdown in Sunday's 24-6 victory against Cleveland. McLeod is having a fairly solid year, with 29 tackles, a forced fumble, and a fumble recovery in addition to his touchdown. He's about on pace to match last season's 72 tackles, which seems about right for the fourth-year safety.

by Brandon Wise | Staff Writer

Report: Rams sign S Rodney McLeod, TE Cory Harkey to RFA tenders

The Rams have reportedly signed safety Rodney McLeod and tight end Cory Harkey to their restricted free agent tenders, according to ESPN NFL Insider Adam Caplan. Harkey had eight catches for 55 yards and a touchdown last season while McLeod totaled 72 tackles with two interceptions in 16 games.

by Igor Mello | CBSSports.com

Rodney McLeod tendered by Rams

The Rams placed a second-round tender on safety Rodney McLeod, per Field Yates of ESPN. McLeod, who was eligible for restricted free agency, will now make $2.356 million next season. He registered 72 tackles, two forced fumbles and two interceptions last season.

by Chris Cwik | CBSSports.com

Rams to have their probables Week 10

The Rams will have their probable players Week 10 against the Cardinals. Jo-Lonn Dunbar, E.J. Gaines, Cory Harkey, William Hayes and Rodney McLeod will all play. All five were listed as probable coming into the contest. Janoris Jenkins, who was listed as questionable, will also give it a shot. Jenkins is dealing with a knee injury. Cody Davis will also try to play. He was questionable on the team's final injury report.

by Igor Mello | CBSSports.com

Rams enter Week 10 relatively healthy

The Rams head into Week 10 against the Cardinals relatively healthy. Daren Bates (groin) was the only player ruled doubtful on the team's final injury report for the game on Friday. Cody Davis (concussion), Janoris Jenkins (knee) and Marcus Roberson (ankle) were deemed questionable. Meanwhile, Jo-Lonn Dunbar (toe), E.J. Gaines (knee), Cory Harkey (knee), William Hayes (fibula) and Rodney McLeod (knee) were all ruled probable for Sunday.

by R.J. White | CBSSports.com

Rams' Donald, Dunbar, McLeod active Week 9

Rams defensive tackle Aaron Donald (shoulder), linebacker Jo-Lonn Dunbar (toe) and safety Rodney McLeod (knee) are active for Sunday's Week 9 matchup with the 49ers. All three players were listed as questionable to play but will be available for the divisional matchup. The team also had nine players listed as probable, and eight are active for the game. That list includes wide receiver Kenny Britt (hip), guard Rodger Saffold (shoulder), centers Scott Wells (elbow) and Tim Barnes (shoulder), defensive end William Hayes (foot), safety Lamarcus Joyner (hip) and cornerbacks Trumaine Johnson (knee) and Marcus Roberson (ankle).

by Chris Cwik | CBSSports.com

Rams list four as questionable Week 9

The Rams have listed CB Janoris Jenkins, DT Aaron Donald, S Rodney McLeod and LB Jo-Lonn Dunbar as questionable for Week 9 against the 49ers. Jenkins and McLeod are both dealing with knee issues. Donald has a shoulder issue and Dunbar is dealing with a toe injury.

by Igor Mello | CBSSports.com

Rodney McLeod gets first interception of season

Rams safety Rodney McLeod came down with his first interception of the season Week 2 at Tampa Bay. It was his third career pick. He picked off Josh McCown in the first quarter. He registered five total tackles -- all solo -- and one pass defended in a 19-17 victory.

by Nando Di Fino | Senior Fantasy Writer

Rodney McLeod intercepts a pass in Week 12

Rams free safety Rodney McLeod intercepted Josh McCown late in the fourth quarter of the team's 42-21 victory over the Bears. McLeod also had six tackles on the day. The Rams face the 49ers in Week 13.

by Chris Towers | CBSSports.com

Rodney McLeod snags first interception

Rams defensive back Rodney McLeod intercepted his first career pass Sunday, in a 28-21 loss to the Titans in Week 9. He added seven tackles -- six total -- in the game. McLeod has 45 tackles through nine games to go with his one interception.