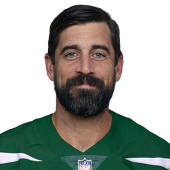 Own

100%

Start

91%

QB Rank

2
by RotoWire Staff | Special to CBSSports.com

Packers' Aaron Rodgers: Throws two touchdowns

Rodgers completed 16 of 34 passes for 212 yards and two touchdowns in Sunday's 30-13 win at Minnesota. In a tough matchup against a good defense, Rodgers didn't complete a lot of passes, but made some big throws, including a gorgeous 27-yard touchdown to James Jones in the fourth quarter. Rodgers' streak of two 300-yard passing games came to an end, and was held to two or fewer touchdowns for the eighth time this season, but the offense functioned a bit better, as Eddie Lacy got back on track by rumbling for a season-high 100 yards on 22 carries. The veteran QB should find things easier next week, facing the Bears at Lambeau Field.

by RotoWire Staff | Special to CBSSports.com

Packers' Aaron Rodgers: Active Sunday

Rodgers (shoulder) is active for Sunday's contest in Minnesota, Jason Wilde of ESPN Wisconsin reports. The Packers' offense has been in disarray for three consecutive games, and to make matters worse, Rodgers landed on the injury report this week with a right shoulder issue. Neither Rodgers nor head coach Mike McCarthy expressed worry about his Week 11 availability, which cleared up following full practices Thursday and Friday. However, the matchup with the Vikings presents all manner of obstacles, namely an eighth-ranked pass defense that can ably match up with Randall Cobb, Davante Adams, and company.

by RotoWire Staff | Special to CBSSports.com

Packers' Aaron Rodgers: Officially listed as probable

Rodgers (shoulder) is listed as probable for Sunday's game against the Vikings. Rodgers was limited at Wednesday's practice but then logged full sessions Thursday and Friday. His shoulder appears to be a non-issue, but the same can't be said of Green Bay's recent offensive performance. The matchup is also difficult, with the Vikings sporting a strong pass rush and allowing just 6.9 yards per pass attempt. Of course, this is still Aaron Rodgers we're dealing with, so a big game wouldn't surprise anyone.

by RotoWire Staff | Special to CBSSports.com

Packers' Aaron Rodgers: Full practice Thursday

Rodgers (shoulder) was a full practice participant Thursday, Rob Demovsky of ESPN.com reports. In the portion of practice open to the media, Rodgers made fewer throws than normal, but the ones he did take included their usual zip. He was also able to make throws moving at full speed, indicating that his right shoulder injury shouldn't be a concern Sunday at Minnesota. Backing up those sentiments was his "no worries" comment Wednesday, which was followed by head coach Mike McCarthy noting "no concern" about Rodgers' ability to suit up in Week 11, according to Vic Ketchman of the Packers' official site.

by RotoWire Staff | Special to CBSSports.com

Packers' Aaron Rodgers: Limited Wednesday

Rodgers was limited in practice Wednesday due to a right shoulder injury, Rob Demovsky of ESPN.com reports. Rodgers has admitted that he's banged-up at the moment, which is likely due to the three sacks and seven quarterback hits that he sustained during Sunday's loss to the Lions, but firing a ridiculous 109 passes the last two games likely hasn't helped matters. While limited practice appearances may be replicated Thursday and Friday, the two-time MVP has "no worries" about suiting up Sunday at Minnesota.

by RotoWire Staff | Special to CBSSports.com

Packers' Aaron Rodgers: Tosses two scores against Detroit

Rodgers completed 35 of 61 passes for 333 yards and two touchdowns in Sunday's loss to Detroit. He added eight yards on the ground on two carries. If one were to glance briefly at the box score, they would likely assume that Rodgers had a solid day, topping 300 yards and not turning the ball over. A deeper look, however, shows that the mediocre Lions defense stymied Rodgers for much of the game, keeping the Packers out of the end zone until the fourth quater. It took Rodgers a season-high 61 attempts to reach 333 yards and he was held under 5.5 yards per attempt for the second time in three games. One would have to go back to 2010 to find two games in a single season in which Rodgers was held under 5.5 yards per attempt. Though Rodgers remains an elite fantasy quarterback in large part due to his tremendous 21-to-3 TD/INT ratio, he has not been his usual self thus far this year. He's been held under 300 yards passing in six contest this season and with two or fewer touchdown passes in six games. He had just eight such games of each in 2014.

by RotoWire Staff | Special to CBSSports.com

Packers' Aaron Rodgers: Huge performance as comeback falls short

Rodgers completed 25-of-48 passes for 369 yards, four touchdowns and an interception in Sunday's loss to the Panthers. He also gained 22 yards on four carries. Rodgers led a furious comeback attempt against the stout Panthers defense, but his lone interception came on the Packers' final drive as they looked to tie the game. The MVP still put up one of his best fantasy lines of the season after last week's clunker in Denver, and the interception was just his third in eight contests. Rodgers is clearly still one of the most desirable fantasy quarterbacks from week-to-week, and should be in line for another big game against the Lions in Week 10.

by RotoWire Staff | Special to CBSSports.com

Packers' Aaron Rodgers: Throws for just 77 yards

Rodgers completed 14 of 22 passes for 77 yards, adding two carries for 31 yards, in Sunday's 29-10 loss to the Broncos. The Green Bay offense was overwhelmed by the NFL's best defense, with the receivers unable to gain separation and the offensive line unable to protect its quarterback. Rodgers mostly did a nice job of dodging the pressure, but he also missed a few throws that he normally makes with ease. Unless he faces the Broncos again in the Super Bowl, Rodgers won't have another matchup of similar difficulty for the rest of the season. Even against a tough Carolina defense, he should fare much better in Week 9.

by RotoWire Staff | Special to CBSSports.com

Packers' Aaron Rodgers: Decent game against Chargers

Rodgers completed 16-of-29 passes for 255 yards and two touchdowns in Sunday's 27-20 win over the Chargers. He also had two carries for 14 yards. Rodgers did enough to win, as the Packers' defense held off a furious rally by Philip Rivers in the second half. Since Rodgers' five-touchdown explosion in Week 3, he has just five passing scores in his last three games, although the offense has been dealing with several injuries. The Packers lost another key player Sunday when rookie Ty Montgomery left with an ankle injury, but second-year wideout Davante Adams (ankle) should return soon. Make sure Rodgers is on your bench in Week 7 though, as the Packers will be on their bye.

by RotoWire Staff | Special to CBSSports.com

Packers QB Aaron Rodgers throws two scores, two picks in Week 5 win

Packers quarterback Aaron Rodgers completed 19 of 30 passes for 241 yards, two touchdowns and two interceptions in Sunday's win over the Rams. He added 39 yards on the ground, but lost a fumble. The talk in Green Bay is how Rodgers had his first interception at home since 2012. Perhaps more amazingly, Sunday was his first three-turnover game since Week 9 of the 2009 season. All Sunday's, by his standards, rough outing against a very good Rams defense proves is that Rodgers is human. He still ranks first in the league in touchdown passes and second in passer rating.