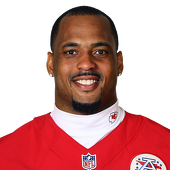 Own

41%

Start

33%

ILB Rank

NR
by RotoWire Staff | Special to CBSSports.com

Chiefs' Derrick Johnson: Collects seven tackles, sack

Johnson finished Sunday's game against the Broncos with seven tackles (six solo), one sack, and two tackles for loss. Johnson hasn't racked up the tackle totals he did prior to last season, but he did put out one of his better efforts of the season Sunday. He'll look to continue that effort next week against the Chargers.

by CBSSports.com Staff | CBSSports.com

Chiefs LB Derrick Johnson nets eight tackles in Week 1

Chiefs LB Derrick Johnson compiled eight tackles (six solo) and one sack Sunday against the Texans. Johnson's 2014 season ended prematurely due to an Achilles' tear, but he's started the 2015 campaign out strong. The 32-year-old linebacker doesn't typically pile up sacks, but he has collected nearly 100 tackles in each of his past four full seasons.

by Elliott Smith | Staff Writer

Chiefs LB Derrick Johnson eyeing training camp

After tearing his Achilles in Week 1 of the 2014 season, veteran linebacker Derrick Johnson is ready to get back on the field, even if it means dealing with the drudgery of training camp, per the Chiefs' website. Johnson did participate in minicamp and OTAs, but he said it's not quite the same, from a competition perspective or the opportunity to test his fitness. "You can't back off, you have to be ready when you come here for training camp," Johnson said. "I will be smart and listen to my body at times when I am tired, but coach [Andy] Reid runs a hard camp. If you take it easy during the summertime and save too much of your body, you'll be a little bit behind."

by Ruben Palacios | Staff Writer

Chiefs LB Derrick Johnson goes through warm ups at OTA's

Chiefs linebacker Derrick Johnson warmed up with the team on Thursday during organized team activities but did not practice, per kansascity.com. Johnson missed 15 games last year because of a torn Achilles, but is sitting out because of knee inflammation on the same leg.

by Marty Gitlin | CBSSports.com

Chiefs' Dontari Poe, Derrick Johnson dealing with minor ailments

The Chiefs have announced that nose tackle Dontari Poe left practice Monday with a back issue. But at least Poe got some reps - the team also confirmed that linebacker Derrick Johnson was sidelined completely with inflammation on on his knee.

by Sean d'Oliveira | CBSSports.com

Chiefs LB Derrick Johnson participates in Wednesday's OTA

For the first time since suffering a torn Achilles last season, Chiefs linebacker Derrick Johnson was able to participate in team drills during Wednesday's OTA practice, reports the team's official website. "It means a lot," he said. "Even though it's just OTAs, I'm a veteran, I've been to OTAs a lot, but at the same time, after being out a year, I need this time. This is going to help me get back to form and when the 2015 season comes around I'll be going." Despite getting on the field for the first time since suffering the injury in the first game of last season, Johnson said he was more concerned with how he performed than the injury. "A lot of people asked me, 'You ready to go today?' and I was more worried about dropping the ball when I jumped a route—that's what I was worried about."

by R.J. White | CBSSports.com

Chiefs have no plans to cut ties with ILB Derrick Johnson

The Chiefs have just $2.8 million of cap space with the NFL draft less than one month away, and while the team needs to find a way to make more room beneath the camp, the Chiefs will not part ways with inside linebacker Derrick Johnson, the Kansas City Star reports. "Derrick is obviously one of the greatest inside linebackers to ever play for the club and there are some pretty good ones, if you go back in time," team chairman Clark Hunt said. "In terms of the modern era of the Chiefs, it's hard to think about the club without thinking about Derrick at inside linebacker. He's a great leader, he's a tremendous person, represents the club well on and off the field. We're looking forward to having him back this year, hopefully good as new. You mentioned that his contract is up this year. There will be a point in time where we address that. But it just hasn't been germane to this point." Johnson missed last season due to a torn Achilles tendon and has a cap number of $5.2 million this season.

by Jason Butt | CBSSports.com

Chiefs' Andy Reid has 'special place in my heart' for S Eric Berry

Chiefs coach Andy Reid told reporters at the NFL combine that safety Eric Berry is still in the midst of his battle with Hodgkin's lymphoma. Reid was diagnosed with the cancer in December, ending his season early. "He's a stud … special place in my heart for a guy like that," Reid said, via the Kansas City Star. Reid also gave updates on linebacker Derrick Johnson and defensive end Mike DeVito, saying both players are in great shape. Both suffered Achilles tendon tears in 2014. Read more here: http://www.kansascity.com/sports/nfl/kansas-city-chiefs/article10618655.html#storylink=cpy

by Larry Hartstein | Senior Analyst

Chiefs tweak roster

The Chiefs placed linebacker Derrick Johnson (Achilles) and defensive end Mike DeVito (Achilles) on injured reserve and waived defensive back Daniel Sorenson. Kansas City elevated linebacker Jerry Franklin from the practice squad.

by Michael Hurcomb | Fantasy Writer

Chiefs lose two defensive starters for the season

Chiefs coach Andy Reid confirmed Monday linebacker Derrick Johnson and defensive lineman Mike DeVito will miss the rest of the season after suffering Achilles injuries Sunday against the Titans. An MRI confirmed both players suffered torn Achillies.