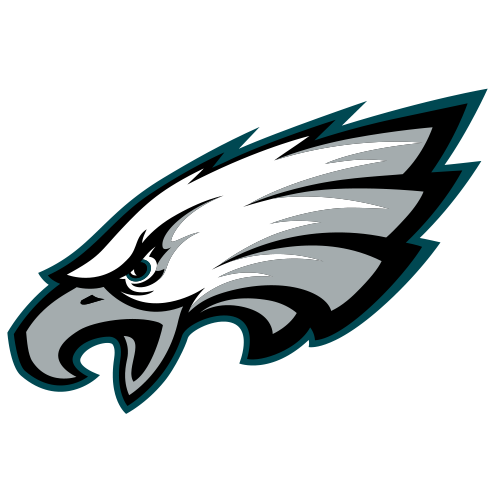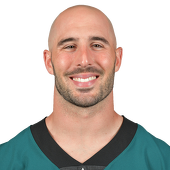 Own

0%

Start

0%

FS Rank

NR
by Larry Hartstein | Senior Analyst

Rookie WR Jordan Matthews among Eagles cleared to play

Eagles rookie receiver Jordan Matthews is active for Sunday's game at the Giants after being listed as probable with a knee injury. Also suiting up for Philly are outside linebacker Trent Cole (hand), defensive tackle Beau Allen (shoulder), defensive end Brandon Bair (knee), tight end Trey Burton (back), linebacker Mychal Kendricks (ankle) and safety Chris Maragos.

by Brandon Wise | Staff Writer

Nick Foles officially out, Bradley Fletcher questionable for Sunday

Eagles quarterback Nick Foles will miss the final game of the season with a collarbone injury. It will be Foles' eighth straight game out after suffering the injury Nov. 2 against the Texans. Cornerback Bradley Fletcher is also questionable for Sunday's game against the Giants witha a hip injury. Jordan Matthews (knee), Beau Allen (shoulder), Brandon Bair (knee), Trent Cole (hand), Mychal Kendricks (ankle), Chris Maragos (Hamstring) and Casey Matthews (non-injury related) are all considered probable for the game. The Eagles are 3-point underdogs against the Giants Sunday.

by Igor Mello | CBSSports.com

Eagles unveil final injury report for Week 16

The Eagles have ruled quarterback Nick Foles (collarbone) and linebacker Trent Cole (hand) out for Saturday's contest against Washington, according to the team's final injury report. Outside of Foles and Cole, the Eagles enter Week 16 relatively healthy. Linebacker Emmanuel Acho (groin), defensive tackle Beau Allen (shoulder), defensive end Brandon Bair (knee), tight end Brent Celek (neck), defensive tackle Bennie Logan (pectoral), safety Chris Maragos (hamstring), wide receiver Jordan Matthews (knee), kicker Cody Parkey (right groin) and running back Chris Polk (ankle) were labeled as probable.

by Larry Hartstein | Senior Analyst

Chris Maragos signs with Eagles

Free agent safety Chris Maragos, who appeared in every game last season for the Seahawks, signed a three-year deal with the Eagles.

by Marty Gitlin | CBSSports.com

Seahawks injury report includes all designations

Seahawks linebacker K.J. Wright will miss his fourth straight game Saturday with a foot injury. He has been ruled out of the NFC semifinal against New Orleans. The only teammate likely to miss the game is defensive tackle Jordan Hill (groin), who is doubtful. Free safety Chris Maragos (back) is questionable. The probables are safety Kam Chancellor (hip), wideout Percy Harvin (hip) and tight end Luke Willson (ankle).

NIners release 26 hopefuls

News: The 49ers cut down the roster by 26 on Saturday to get to the league-mandated 53 players on deadline. Among the casualties were WRs Ronald Johnson, Joe Hastings, Lance Long and Chris Hogan, CBs Phillip Adams, Phillip Davis, and Cory Nelms, LB Alex Joseph, TE Nate Lawrie, C Chase Beeler, QB McLeod Bethel-Thomspon, FB Jack Corcoran, DT Brian Bulcke, S Chris Maragos, RB Xavier Omon, TE Konrad Reuland, LB Monte Simmons, LB Kenny Rowe, NT Sealver Siliga, FS Curtis Taylor, and DB Anthony West. Analysis: None of the aforementioned players were expected to challenge for starting positions, so they remain irrelevant in Fantasy play as well.

49ers call up DB Maragos

News: The 49ers promoted DB Chris Maragos from their practice squad to the 53-man roster on Tuesday. Analysis: Maragos is an undrafted rookie out of Wisconsin who will provide some depth in the secondary. Continue to ignore him in IDP Fantasy play.

Maragos back on practice squad

News: After waiving him Wednesday, the 49ers re-signed DB Chris Maragos to their practice squad Thursday. Analysis: Maragos isn't likely to factor in an NFL game anytime soon. You have no reason to own him in Fantasy.

Maragos promoted from practice squad

News: The 49ers promoted S Chris Maragos, an undrafted rookie from Wisconsin, from the practice squad on Monday. Analysis: Maragos will provide depth at the safety position and play on special teams. He can be ignored in Fantasy at this point.

49ers cut 22 players Friday

News: The 49ers released 22 players on Friday, but all their 2010 draft picks made the cut. Those released were: kicker Shane Andrus, linebacker Mike Balogun, quarterback Jarrett Brown, fullback Jehuu Caulcrick, tight end Tony Curtis, linebacker Bruce Davis, guard Brian de la Puente, tight end J.J. Finley, receivers Bobby Guillory, Jason Hill and Kevin Jurovich, tackle Matt Kopa, linebacker Keaton Kristick, safety Chris Maragos, fullback Brit Miller, defensive tackle Khalif Mitchell, cornerback Karl Paymah, Michael Robinson, defensive tackles Will Tukuafu and Derek Walker, center Cody Wallace and linebacker Matt Wilhelm. Analysis: Some of the released players will be signed to the practice squad while others might get jobs with other teams or re-sign. Clearly, however, they are merely roster depth and can be ignored in Fantasy.