Week 18 schedule analysis
What does the Week 18 schedule have in store for us? Brian Rutherford has it all covered in his schedule analysis.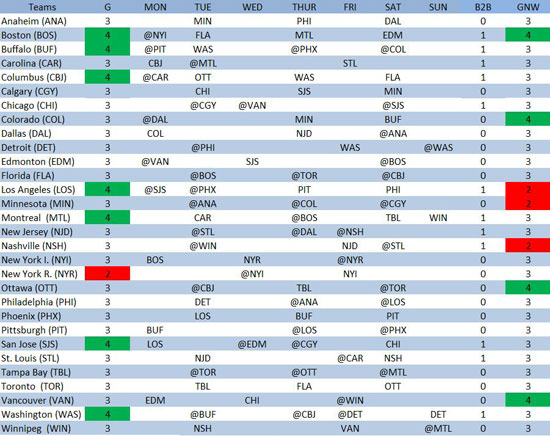 *B2B (Back-to-Back) occurrences in bold
Flush
The following seven teams will provide you with the most pack for your punch, as they have four games on the docket.
On the surface, it appears as though Boston (
at NYI, FLA,
MTL, EDM) has one of the easiest schedules on paper this week. Forgetting their combined 0-3 record against the Isles and Canadiens, the Bruins also have eight games over the final two weeks prior to the Olympic break.
Jordan Caron
(back),
Dougie Hamilton
(concussion),
Jarome Iginla
and
Zdeno Chara
all returned in their own ways on Saturday.
You don't need a quick glance at Buffalo's (
at PIT, WAS,
at PHX, at COL) schedule to know it's too late for the team to turn things around in time for a playoff push. However, that's not going to stop the Sabres from breaking a lot of hearts, fantasy or otherwise.
Christian Ehrhoff
and
Tyler Ennis
are picking up the pace, while
Cody Hodgson
is the only constant.
Ville Leino
(upper body) and
Drew Stafford
(upper body) left Saturday's game ... shocker.
Columbus (
at CAR, OTT,
WAS, FLA) is fully aware of Buffalo's heart-breaking abilities. On paper, we like the Jackets' chances of starting a new winning streak.
Sergei Bobrovsky
was one of six starting goalies pulled Saturday night; perhaps it's an isolated incident.
Mark Letestu
and
Derek MacKenzie
continued their production despite the loss.
Los Angeles (
at SJS, at PHX,
PIT, PHI) starts the week with b2b games on the road before heading home for contests against two teams on a west coast swing. The Kings' offense is really letting
Jonathan Quick
(3-4-2,2.11 GAA) down since he returned from the IR on January 4.
Montreal (CAR, at BOS,
TBL, WIN)
has two winnable tilts at the beginning and end of the week and three of four from home to boot. Despite their four-game losing streak, the Canadiens are unbeaten (combined 3-0-2) in regulation against this week's opponents.
Carey Price
was one of the shamed on Saturday night, and it's becoming a bit of a habit, having been pulled in two of his last three outings. Price has given up 48 goals (3.42 GAA) in his last 14 starts.
San Jose (LOS,
at EDM, at CGY,
CHI) has the inside-out version of Montreal's schedule, with its easiest (5-0 against the Oilers and Flames) two games in the middle of the week on a b2b Alberta swing. While
Tommy Wingels
has a goal and three assists in his last four games, it's
Joe Pavelski
(seven goals, three assists in his last five games) who is truly driving the Sharks' latest winning streak.
Washington (at BUF,
at CBJ, at DET,
DET) has been some sort of strange fantasy experiment. Additionally, the Caps will battle the even stranger Red Wings in a non-traditional home-and-home slate to end the week.
Mikhail Grabovski
(leg) did not play on Saturday, while Alexander Ovechkin (groin) did.
Niklas Backstrom
is cold, but could Martin Erat's inevitable exit (we expect this week) finally shake this team up? Apparently
Braden Holtby
took the reins last week, not
Michal Neuvirth
.
Casey Wellman
(23 points in 37 games with AHL Hershey) was recalled in light of the injuries to Ovi and Grabovski.
One Pair
While the Rangers (at NYI, NYI) organization is surrounded by excitement in light of the Stadium Series, the team is not only strapped with the dreaded two-game slate this week, but a mere three games next week. For what it's worth, the Rangers are a combined 5-15 on the power play in three games (1-2) against the Islanders this season.
Three of a Kind
No, none of this week's Three of a Kind candidates were yanked on Saturday night. Despite having just three tilts scheduled this week, these teams will have b2b occurrences and no trend is in sight.
Carolina (
CBJ, at MTL,
STL) has two games in the first two nights this week, then takes off until Friday.
Anton Khudobin
has yet to yield more than three goals in a game this season. However, he's played on b2b occurrences twice this month and won't likely do again this week.
Justin Peters
should get a start.
Chicago (
at CGY, at VAN,
SJS) plays on b2b nights starting Tuesday.
Corey Crawford
hasn't played since January 22, and his career GAA (2.83) against the Flames suggests
Antti Raanta
will play in Calgary, with Crawford drawing the Canucks.
New Jersey (at STL,
at DAL, at NSH
does the southern swing on b2b nights beginning Thursday.
Cory Schneider
has certainly been coming on strong (eight goals allowed in seven games) since the turn of the calendar. One of those performances includes a 1-0 shutout over the Stars. Considering Schneider has allowed three goals in just 20 career minutes of ice time against the Preds, we like
Martin Brodeur
in Nashville.
Nashville (at WIN,
NJD, at STL
) will play just once until Friday, then host the Devils and travel to St. Louis on b2b nights.
Carter Hutton
is quietly on a four-game winning streak, while
Devan Dubnyk
has given up nine goals in two games with Nashville. Expect to see Dubnyk against the Devils and Hutton in St. Louis.
St. Louis (NJD,
at CAR, NSH
) won't have much of an upper-hand against the Preds, as they'll be on the back-half of a b2b occurrence as well. Despite a 7-1 loss to New Jersey this past Tuesday,
Jaroslav Halak
has been solid (5-1) in January, while
Brian Elliott
is winless in his last three games after winning 12 of his 14 previous starts. Look for Elliott against Carolina and Halak (1.71 career GAA against the Predators) against Nashville.
Show Comments
Hide Comments
Our Latest Stories
Want to see which players are being added off the waiver wire? Check out our Roster Trends...

Want to stay up to speed with all the happenings from around the NHL that could affect your...

The elite goaltender tier is two studs deep -- Carey Price, Braden Holtby. After that come...
Where should you find your forwards of choice in your draft? Here's a guide on where players...

The blue line has dramatically more talent, and here's the way it breaks down tier by tier...

Looking for a hidden gem on Draft Day? Look no further. Evan Berofsky has you covered with...