Week 19 schedule analysis
What does the Week 19 slate have in store for your Fantasy team? Brian Rutherford dives in with his schedule analysis.
It's time to prepare for an NHL schedule that features 90 games in six days before it comes to a two-week freeze for the Olympic break.
B2B*=back-to-back
*all b2b occurrences in bold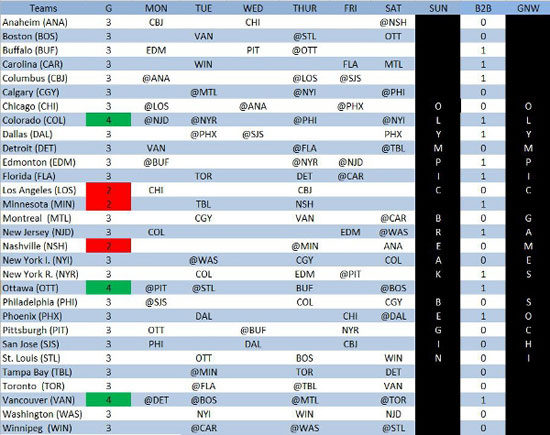 Four Aces
Of the 12 games being played by our Four Aces this week, 11 will be road games.
Colorado (at NJD, at NYR, at PHI, at NYI) embarks on a four game East Coast swing before heading to break. Their combined record versus this week's opponents is 2-0-1. Gabriel Landeskog and Nathan MacKinnon are picking up the pace again. Ryan O'Reilly has 11 points (six goals) in his last 10 games. Meanwhile, Jamie McGinn has seven goals and four assists since the beginning of the new year. With injuries to Alex Tanguay (knee) and Paul Stastny (ankle), P.A. Parenteau increased his trade value with a return to action on Saturday. Despite giving up four goals to the Wild, Semyon Varlamov has been dependable in the new year as well, posting a 11-2-1 record since the calendar flipped. Still, Jean-Sebastien Giguere should get a nod this week.
Ottawa (at PIT, at STL, BUF, at BOS) has three very difficult opponents and Buffalo at home. Nonetheless, the Sens are a combined 6-0-1 against this week's opponents. No word on Cody Ceci's status after taking a hit from Nazem Kadri on Saturday. Chris Neil had a little offensive showing in Saturday's loss. Craig Anderson had a very inconsistent January and things just got worse in Saturday's loss. Nonetheless, Anderson is a big part of Ottawa's successful record against this week's opponents. Still, after Saturday's performance, one would have to expect Robin Lehner in Pittsburgh or St. Louis.
Vancouver (at DET, at BOS, at MTL, at TOR) continues to play without head coach John Tortorella at the helm. With road games against the top four teams in the Atlantic Division, it's not out of the question that the Canucks could head into the break on a seven-game slide. The Canucks are a combined 2-2 this season against this week's opponents. Mike Santorelli had season-ending surgery. Henrik Sedin (ribs) is considered questionable for Monday's game with the Red Wings. Should be a busy week for Roberto Luongo , giving Eddie Lack a start probably in Boston.
One Pair
Like the polar opposite of our "Four Aces," the three teams strapped with just a two-game schedule will play five of the total six games in home attire.
Jonathan Quick will have his work cut out for him as Los Angeles (CHI, CBJ) has just seven goals in the last nine contests. Alec Martinez (elbow) has yet to resume practice.
Minnesota (TBL, NSH) is still without Mikko Koivu (ankle), Jared Spurgeon (foot) and Josh Harding (illness). Spurgeon is possibly the closest to returning. Darcy Kuemper left something to be desired in Saturday's loss to Calgary.
Nashville (at MIN, ANA) is likely to keep rolling out Carter Hutton , who is 6-1-1 since mid-January. While new acquisition Michael Del Zotto is a plus-2 with just one assist since joining the Preds, Roman Josi has 11 points in his last 10 games. Just when you thought it was safe to trust a trending Preds forward, Nick Spaling (lower body) left Friday's game. The Preds have been "mum" about Viktor Stalberg 's (upper body) status. Simon Moser , who had 11 points (three goals) in 13 games with Milwaukee of the AHL has been recalled.
Three of a Kind
While no excuses are acceptable, all apologies for advising Boston (VAN, at STL, OTT) would have a four-game docket this week. Take your vitamins ladies and gents, there's a nasty bug floating around. In "Three of a Kind" this week, we have some teams already dealing with goaltending turmoil and games on b2b nights will only liven up the issues.
Buffalo (EDM, PIT, at OTT) went 0-2 on the back-end of b2b occurrences in January. Ryan Miller was spared from Saturday's mess against the Avalanche, but not before giving up five goals. Jhonas Enroth really fared no better, registering 10 saves on 12 shots. Matt D'Agostini has warmed up with three goals and two assists in his last seven games. Christian Ehrhoff (illness) returned on Saturday and continued his productive ways from January as well. We're not sure whether Saturday's embarrassing loss leaves Brian Flynn with top line placement still.
Carolina (WIN, FLA, MTL) went 2-2 on the back-end of b2b occurrences in January. It's not out of the question that Anton Khudobin plays all three tilts this week, but don't be surprised if Justin Peters snags a game. That's of course if he's not traded as Cam Ward has returned from his conditioning stint. Patrick Dwyer (illness) returned on Saturday.
Columbus (at ANA, at LOS, at SJS) went 2-1 on the back-end of b2b occurrences in January. Sergei Bobrovsky is 9-2 since returning from injury. Booner Jenner has three points (one goal) since lining up with Nathan Horton and Ryan Johansen two games ago. Jared Boll (ankle) resumed skating. Marian Gaborik (collarbone) is not expected back before the Olympic break.
Dallas (at PHX, at SJS, PHX) went 1-1 on the back-end of b2b occurrences in January. After watching Dan Ellis picking up a shutout against his former employer the Ducks, we like his chance against either the Coyotes or the Sharks.
Edmonton (at BUF, at NYR, at NJD) went 1-1 on the back-end of b2b occurrences in January. Ok, perhaps Ben Scrivens ' 59-save performance cools off our requests to get Richard Bachman (5-3, 2.73 GAA in January for Oklahoma) called up. Ales Hemsky (ankle) and Matt Hendricks (head) returned on Saturday. Mark Fraser played just 12-minutes in his debut with the Oilers.
Florida (TOR, DET, at CAR) went 1-0 on the back-end of b2b occurrences last month. Tim Thomas has been flat out ugly lately, so you can bank on Scott Clemmensen making at least one start. Sean Bergenheim is enjoying Jonathan Huberdeau 's company. Aleksander Barkov (lower body) returned on Saturday, forcing Drew Shore's return to AHL San Antonio. Brad Boyes is finding the net and not just in shootouts.
New Jersey (COL, EDM, at WAS) went 0-3 on the back-end of b2b occurrences last month. Cory Schneider has been the go-to-guy since New Jersey's embarrassing loss to the Rangers last Sunday. Well, sort-of, since he's 1-2 (seven goals allowed) in the three games he's started. Travis Zajac is showing signs of life with two goals and six assists in his last six games.
Phoenix (DAL, CHI, at DAL) went 0-1 on the back-end of b2b occurrences last month. Not many are happier to see February than Mike Smith who had some clunkers in January. Then Thomas Greiss posted a shutout versus the struggling Kings, almost prompting a hot-seat situation. But Smith returned to form, making 23 saves in Saturday's win over the powerful Pens.
Show Comments
Hide Comments
Our Latest Stories
Want to see which players are being added off the waiver wire? Check out our Roster Trends...

Want to stay up to speed with all the happenings from around the NHL that could affect your...

The elite goaltender tier is two studs deep -- Carey Price, Braden Holtby. After that come...
Where should you find your forwards of choice in your draft? Here's a guide on where players...

The blue line has dramatically more talent, and here's the way it breaks down tier by tier...

Looking for a hidden gem on Draft Day? Look no further. Evan Berofsky has you covered with...