Week 24 schedule analysis
Get your Week 24 Fantasy Hockey lineup in shape with Brian Rutherford and his breakdown of the NHL schedule.
After a chaotic and fulfilling trade deadline and one of the busiest weeks ahead, this week's schedule analysis doesn't have time for fancy introductions. We warned you it was coming and here it is.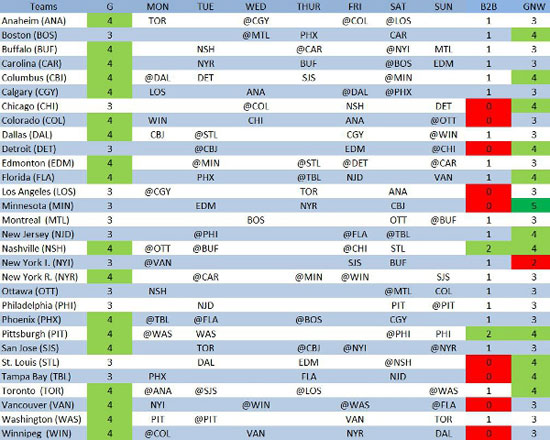 B2b=back-to-back occurrence.
Back-to-Back Jacks
You'll notice the red on this week's grid denotes teams WITHOUT a b2b occurrence, since the majority of NHL teams have at least one. None more difficult than the Penguins.
Pittsburgh (at WAS, WAS, at PHI, PHI) has the strangest schedule we've seen in quite some time with two traditional home-and-home series at the beginning and the end of the week.
Pittsburgh leads Washington in season series, 2-0 (PIT leads GF/GA 8-3)
Pittsburgh and Philadelphia season series tied at 1-1 (PIT leads GF/GA 5-3)
Three of a Kind
With every team in the NHL playing at least three tilts, it's going to be a busy week. Six of the 12 teams playing three games this week will do so without a b2b occurrence, so owners with backup goaltenders should look elsewhere for spot starts. Here are six teams playing three games with a b2b occurrence.
Boston (at MTL, PHX, CAR) plays in Montreal then heads home to face a road stricken Coyotes squad. Reilly Smith scored the team's winning shootout goal on Saturday, perhaps he'll get off the regulation schneid. Tuukka Rask is likely to draw the Canadiens game with Chad Johnson in net against visiting Phoenix.
Since placing Carey Price on IR, the last thing Montreal (BOS, OTT, at BUF) needs right now is a b2b occurrence. Revisit our SA last week for AHL call-ups, because Devan Dubnyk was sent to Hamilton and Dustin Tokarski is up for Montreal, but Peter Budaj hasn't been too shabby. Tim Bozon is yet another NHL player dealing with an infection this season but this one is life-threatening.
Since they retained Martin Brodeur 's services at the trading deadline, a b2b occurrence shouldn't hurt New Jersey (at PHI, at FLA, at TBL.) What better time for new acquisition Tuomo Ruutu to score his first goal with the Devils then against his former team with less than 10 minutes remaining in the game? Adam Henrique is maintaining his current hot streak and Travis Zajac has five points in his last five games.
The Islanders (at VAN, SJS, BUF) don't have a ton to play for, but their youngsters are looking good thus far. Not that they have a promising youngster between the pipes. After flying cross-continent, they'll have a few days to recover and then catch the Sharks on the back half of b2b nights and then Buffalo as dessert. Currently it's a game of hot potato and both Anders Nilsson and Evgeni Nabokov have had their struggles.
Ottawa (NSH, at MTL, COL) hosts Nashville, then after a few days off travels to Montreal on Saturday and then back home to meet the Avalanche on Sunday. Ales Hemsky is already paying dividends and apparently awakening Jason Spezza . Mike Hoffman scored his first NHL goal. Craig Anderson has given up a combined nine goals to the Canadiens and Avs in his last two starts against the two teams. Robin Lehner should get a start this week, likely Montreal, who he shutdown (stopped 33 of 34) in November.
Philadelphia (NJD, PIT, at PIT) has an ugly schedule with all hard-nosed rivalry games, including the aforementioned traditional home-and-home with Pittsburgh. Steve Downie (illness) did not play on Saturday. Kimmo Timonen has seven points in four games this month. Jakub Voracek has seven points (three goals) over his last three games.
Four Aces
A lot of teams are playing four games, here are a few notes about some of them with a favorable schedule.
With Dallas's (CBJ, at STL, CGY, at WIN) Kari Lehtonen (head) leaving the ice bloodied on Saturday, the acquisition of Tim Thomas now looks brilliant. Did you drop Timmay? Pick him up again. Also, there's no one more white-hot than Tyler Seguin over the last two games.
Though San Jose (TOR, at CBJ, at NYI, at NYR) is a much better bet at home (league best 24-4-4), outside of their week-ending battle in New York, the Sharks should cruise through the week. Brad Stuart missed his sixth straight game.
Vancouver (NYI, at WIN, at WAS, at FLA) has had its share of breakdowns. And despite spending three of four on the road, their strength of schedule and spread out docket seems favorable. There's no question Eddie Lack is the man, but perhaps Jacob Markstrom could do well in a change of scenery.
The Rangers (at CAR, at MIN, at WIN, SJS) have some question marks in their schedule. Can they repeat their four-goal third period against Carolina on Tuesday? Things will likely get dicey against the Wild and Sharks, but the Rangers don't get too concerned about three of four from the Garden, where the team is 19-11. With the Rick Nash/Derek Stepan/Chris Kreider line fairly quiet as of late, this team can go through scoring droughts for several periods, but then explode out of nowhere. Mats Zuccarello and Martin St. Louis seem to be helping mold an open ice type identity for an organization that has never been known for excelling consistently with speed. Cam Talbot owners should get a start, possibly two this week.
Straight Flush
Since 60-percent of the NHL 18 teams are playing four tilts, just highlighting a busy week wouldn't have been enough. However, we thought you may want to know five of those 18 teams have a four-game schedule for the next two weeks.
After travelling to Dallas, Columbus (at DAL, DET, SJS, at MIN) plays three of four from home. That doesn't matter to Ryan Murray (knee) and they are going to miss him.
Florida (PHX, at TBL, NJD, VAN) plays all four within the Sunshine State, drawing only one road game in Tampa Bay. Okay, it was just a 2-0 shutout of Buffalo, but Roberto Luongo seems to be settling into Florida again quite nicely.
Nashville (at OTT, at BUF, at CHI, STL) plays three on the road and come home to host the Blues. Like Pittsburgh, all four games occur on a b2b occurrence. Yes, Pekka Rinne is back and seemingly up to his old habits again. With David Legwand gone and Colin Wilson being tabbed as the team's number one center, more 1-0 losses are ahead for Rinne. With the team easing Rinne back and two b2b occurrences, Carter Hutton will be needed.
Toronto (at ANA, at SJS, at LOS, at WAS) will play all four on the road. All these goalie changes around the league and long-standing Maple Leafs goalie James Reimer is still on the outside looking in. Nonetheless, Jonathan Bernier won't be able to do ALL the lifting this week. Clarke MacArthur (hand) will not need surgery and could be back by Saturday. Nazem Kadri has a goal in b2b games.
Straight
The free agent pool is exciting in deep leagues once again. The fallout from the trade deadline has impacted the playing time on the following very busy teams this week.
With Karri Ramo has no timetable for return and with Calgary (LOS, ANA, at DAL, at PHX) trading Reto Berra , Joni Ortio (20-6. 2.22 GAA with Abbotsford) is the de-facto starting netminder. However, stay vigilant, stealing number one jobs from the young and impressionable is Joey MacDonald 's business. The biggest trade Burke made was Lee Stempniak , causing a ripple to the Flames depth charts and we're already seeing signs of life. Headed into Saturday's action, it appears Joe Colborne is finally making good on his potential? If three goals in his last two games is not enough consistency for you to take out a flier, how does nine points over his last 13 games sound? Since having his ice time upped to 16-plus minutes, Markus Granlund has a goal in consecutive games. Temper your expectations as last week's full-throttle was against (Islanders, Sens, Wild and Oilers) weaker teams, so let's see how they play with the big boys this week before anointing them the spoilers.
In our opinion, Buffalo (NSH, at CAR, at NYI, MTL) got the best deal without trading a soul. Cory Conacher will likely line up as a top-6 forward the rest of the year. Sure, his plus/minus rating will likely suffer, but not if Jhonas Enroth (.949 SV% since Ryan Miller was traded) continues to stand on his head. But don't count out Michal Neuvirth . If Enroth stumbles for a game or two, Neuvirth could get a window. Another newcomer who WON'T actually be reporting Buffalo is Rostislav Klesla , who decided to end his season and possibly his career in the NHL this week.
Unless Edmonton (at MIN, at STL, at DET, at CAR) wins out, they're likely playing to gain chemistry for next year. No better challenge than four on the road. For the first in time in forever, you can look at the Oilers goalie depth chart (Ben Scrivens, Viktor Fasth and see a reason for optimism. Anton Lander will take his 45 points in 42 games with Oklahoma City of the AHL to the big club.
OTHER REPORTS: Troy Brouwer has eight goals in his last 10 games. John Erskine (upper-body/leg) passed his concussion protocol but remains day-to-day. Johan Franzen has six goals and five assists in his last five games. Jonas Gustavsson (groin) is out, Petr Mrazek is back up from Grand Rapids, but likely won't be needed this week as Detroit has an evenly scheduled week. Evgeny Kuznetsov signed an entry level contract and should be considered as a depth pick up in deeper leagues. John-Michael Liles (undisclosed) did not play on Saturday. Niklas Backstrom (lower-body) has been shut down for the "foreseeable future". Nathan MacKinnon streak is over. Ondrej Pavelec was pulled on Saturday. Paul Stastny (back) did not return to Saturday's tilt against St. Louis and is at minimum day-to-day until further notice.
Show Comments
Hide Comments
Want to see which players are being added off the waiver wire? Check out our Roster Trends...

Want to stay up to speed with all the happenings from around the NHL that could affect your...

The elite goaltender tier is two studs deep -- Carey Price, Braden Holtby. After that come...
Where should you find your forwards of choice in your draft? Here's a guide on where players...

The blue line has dramatically more talent, and here's the way it breaks down tier by tier...

Looking for a hidden gem on Draft Day? Look no further. Evan Berofsky has you covered with...