Week 3 schedule analysis
Get your team prepared for Fantasy Week 3 with Brian Rutherford's look at the schedule trends.
It's the second week of the season and you're likely recognizing the identity of your team. Are you destined to make a season-long comeback because you went heavy on Rangers players like yours truly? Or are you riding high because you loaded up on the right mix of sleepers and prospects like Lars Eller, Tomas Hertl and Sean Monahan? Regardless of your place in the standings right now, it's the newly aligned NHL and the most subtle of schedule trends can send you spiraling or soaring in one night.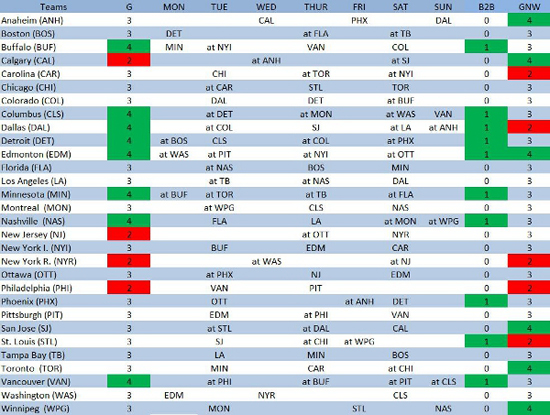 Three of a Kind
High Percentage Teams (weaker schedules)
The Isles (BUF, EDM, CAR) are as solid as anyone heading into this week's schedule when they play three opponents sporting a combined record of 3-8-3 headed into Saturday's (10/12/13) action. In addition to John Tavares (DDS), Michael Grabner, Frans Nielsen and Josh Bailey look to keep the party moving all the way to Brooklyn.
Colorado (DAL, DET, @BUF) faces a schedule of teams (4-7-1) that are getting outscored 31 to 21 so far. Adding to that contrast, Semyon Varlamov and Jean-Sebastien Giguere have given up a total of three goals in four games this season.
Washington (EDM, NYR, CLS) and Montreal (at WPG, CLS, NAS) play a combined five of six from home against extremely under-performing teams as well.
In the meantime, you may want to avoid ...
Low Percentage Teams (tougher schedules)
Considering Jacob Markstrom's inability to put it altogether, that fuzzy feeling you had about Florida (at NAS, BOS, MIN) has likely died down with the news about Tim Thomas. No surprise they're getting outscored 21-13 in the early going.
At first glance, San Jose (at STL, at DAL, CAL) looks to be a good bet to stay hot this week. Look again and you'll see they travel for two of three, one of which will be the almost as hot Blues. Dallas' play has been unstable and Calgary's bottom could fall out, but something tells us Hertl and the Sharks will come back down to earth this week.
Don't misinterpret Carolina's (CHI, at TOR, at NYI) 2-1-2 record as well. Although Anton Khudobin (2-0, 1.50 GAA) has been quite stellar in his limited logged time, number one Cam Ward (0-1-2, 2.87 GAA) has been pedestrian at best. If Ward gets the nod for at least two of these starts, look out, Carolina could go from second in the Metropolitan to keeping the Flyers and Rangers company at the bottom.
Speaking of which ...
One Pair
Not only is their schedule almost exclusive to teams playing solid hockey, but players from New Jersey (at OTT, NYR), the Rangers (at WAS, at NJ), Philadelphia (VAN, PIT) and Calgary (at ANH, at SJ) will play just two games this week. Could this be the Sean Monahan train back to juniors? As old fashioned as we can be, we just can't seem them doing so, regardless of how the Flames play this week. Four games left and the clock is ticking.
Other pairs to consider:
Back-to-Back Jacks
In addition to all of the Four Aces (see below) playing on back-to-back nights once this week, these two teams are playing two of their three games on consecutive nights.
Thomas Greiss, G, Phoenix (OTT, at ANH, DET): For those (owned by 8% of CBS) considering picking up Greiss, you may hesitate when you see his opponent will either be the Ducks or Red Wings. As for Mike Smith's career numbers, in 13 games played against Anaheim, Smith is 8-3-1 (2.74 GAA), while in nine games played against Detroit Smith is 2-5-2 with 2.60 GAA.
Brian Elliott, G, St. Louis (SJ, at CHI, at WPG): Elliott had yet to appear in a game heading into Saturday's match-up with the Rangers. Head coach Ken Hitchcock is likely to give Elliott the nod against the weaker Jets and the white hot Jaroslav Halak against the cup champs, Chicago.
Four Aces
Raise (weaker schedules)
Detroit (at BOS, CLS, at COL, at PHX), Nashville (FLA, LA, at MON, WPG) and Vancouver (at PHI, at BUF, at PIT, at CLS) all play favorable four game schedules.
Daniel Alfredsson has 26 goals, 43 assists in 87 career games versus the B's. Alfredsson was kept quiet in last week's 4-1 loss in Boston, perhaps the second time in a week is the charm for the veteran Northeast rival.
Stephen Weiss has seven goals and five assists in 10 career games against the Avs.
There's always good old Pavel Datsyuk (goal, assist in four games), who has 173 points in 149 career games against this week's opponents.
One thing we love about Detroit's week is Jimmy Howard's career record (28-8-5, 2.23 GAA, 2 SO) against this week's opponents. How about even better news for Howard owners? He'll likely get three starts this week. Despite Jonas Gustavsson's fairly impressive career GAA (2.48) versus Boston, he's likely to draw the weaker Columbus team on Tuesday.
Fold (tougher schedules)
Minnesota (at BUF, at TOR, at TB, at FLA), Buffalo (MIN, at NYI, VAN, COL), Edmonton (at WAS, at PIT, at NYI, at OTT), Columbus (at DET, at MON, at WAS, VAN) and Dallas (at COL, SJ, at LA, at ANH) have busy but sketchy games likely to leave a negative impact on your week.
It's the regular season, so of course Niklas Backstrom (lower-body) is fighting a day-to-day injury. While Josh Harding has been solid in his two games since the Backstrom injury, his career record (19-42-6, 2.97 GAA) on the road is ugly, regardless of what team's he'll be facing this week. We'll leave this one up to you.
Offensively (9/11 GF/GA), things just are not panning out for the Wild, who have a four man log jam for scoring leader with three points, including Matt Cooke and Mikael Granlund. Perhaps Zach Parise's (three goals) Eastern Conference cred is still good, but we somehow doubt it.
It should be a telling week for Jonas Brodin (two goals, one assist), who will play in four arenas that he's stepped foot in.
Show Comments
Hide Comments
Want to see which players are being added off the waiver wire? Check out our Roster Trends...

Want to stay up to speed with all the happenings from around the NHL that could affect your...

The elite goaltender tier is two studs deep -- Carey Price, Braden Holtby. After that come...
Where should you find your forwards of choice in your draft? Here's a guide on where players...

The blue line has dramatically more talent, and here's the way it breaks down tier by tier...

Looking for a hidden gem on Draft Day? Look no further. Evan Berofsky has you covered with...