Week 7 schedule analysis
Brian Rutherford breaks down the schedule to find the hidden nuggets for Fantasy in Week 7.
Although one glance at this week's grid may lead you to believe it's a slow week as 24 of the 30 NHL teams are playing just three games, but with 94 total games on the NHL docket, the league is anything but slow.
*bold indicates back-to-back occurrences.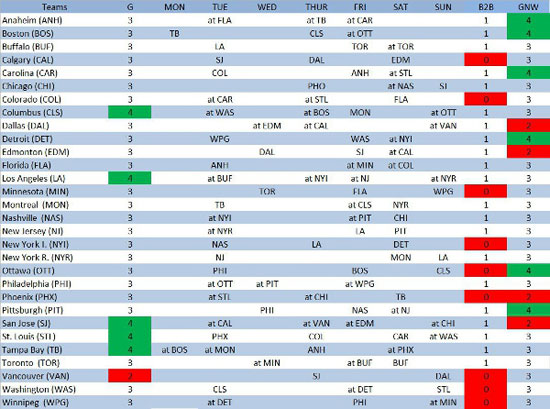 Four Aces
In Four Aces this week, just five teams play four games. While ordinarily four games provide you with more opportunity to rack up points, all five teams have a road-trip or strong opponent schedule. Outside of the utilization of backup goalies, we're not so sure you'll want to place all your eggs in this basket.
Ryan Johansen and Brandon Dubinsky took Columbus' (at WAS, at BOS, MON, at OTT) head coach Todd Richards' words to heart as the Jackets snapped their losing streak on Saturday night.
Los Angeles (at BUF, at NYI, at NJ, NYR) will take a road trip on the East Coast and continue to deal without Jeff Carter . Jarret Stoll may be a different story.
San Jose (at CAL, at VAN, at EDM, at CHI) has Brent Burns traveling with the team on Sunday, but no word yet on whether he would play. Busy road trip for the Sharks, they could definitely use him.
Good thing Kevin Shattenkirk is streaking because we're not sure how long St. Louis (PHX, COL, CAR, at WAS) will be without the services of Jordan Leopold . After a game with the visiting Avs, the Blues' four-game schedule this week should get progressively easier.
Tampa Bay (at BOS, at MON, ANH, at PHX) has seven of their next eight on the road, their only home game until the final week of the month will be this Thursday's match up with the Ducks. Look out, Ben Bishop is building confidence.
Three of a Kind
There's a chance the penalty boxes in Buffalo (LA, TOR, at TOR) and Toronto (at MIN, at BUF, BUF) could get lots of use with a traditional home-and-home starting Friday. The Sabres and Leafs are just two teams playing on a back-to-back occurrence for two of their three-game schedule this week.
Hold (favorable schedule)
Can Anaheim do wrong? Ryan Getzlaf and Corey Perry are blowing up and Frederik Anderson is settling in. Despite his strong efforts, we're just a little concerned about Andersen's immediate future once Viktor Fasth gets healthy. Rickard Rakell also registered his first NHL point Friday night. Although they're playing three on the road, we like Anaheim's (at FLA, at TB, at CAR) chances this week.
Boston (TB, CLS, at OTT) had a Patrice Bergeron siting on Saturday.
Chicago (PHO, at NAS, SJ) has two favorable matchups then face off with the Sharks on Sunday night.
Forgetting a convincing loss to Chicago, Dallas (at EDM, at CAL, at VAN) continues to get the job done against good teams. SA's favorite ginger Cody Eakins continues to shine in a jack-of-all-trades type of role. It's noteworthy that Dallas was a tired team when they hosted Chicago, having gone to overtime or a shootout in four consecutive games prior to Saturday night. Regardless, we like their schedule this week.
After starting out the month on a four-game winning streak, Detroit (WPG, WAS, at NYI) are losers of two straight. But they're in the midst of a homestand that will have them play seven of eight in the Motor City.
Edmonton's (DAL, SJ, at CAL) Ilya Bryzgalov could finish his conditioning stint in time for either San Jose or Calgary. Regardless of which Bryz the slickers get, head coach Dallas Eakins is hoping this puts a collective fire under his team's goalie situation. Also, David Perron made his return on Saturday night, much to the delight of Ryan Nugent-Hopkins and Jordan Eberle owners.
Montreal (TB, at CLS, NYR) could have Daniel Briere back as early as this week. Will that turn Carey Price's record around?
New Jersey (at NYR, LA, PIT) needs all the production they can get. AHL call-up Eric Gelinas has done well posting four points in seven games as has Michael Ryder , all things considered.
Rangers' (NJ, MON, LA) Ryan Callahan is really heating up. Cam Talbot looks more comfortable, but there's no telling which game he'll draw, if any considering Alain Vigneault has shown he's willing to throw King Henrik out on back-to-back nights. In the meantime, barring any setbacks, Rick Nash could be eyeing a return to action later this month.
Philadelphia (at OTT, at PIT, at WPG) could get back Steve Downie as soon as Tuesday in Ottawa. Scott Hartnell is warming and Claude Giroux finally broke the goose eggs. Could this be the start of a beautiful awakening for Flyers and fantasy owners alike? Despite facing the Pens on the back end of two games on consecutive nights, this week's schedule allows for a bit of optimism.
Pittsburgh's (PHI, NAS, at NJ) James Neal (upper-body) and Beau Bennett , who both skated on the Penguins second line with Evgeni Malkin , returned on Saturday night. Consider the Pens will face Philly on the back end of back-to-back road games this Wednesday an opportunity for blood.
Fold (not-so-favorable schedule)
Look out Justin Peters , Carolina (COL, ANH, at STL) could be getting both Anton Khudobin and Cam Ward back sometime this week.
New head coach, same old story for Florida (ANH, at MIN, at COL) who got Tim Thomas back but came up short against the Sens. The Panthers are 1-8 in games that result in a one-goal differential. No matter, looking at the schedule, we don't think one-goal games will be an issue this week.
Nashville's (at NYI, at PIT, CHI) head coach Barry Trotz is shaking things up. Mattias Ekholm took over for Seth Jones (played third pairing on Saturday) on the Preds' number one pairing alongside Shea Weber . Up until Saturday night, Ekholm had been very productive recently.
One-Eyed Jacks
Vancouver (SJ, DAL), who starts a six game home-stand this week, is the only team that will play just two tilts this week. In fact, things will be so busy that just nine teams will play without a back-to-back occurrence. So in the interest of saving time, unless an injury occurs, backup goalies on the following teams will likely not be needed. For what it's worth, be sure to notice most of these teams will play almost exclusively from their home stadiums this week.
Calgary (SJ, DAL, EDM) Reto Berra had seemingly taken over after a sharp debut against the Blackhawks, but disappointing performances in consecutive starts leaves it at "your guess (Kari Ramo or Berra) is as good as ours." The Flames likely stay with the hottest goalie. Mark Giordano returned, sending Chad Billins (two assists in his first two games) back to the AHL, Stash this nugget away for safe keeping.
Colorado (at CAR, at STL, FLA) has two favorable matchups and a clash in St. Louis. Semyon Varlamov has been playing like he's distracted the past few games; I'd say he could get that night off considering Jean-Sebastien Giguere has been so solid this season.
Ask Minnesota (TOR, FLA, WPG) if they're missing Niklas Backstrom . Not likely as Josh Harding is panning out after all their patience with him. He's likely to get all three starts against three lackluster offenses no less.
While the Islanders (NAS, LA, DET) don't really have a lot of choices in between the pipes with Evgeni Nabakov entrenched as the number one guy, Kevin Poulin has stopped 49 of 51 shots in his last two starts. Add in three inconsistent offensive squads who visit Uniondale this week and you have a recipe for a good week.
Ottawa's (PHI, BOS, Craig Anderson (neck) is back. However, Robin Lehner has been no slouch this season and will be needed for one or more this week.
Phoenix (at STL, at CHI, TB) has been solid, and while Mike Smith has been suspect from time to time, he's a workhorse. Thomas Greiss hasn't been all that good in his minimal time in between the pipes.
Braden Holtby was solid in his first start since the fight heard round the world and with Washington (CLS, at DET, STL) playing just about every other day this week he should get all three starts this week.
Both Ondrej Pavelec and Al Montoya were hung out to dry by the Winnipeg Jets (at DET, PHI, at MIN) last week. This week's schedule is fairly favorable, so perhaps they'll have an axe to grind.
Show Comments
Hide Comments
Want to see which players are being added off the waiver wire? Check out our Roster Trends...

Want to stay up to speed with all the happenings from around the NHL that could affect your...

The elite goaltender tier is two studs deep -- Carey Price, Braden Holtby. After that come...
Where should you find your forwards of choice in your draft? Here's a guide on where players...

The blue line has dramatically more talent, and here's the way it breaks down tier by tier...

Looking for a hidden gem on Draft Day? Look no further. Evan Berofsky has you covered with...