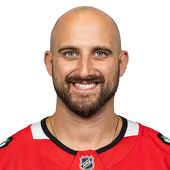 Own

85%

Start

44%

LW Rank

NR
Latest News
Foligno didn't notch a point in Saturday's 4-1 loss to the Blackhawks, but he did record four shots on net and four hits to go along with a minus-one rating. He might be feeling the weight of his big contract and new captaincy, as Foligno has just one goal through six games despite 24 shots, but his 18 hits and 10 PIM are solid and the Blue Jackets' 0-6 start can't be pinned on his inability to find the back of the net. He still has four points in those six games, and once the team snaps out of its funk, his plus/minus should catch up to the rest of his game.

Nick Foligno scored a power play goal and added an even strength assist in Tuesday's 5-2 preseason win over the Predators.

Nick Foligno registered a goal in Saturday's 4-2 win over the Sabres.

Nick Foligno notched a hat trick Saturday, scoring thrice on three shots in a 5-3 win over the Penguins.

Nick Foligno finished March with four goals and 11 points over his 14 games.
Recent Tweets
#CBJ Foligno never been so happy to go to the box. Replays show Campbell possessing puck. Flipped it deeper into zone.

#CBJ take 1-0 lead at 8:51. Karlsson from an odd angle off a rush with Calvert and Foligno, may have banked that in off Schendier.