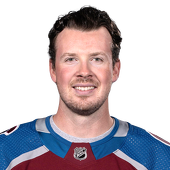 Own

98%

Start

82%

C Rank

20
Latest News
Johansen's hot hand continued Saturday when he notched a goal in a loss to the Blues. He has 10 points (five goals, five assists) in his last 10 games. He's chugging along with point-per game production with hopes to build on his 71-point effort from last season. So far, so good, but you'll need to watch his plus-minus. Johansen's team isn't exactly hot or even lukewarm and that puts a load of stress on him to help them break their slump. His defense will suffer,

Johansen scored a goal on six shots against the Penguins on Friday. Johansen has three goals, and four points, in his last four games, although this only gives him five goals in 22 games on the season. That's a bit disappointing, but if he's given the minutes, his numbers should improve. Clearly, he's been better recently.

Johansen played just 13:52 in Sunday's 5-3 loss to the Sharks, his lowest TOI of the season, but still scored his fourth goal. "I'm not sure what the plan is," Johansen told the Columbus Dispatch after the game. "I made a mistake on their first goal (of the game), so... I just tried to go out there and help the team, do whatever I could. It's too bad, the end result." Coach John Tortorella bumped him down to the fourth line for the night after a defensive blunder led to San Jose's first goal. Making the demotion even more curious was the fact that Johansen was the only Jackets center who won better than 50 percent of his faceoffs on the night, and it was the team's inability to win a defensive zone faceoff in the third period that ultimately doomed them. There was many questions raised after the team's coaching switch about how the hard-nosed Tortorella would mesh with the Jackets' somewhat temperamental star, and while Sunday's incident is the first real sign of friction, it's too early to suggest there's a real problem between the two that could hamper Johansen's production.

Johansen scored a goal and added an assist in Friday's 4-0 win over the Predators. That's now two goals and seven points in the last six games for Johansen, and unsurprisingly the Blue Jackets are 4-2 during that stretch. With their young star, and the team as a whole, coming out of their slump, expect him maintain something close to a point-a-game pace moving forward.

Johansen scored a goal and added an assist, both on the power play, in Saturday's 5-2 win over the Coyotes. The first-period tally ended a 13-game goalless streak for Johansen, but he's still managed to stay productive and now has six points (one goal and five assists) in his last six games.
Recent Tweets
Dispatch: #CBJ endure hard-skating practice, especially Johansen; Clarkson skates; Chaput recalled https://t.co/w3VXdIJFp0