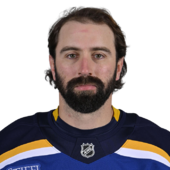 Own

61%

Start

36%

D Rank

NR
Latest News
Leddy picked up a pair of assists in Thursday's 3-2 overtime loss to the Hurricanes. With just a point through nine games, it didn't seem like Leddy would be able to duplicated his total from last season -- 37 points in 78 games. He was able to grab a few points Thursday, albeit in a disappointing loss to the Hurricanes at home. Leddy skated 22:43 and remains a regular on the Isles power play. This could spark a hot streak, so it may be worth employing Leddy in daily formats Saturday when the Islanders take on the Devils.

Leddy has yet to record a point through five games this season. Leddy's average ice time this season is 19:25, which is around a minute less than last year. More importantly, the acquisition of power play specialist Marek Zidlicky during the offseason has decreased Leddy's power play time on ice by over a minute, dropping from 2:40 per game to 1:31 per game. Keep this in mind when considering that Leddy scored 12 of his 37 points on the power play last season.

Nick Leddy was credited with two assists and five shot attempts in Saturday's Game 6 win over the Capitals.

Nick Leddy set up John Tavares' game-winning overtime goal in Sunday's Game 3 against the Capitals.

Nick Leddy picked up two assists for the second straight game Thursday in a 4-3 shootout loss to Columbus.
Recent Tweets
The Skinny: Isles 3, Tampa Bay 2: "The Skinny"   By Eric Hornick   Game 24 Isles... https://t.co/BjAfhOFWEz #isles #NHL

Leddy flexing his leg after Boyle fell on him. Seems Ok.

Leddy with a great shot, Bishop reaches for the glove save. #Isles