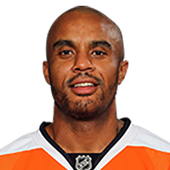 Own

1%

Start

0%

G Rank

NR
Player News
Emery is on a tryout contract with the the AHL Toronto Marlies. He currently sits third on the depth chart with the team. The situation might not last long -- injured goalie Garret Sparks is due back soon and Antoine Bibeau will likely be back from the big club soon as James Reimer gets closer to full health. Emery is fully recovered from experimental surgery to halt avascular necrosis, which causes the deterioration of the ball in the hip. But Emery is unlikely to ever see NHL ice again -- the odds are long for him to return to the bright lights in an NHL city and he might end up in the ECHL sooner rather than later.

Ray Emery signed a professional tryout offer with the Lightning on Tuesday, Joe Smith of the Tampa Bay Times reports.

Ray Emery gave up two goals on 26 shots Thursday in a 3-1 loss to Carolina.

Ray Emery is slated to start Thursday's game against the Hurricanes, Sam Carchidi of the Philadelphia Inquirer reports.

Ray Emery gave up two goals on 26 shots before falling 3-2 in the shootout Saturday against the Hurricanes.
Last 7 Games
| DATE | Opp | Result | W | L | GA | SA | SV | SV% | FPTS |
| --- | --- | --- | --- | --- | --- | --- | --- | --- | --- |
Career Stats
| Year | GP | W | L | OTL | Min | GA | SO | GAA | PIM | FPTS |
| --- | --- | --- | --- | --- | --- | --- | --- | --- | --- | --- |
| 2015 | 0 | 0 | 0 | 0 | 0 | 0 | 0 | 0 | 0 | 0 |
| 2014 | 31 | 10 | 11 | 3 | 1570 | 80 | 0 | 3.06 | 4 | 106.6 |
| 2013 | 28 | 9 | 12 | 0 | 1398 | 69 | 2 | 2.96 | 31 | 118.1 |
| 2012 | 21 | 17 | 1 | 0 | 1116 | 36 | 3 | 1.94 | 0 | 142.8 |
| 2011 | 34 | 15 | 9 | 1 | 1774 | 83 | 0 | 2.81 | 2 | 145.7 |
| 2010 | 10 | 7 | 2 | 0 | 527 | 20 | 0 | 2.28 | 0 | 65.4 |
| 2009 | 29 | 16 | 11 | 0 | 1684 | 74 | 3 | 2.64 | 2 | 160.3 |
| 2007 | 31 | 12 | 13 | 1 | 1689 | 88 | 0 | 3.13 | 6 | 115.9 |
| 2006 | 58 | 33 | 16 | 2 | 3351 | 138 | 5 | 2.47 | 30 | 363.1 |
| 2005 | 39 | 23 | 11 | 2 | 2168 | 102 | 3 | 2.82 | 2 | 214.1 |
| 2003 | 3 | 2 | 0 | 0 | 126 | 5 | 0 | 2.38 | 2 | 14.9 |
| 2002 | 3 | 1 | 0 | 0 | 85 | 2 | 0 | 1.41 | 0 | 7.8 |
| 3 Year Avg | 27 | 12 | 8 | 1 | 1361 | 62 | 2 | 2.73 | 12 | 123.2 |
| Career | 287 | 145 | 86 | 9 | 15488 | 697 | 16 | 2.70 | 79 | |
Depth Chart
| | G |
| --- | --- |
| | |