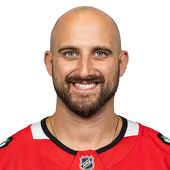 Own

85%

Start

45%

LW Rank

NR
by RotoWire Staff | Special to CBSSports.com

Blue Jackets' Nick Foligno: Held scoreless Saturday

Foligno didn't notch a point in Saturday's 4-1 loss to the Blackhawks, but he did record four shots on net and four hits to go along with a minus-one rating. He might be feeling the weight of his big contract and new captaincy, as Foligno has just one goal through six games despite 24 shots, but his 18 hits and 10 PIM are solid and the Blue Jackets' 0-6 start can't be pinned on his inability to find the back of the net. He still has four points in those six games, and once the team snaps out of its funk, his plus/minus should catch up to the rest of his game.

Scores power-play goal in preseason win

News: Nick Foligno scored a power play goal and added an even strength assist in Tuesday's 5-2 preseason win over the Predators. Analysis: The Blue Jackets top line of Nick Foligno, Ryan Johansen and Brandon Saad combined for nine points on the night and is poised to come roaring out of the gate. Foligno seems like a prime candidate for regression after topping his previous career highs by 13 goals and 26 points last season, but if he continues skating with those two blossoming young power forwards, he should still be awfully productive even if he can't quite match his breakout performance.

Jackets' Foligno Stays Hot With Goal

News: Nick Foligno registered a goal in Saturday's 4-2 win over the Sabres. Analysis: We could say that Nick Foligno is on fire right now with five goals and three assists over his last six games, but truth be told, he's been hot all season. The regression has never arrived for Foligno, who has tallied an impressive 31 goals and 73 points in 78 games heading into Saturday's season finale against the Islanders. The 27-year-old, whose previous career best was 47 points with the Senators in 2011-12, might be the biggest surprise star of the fantasy hockey season.

Hats Off For Jackets' Foligno

News: Nick Foligno notched a hat trick Saturday, scoring thrice on three shots in a 5-3 win over the Penguins. Analysis: This was a dominant performance by Nick Foligno and the Blue Jackets, who -- despite being outside of the playoff picture -- have rattled off nine straight wins and were no doubt motivated to beat Pittsburgh after losing to them in the first round last year. The three tallies get Foligno to the 30-goal and 70-point plateaus for the first time in his career, which is even more impressive since his previous bests were 18 goals and 47 points. He'll be a tough one to pin down in terms of projected production next year, as it's really quite difficult to fathom him putting up these numbers again. Then again, the Jackets were decimated by injury for a good part of this season, so perhaps Foligno's ceiling could be even higher with all hands on deck.

Jackets' Foligno Not Slowing Down

News: Nick Foligno finished March with four goals and 11 points over his 14 games. Analysis: With the exception of October, when he tallied nine points, Nick Foligno has reached double digits in scoring in every month this season. That level of consistency has made him an asset in any fantasy format throughout the campaign, highlighted by a well-deserved All-Star berth. The 27-year-old is poised to finish with career-best numbers across the board.

Jackets' Foligno Scores In Loss

News: Nick Foligno potted a power-play goal in Sunday's 3-2 loss to the Hurricanes. Analysis: The goal on the man advantage gave Nick Foligno his 25th power-play point on the year, good enough for 10th in the NHL. The 27-year-old has been great all season, but he's been on fire lately as he's collected seven points in seven contests since the beginning of March. With 62 points in 66 games, fantasy owners should keep him rolling confidently.

Jackets' Foligno Records Two Assists

News: Nick Foligno recorded two assists in Friday's win over the Oilers. Analysis: That's 61 points in 65 games for Nick Foligno, who continues to produce steadily for the Jackets. With a plus-11 rating, 150 shots on goal and nine power-play tallies, the 27-year-old makes for a great all-around fantasy option. Keep him rolling.

Jackets' Foligno Will Play Thursday

News: Nick Foligno (illness) will play Thursday against the Red Wings, Aaron Portzline of the Columbus Dispatch reports. Analysis: Nick Foligno missed Tuesday's game against the Hurricanes with flu-like symptoms, but was able to make enough progress over the following two days to earn his way back in the lineup. He's set to slot in on the Jackets' third line, where he'll join Corey Tropp and Artem Anisimov.

Jackets' Foligno Expected To Return Thursday

News: Nick Foligno (illness) is likely to play Thursday against the Red Wings, the Columbus Dispatch reports. Analysis: Unfortunately for the Blue Jackets the bug that caused Nick Foligno, who leads the club with 24 goals and 58 points in 63 games, to miss Tuesday's game has now jumped to Brandon Dubinsky and Artem Anisimov, who are considered questionable for Thursday.

Jackets' Foligno Ruled Out With Illness Tuesday

News: Nick Foligno was ruled out of Tuesday's game against the Hurricanes due to flu-like symptoms, Shawn Mitchell of the Columbus Dispatch reports. Analysis: News of Nick Foligno's illness didn't surface until he failed to take the ice during pregame warmups. No team has been hit harder by personnel losses than the Blue Jackets this season, but Foligno has generally been one of the exceptions to that rule, missing only two of the team's 65 games prior to Tuesday. His absence will allow the recently recalled Luke Adam to enter the lineup.