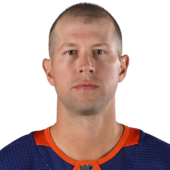 Own

16%

Start

10%

LW Rank

31
by RotoWire Staff | Special to CBSSports.com

Islanders' Josh Bailey: Contributes two assists in win

Bailey collected a pair of helpers in Friday's win over the Ducks. A much-needed offensive outburst from Bailey, who had gone seven straight games without registering a point. The 26-year-old is now up to three goals and eight points in 17 games on the season. While he's currently skating on the second line, Bailey has never surpassed 16 goals in his career, so don't expect monstrous totals. After setting a career high with 41 points in 2014-15, Bailey has established himself as a solid offensive contributed who can produce points at a decent rate.

by RotoWire Staff | Special to CBSSports.com

Islanders' Josh Bailey: Benched on Sunday

Bailey was in the press box for Sunday's loss to Boston, reports Newsday. Coach Jack Capuano blames Bailey for a goal last Sunday versus Buffalo where he was a little slow getting back to help out in his own zone. The Islanders have been struggling of late and with the demotion of Ryan Strome to the AHL and the benching of Bailey, Capuano is sending a message to the team to pick up their play or have a similar fate.

by RotoWire Staff | Special to CBSSports.com

Islanders' Josh Bailey: Expected to play on top line

Bailey is expected to play on the top line with John Tavares, reports Newsday. Bailey has had a hot start to the season with three goals and six points in nine games. Coach Jack Capuano is a tinkerer, constantly changing his lines but one might ask here, if it isn't broken, why fix it? Bailey was giving the Isles good secondary scoring playing with Kyle Okposo on the second line and it wasn't like Tavares was struggling. Either way it's unlikely that Capuano will keep this line together long, sooner or later he will feel the itch to make yet another change.

by RotoWire Staff | Special to CBSSports.com

Islanders' Josh Bailey: Opens goal account for 2015-16 season

Bailey opened his goal account for the season with an empty-netter in Monday's 4-2 win over the Jets. Bailey is a highly-skilled forward, but has yet to reach the potential the Islanders saw when they took him with the ninth overall pick in the 2008 NHL Entry Draft. That being said, he has averaged around two power play minutes per game his entire career, including this season, and is known to be a streaky player.

Isles' Bailey Chips In Assist In Win

News: Josh Bailey supplied an assist in Sunday's 2-1 overtime win over the Capitals. Analysis: Josh Bailey has only put eight shots on goal over his last six games, but has still been able to come away with a point in each of those contests. He's tallied a goal and five assists during that span, with the helper in Sunday's game coming on a second-period score by linemate Kyle Okposo.

Isles' Bailey Adds Goal, Assist In Win

News: Josh Bailey collected a goal and an assist in Wednesday's 4-1 win over the Capitals. Analysis: Josh Bailey's two points helped lead his team to an impressive Game 1 victory on the road in Washington, and they'll need him to continue to play well if the Isles want to make a run at the Cup.

Production Slowing Down For Isles' Bailey

News: Josh Bailey captured an assist in Tuesday's 5-4 loss to the Flyers. Analysis: Josh Bailey has been able to retain a top-six role for the Islanders even after the recent return of Kyle Okposo (eye) from injury, but his production has taken a steep hit since early March. After opening that month with points in four straight contests, Bailey has been limited to one goal, two assists, and a minus-11 rating over his last 12 games. It's hard to justify keeping him active with the fantasy playoffs in full swing, and with only two games left on the Isles' schedule, it might make sense to drop him outright.

Isles' Bailey Gets Power-Play Goal

News: Josh Bailey scored his 15th goal of the season in Saturday's 3-1 loss to Montreal. The goal came on the power play. Analysis: He has six points in his last seven games and is now one point from matching his career high (38). He has grown his two-way game as well -- his plus-10 is the best mark of his career after suffering through multiple minus seasons. He may help you in deep formats.

Isles' Bailey Stays Hot With Two More Points

News: Josh Bailey contributed a pair of assists in Monday's 4-3 win over the Maple Leafs. Analysis: Josh Bailey has been on a tear recently, notching at least a point in four straight with two goals and three assists in that span. With 36 points, the 25-year-old is just two away from matching his career high from last season, and his 14 goals are also only two shy of his personal best. Bailey has been great since his promotion to the top line, but with Kyle Okposo could soon displace him from that role as he nears a return from an eye injury,

Isles' Bailey: Three-Game Point Streak

News: Josh Bailey tallied a goal in Saturday's shootout loss to the Panthers. Analysis: Josh Bailey has a point in three consecutive games to continue his drastic uptick in production since landing on a line with John Tavares. He's worth a look while he remains in that role, but his run with the top line could be coming to an end soon. Kyle Okposo (eye) resumed skating with the team Saturday morning, and may only need a few more practices before getting activated from IR. His return could potentially bump Bailey downward in the lineup.