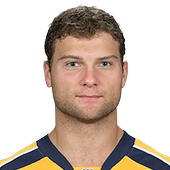 Cody Hodgson
#11 C / Nashville Predators / EXP: 5YRS
Height: 6-0
Weight: 192 lb
Age: 25
College: None
Own

5%

Start

1%

C Rank

NR
by RotoWire Staff | Special to CBSSports.com

Predators' Cody Hodgson: Scores game winner versus Sabres

Hodgson scored the eventual game-winning goal against his former team in Wednesday's 3-2 victory over the Sabres. It was just his fifth point of the season. It's been a tough season so far for Hodgson, his first in a Preds uniform. After scoring just 13 points in 78 games last season, fantasy owners were hoping that a fresh start with a new team would provide a kickstart to his NHL career, but so far that has failed to materialize. Hodgson continues to skate on the Preds' third line, averaging less than 11 minutes per game, resulting in a sharp reduction in his fantasy value - which was critically low to begin with. We recommend looking for other viable alternatives for your lineups.

by RotoWire Staff | Special to CBSSports.com

Predators' Cody Hodgson: Scores game-winner for first goal

Hodgson scored his first goal of the year Thursday, potting the game-winner with 5:21 remaining against the Wild. After Hodgson swiped an ill-advised pass, he marched down the ice and unleashed a shot on Devan Dubnyk, which he then followed up and poked in past the confused goalie. After opening the season with 10 straight scoreless games, he's collected both of his points in his last two contests, but he's still skating fourth-line minutes -- his 9:22 were a team low in this one.

Preds' Hodgson Returns To Practice

News: Cody Hodgson returned to practice Monday, Adam Vingan of The Tennessean reports. Analysis: Cody Hodgson had missed the entirety of Nashville's training camp until Monday, so it's a positive development for his fantasy owners that the 25-year-old was finally able to make his return to action. He is expected to open the season as a bottom-six forward with the Predators, and will play in Tuesday's exhibition against Columbus.

Hodgson Hoping To Re-Ignite Career With Preds

News: Cody Hodgson is expected to start training camp as the Predators' No. 3 center, Adam Vingan of The Tennessean reports. Analysis: After scoring a career-high 44 points with the Sabres two seasons ago, Cody Hodgson slumped badly in 2014-15, registering just 13 points in 78 games. In fairness, he was expected to play more of a two-way game in Buffalo last season, which has never been one of his strengths. In Nashville, he could be a better fit with coach Peter Laviolette's uptempo, attacking offensive system. Either way, the 25-year old Hodgson certainly has some upside, and at the very least will be surrounded by a stronger supporting cast this year with the Preds. As such, he could be in line for a strong rebound season, so feel free to take a flier on him in the later rounds of your fantasy drafts.

Predators Ink Hodgson To Low-Cost Deal

News: Cody Hodgson signed a one-year, $1.05 million contract with the Predators on Wednesday, Adam Vingan of The Tennessean reports. Analysis: Last season, the Predators cashed in on a low-risk, high-reward signing in Mike Ribeiro, and it looks like they're hoping on following that template again with Cody Hodgson. Once viewed as a key member of the Sabres' rebuild, Hodgson was never able to get on the same wavelength with coach Ted Nolan last season, resulting in a stark decline in his ice time and offensive productivity (six goals, 13 points in 78 games). After having his contract bought by the Sabres a day earlier, Hodgson will now look to rehabilitate his value in Nashville, where he should have the good fortune of playing next to a far greater pool of talent than in Buffalo. This deal could be a steal for the Preds.

Sabres' Hodgson Clears Waivers

News: Cody Hodgson has cleared waivers, reports Hockey Night in Canada's Elliotte Friedman. Analysis: No surprise Cody Hodgson cleared waivers, as his performance doesn't nearly justify his cap hit. After signing a lucrative extension with the Sabres, Hodgson's play fell off a cliff, having never improved his skating, consistency or defensive play. The Sabres will buy him out shortly, making him an unrestricted free agent on July 1. Hodgson's fantasy value can only rebound if he starts scoring again and plays on a team that is willing to give him a scoring role.

Sabres To Buy Out Hodgson

News: Cody Hodgson will be bought out by the Sabres, WGR 550 Sports Radio reports. Analysis: Cody Hodgson was widely viewed as a candidate for a buyout, and the Sabres are now expected to use some of their open cap space to cobble together an extension for the newly acquired Ryan O'Reilly. Even by the low standards of the Sabres, Hodgson posted a highly disappointing 2014-15 campaign, tallying just 13 points (six goals, seven assists) over 78 games. He will now shop around in free agency for another gig, and at 25 years old, should still carry plenty of intrigue as a reclamation project.

Buyout Still Looming For Sabres' Hodgson

News: Cody Hodgson is still under consideration for a potential buyout, reports Paul Hamilton of WGR 550. Analysis: Under the current CBA, the Sabres can buy out Cody Hodgson's contract, of which he is still owed $19 million over the next three seasons, for just $6.27 million because he is only 25 years old. It's an enticing option for Buffalo, since Hodgson is coming off the worst season of his young career and the team has plenty of elite prospects in the pipeline. Hodgson wants to stay in Buffalo and is working with a skating instructor in Sweden to improve his mobility, but it may be too little, too late. Until Hodgson's future is clearer, he remains off the fantasy radar for the 2015-16 season.

Sabres May Buy Out Hodgson

News: After a disappointing season in which he recorded 13 points in 78 games, Cody Hodgson may be a buyout candidate, reports The Buffalo News. Analysis: Cody Hodgson is still owed $19 million from Buffalo with three years remaining in his five-year contract, but because he is just 25 years old, the cost of the buyout will be only $6.27 million. The Sabres and Hodgson didn't see eye-to-eye all season long and the slow-footed scoring center never quite dedicated himself to playing sound defense or improving his overall game. With Connor McDavid in GM Tim Murray's sights and Sam Reinhart poised to join the mix next year, there may be no room for Hodgson, who spent much of the season on the wing and on the fourth line. His status with the organization is up in the air.

Sabres' Hodgson Snaps Goalless Streak

News: Cody Hodgson scored his sixth of the season Wednesday in a 4-3 win over Toronto, snapping a seven-game stretch without a goal. Analysis: Don't get too excited - Cody Hodgson got lucky when he caught Jonathan Bernier going the wrong way on a wraparound as the former first-round pick continues to struggle. He now has 13 points in 73 games, a far cry from the 44-point campaign he had the previous season. Hodgson is now firmly entrenched on the team's bottom two lines and has a long way to go before he's considered a valuable fantasy asset, though he has shown some chemistry with center Matt Ellis and has 12 shots in his past three games.