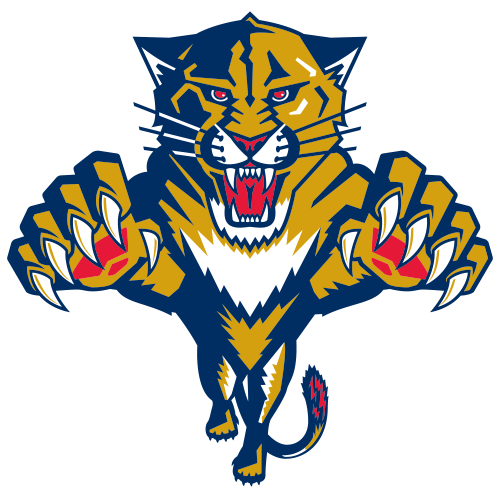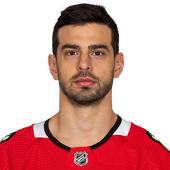 Brandon Pirri
#73 LW / Florida Panthers / EXP: 5YRS
Height: 6-0
Weight: 183 lb
Age: 24
College: RPI
Own

23%

Start

9%

C Rank

NR
by RotoWire Staff | Special to CBSSports.com

Panthers' Brandon Pirri: Snaps slump with stat-sheet-filling effort

Pirri scored the game's opening goal, tacking on an assist, a plus-2 rating and a pair of penalty minutes Thursday in a 6-3 victory over Detroit. After a six-game slump in which Pirri failed to record a point, he got scratched for four consecutive games. Well, the message was clearly received, as Pirri played one of his most active games of the year despite skating just 10:53. While his point pace is nearly identical to last year's -- 23 in 47 games vs. 24 in 49 -- Pirri's converted a lot of last year's goal-heavy stat line to assists, leaving him with only fringe fantasy value outside deep formats. The long-term upside's still certainly there for Pirri, though, as he's been a star at the AHL level and has certainly shown flashes of that talent in the big leagues.

by RotoWire Staff | Special to CBSSports.com

Panthers' Brandon Pirri: Will not play Friday

Pirri will be a healthy scratch on Friday against the Blackhawks, Harvey Fialkov of the Sun Sentinel reports. Pirri has been struggling lately, failing to get on the scoresheet in his last six contests. Coach Gerard Gallant told reporters he hopes being held out of the lineup will inspire the 24-year-old to improve his game, however the rumor mill abounds with trade possibilities. With 21 points in 46 outings this season, it is no wonder teams are looking to acquire the winger.

by RotoWire Staff | Special to CBSSports.com

Panthers' Brandon Pirri: Continues to see decreased ice time

Pirri ended with a minus-2 rating and 13:33 worth of ice time in Sunday's loss to the Lightning. Pirri is averaging nearly 15:00 worth of ice time per game on the season, but he's skated below that mark in nine consecutive contests. It's coincided with a bit of a cold stretch for the 24-year-old, as he has been held pointless with a minus-5 rating in his last five games.

by RotoWire Staff | Special to CBSSports.com

Panthers' Brandon Pirri: Scores into empty net for three-game streak

Pirri collected a point for the third consecutive game Tuesday against Buffalo by scoring into an empty net. Hey, a goal's a goal, and Pirri now has nine of them; that leaves him noticeably short of last year's twine-tickling pace, but he does also have six times as many assists as he managed last season. Pirri's been streaky of late, with a five-game point streak followed by a five-game slump and now this warming period, but Florida has become a nurturing environment for young skaters; expect him to continue improving.

by RotoWire Staff | Special to CBSSports.com

Panthers' Brandon Pirri: Extends hot streak with thee points

Pirri scored a goal, assisted on two more -- one on a first-period power play, the other into an empty net -- and went plus-2 against the Devils on Thursday. That's now a five-game point streak for the flashy 24-year-old, and he continues to rack up assists at a surprising rate -- he's got 11 helpers to go with seven goals, presenting a sharp juxtaposition to last season's 22-goal, two-assist campaign. In a peculiar twist, despite the productivity, Pirri skated a mere 14:04 in this one, marking his second-lowest ice time since Nov. 21 -- when, oddly enough, he recorded his last multi-point game against the Rangers in just 12:52.

by RotoWire Staff | Special to CBSSports.com

Panthers' Brandon Pirri: Picks up helper Tuesday

Pirri registered a primary assist Tuesday, helping the Panthers to a 5-1 win over the Islanders. With a four-game point streak engaged, Pirri is starting to assert himself offensively for the Panthers. He has one goal and three helpers over that span, putting him on pace to obliterate previous career-high marks in assists. After all, the Toronto native is on pace for 23 helpers in 2015-16. The difference for Pirri this campaign is that he has played in every game so far, and that means a lot for a guy who only averaged 21 games played through the first five seasons of his career. Pirri has set 78 shots on goal through 31 contests, sinking six of those for a paltry shooting percentage of 7.7 -- perhaps this means that he needs to work on his shot selection, but we know he can score, showing as much in 2014-15 with 22 goals in just 49 games.

by RotoWire Staff | Special to CBSSports.com

Panthers' Brandon Pirri: Scores goal in victory

Pirri scored his fifth goal of the season and took four shots on goal and picked up two penalty minutes in Tuesday's victory over the Blues. After logging one of the most interesting stat lines last season, scoring 22 goals and adding just two assists, Pirri has upped his assist totals this season, picking up six assists in 24 games. While he's been a bit underwhelming this season as a goal scorer, the 24-year-old should heat up over the course of the season.

by RotoWire Staff | Special to CBSSports.com

Panthers' Brandon Pirri: Begins the season with three assists

Pirri collected his third assist Tuesday against Carolina. Pirri recorded assist number three of the early season Tuesday after a 31-foot wrist shot by Nick Bjugstad in the first period. The center only needed three games in 2015-16 to mark his third highest assist season total over his five-year career. However, his touch hasn't translated to goal scoring as Pirri has launched seven shots with no goals to show for. The 24-year-old gets another chance to display his newly found assisting skills and improve on his goal scoring Thursday against Buffalo.

by RotoWire Staff | Special to CBSSports.com

Panthers' Brandon Pirri: Tallies assist Tuesday

Pirri tallied an assist and added one shot on goal in Tuesday's victory over the Hurricanes. Pirri has three assists in three games this season. While that number in itself is somewhat impressive, it's even more remarkable when you look at his season last year, when he scored 22 goals against just two assists in 49 games. While Pirri has yet to get off the schneid in the goal scoring category, after posting shooting percentages of 16.3 percent and 15.4 percent in the last two seasons, it's just a matter of time before he continues his goal scoring ways.

Panthers' Pirri Scores Again In Win Thursday

News: Brandon Pirri scored his 22nd goal of the season in Thursday's 6-1 rout of the Hurricanes. Analysis: Brandon Pirri is a machine when it comes to goal scoring, with nine goals in his last 11 games without picking up a single assist in that time span. The Panthers have four games remaining and Pirri has a chance to join an elite group of players who scored 20 or more goals while collecting five or fewer assists. Pirri would also be the only one in that group since Butch Keeling scored 22 goals and tallied four assists in the 1936-37 season for the New York Rangers. Pirri is a worthwhile add in most formats for the home stretch.