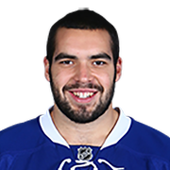 Own

0%

Start

0%

LW Rank

NR
Leafs Trade Broll To Tampa Bay

News: The Maple Leafs have traded David Broll, as well as Carter Ashton, to Tampa Bay in exchange for a conditional seventh-round pick in 2016, Mark Masters of TSN reports. Analysis: Toronto likely made the trade to create some roster flexibility. Before the trade, the Leafs were at the league maximum with 50 players under contract. Now, with the departure of David Broll and Ashton, Toronto has freed up two contract openings. Broll registered zero points and was minus-8 through 21 games with AHL Toronto this season.

Leafs Send Broll To AHL Sunday

News: David Broll was sent down to the AHL Toronto Marlies on Sunday, David Alter of Sportsnet 590 reports. Analysis: The Leafs don't play again until Tuesday, so David Broll, along with fellow youngsters Trevor Smith and Carter Ashton, will head down to the Marlies for their game Sunday night. He's expected to be recalled shortly thereafter.

Leafs Recall Broll

News: The Leafs recalled David Broll from AHL Toronto, James Mirtle of the Toronto Globe and Mail reports. Analysis: The former sixth round pick may get a chance to make his NHL debut as the Leafs head to Nashville on Thursday to take on the Predators. He has two assists in as many games with AHL Toronto this season.

Leafs' Broll Assigned To AHL

News: David Broll was assigned to AHL Toronto on Wednesday. Analysis: The 20-year-old winger will make the jump to the AHL level after recording 54 points (17G, 37A) and 77 penalty minutes in 67 games in the Ontario Hockey League this season.