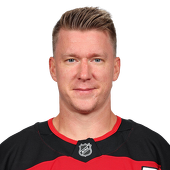 Ondrej Palat
#18 LW / Tampa Bay Lightning / EXP: 3YRS
Height: 6-0
Weight: 180 lb
Age: 24
College: None
Own

84%

Start

5%

LW Rank

NR
INJURY ALERT:
IR | Lower Body |
by RotoWire Staff | Special to CBSSports.com

Lightning's Ondrej Palat: To miss 3-5 weeks with lower-body injury

Palat will miss three-to-five weeks due to a lower-body injury. Palat exited Saturday's game early after suffering what appeared to be a right leg injury, and his absence from Monday's practice indicated something was up. It's now been confirmed that the issue suffered is rather severe in nature, and will force him to miss an extended period of time. The winger has totaled seven points (two goals, five assists) through 16 games this season, and his absence from the Lightning's top line will force the club to shuffle things around. It's also likely that Palat will wind up on injured reserve to allow the Lightning to add another forward for depth. J.T. Brown appears to be the top candidate to draw into the lineup in his place Monday, but the lines remain a bit of a mystery. However, things will likely clear up a bit at some point prior to the contest. Palat's timetable would allow him an early December return at the earliest, with the potential for the issue to stretch into mid-December as well.

by RotoWire Staff | Special to CBSSports.com

Lightning's Ondrej Palat: Exited Saturday's game early

Palat suffered a right leg injury during Saturday's game and had to be helped off the ice, Joe Smith of the Tampa Bay Times reports. Palat appeared to suffer a serious leg injury after a Wild player fell on his left knee during Saturday's game. It's unclear how serious the injury might be, but judging by the fact that Palat had to be helped off the ice, it's unlikely he will return to the game. More information should be available following the conclusion of the contest so fantasy owners should check back in then.

by RotoWire Staff | Special to CBSSports.com

Lightning's Ondrej Palat: Just one point in four games

Palat has gotten off to a slow start to the season with just one point -- a power-play-goal -- in his first four games of the season. The Triplets Line -- Palat, Tyler Johnson and Nikita Kucherov -- have combined for just five points in the first four games, with Johnson netting three of them. This trio is far too good to be held down for long, although they are seeing some intense checking right now. It shouldn't take long for Palat and friends to start tapping the proverbial keg with a bit more regularity.

Bolts' Palat, Rest of Triplets, Quiet

News: Ondrej Palat, Nikita Kucherov and Tyler Johnson, who are known as the Bolts' Triplet Line, mustered just two shots combined in Game 1 against Chicago. And their overall production has slowed -- they have just three goals and eight points in the team's last five games. Four of those eight points came in garbage time in a Game 6 blowout at the hands of the Rangers. Analysis: They have combined to score half of the Bolts' playoff goals, but just didn't look themselves Wednesday night. Together, they have racked up 55 points in 21 games and Ondrej Palat notched the backbreaking second goal -- set up by Johnson -- in the team's Game 7 domination of the Rangers. Game 2 in each of the team's three series this postseason has been led by dominating efforts by Palat and the rest of the Trips, so Saturday could be a real barnburner.

Bolts' Palat Scores Seventh Goal In Game 7 Win

News: Ondrej Palat scored his seventh goal of the postseason in Friday's Game 7 win over the Rangers. Analysis: The Bolts are heading to the Stanley Cup Finals and Ondrej Palat is a big reason why. The 24-year-old scored four times in the Eastern Conference Finals and has racked up 15 points this postseason -- 12th most in the NHL. While he doesn't shoot often, he makes his shots count, scoring an NHL-best four power-play goals and sporting a scary 25.9 shooting percentage. Look for the sniper, along with linemates Tyler Johnson and Nikita Kucherov, to continue their offensive success against whichever team emerges out of the West.

Bolts' Palat: Two Goals, One Assist In OT Win

News: Ondrej Palat scored two goals and added an assist in Wednesday's wild 6-5 OT win over the Rangers. One of the goals came on the power play. Analysis: His line, dubbed the Triplet Line, has been on fire this postseason. Ondrej Palat, Tyler Johnson and Nikita Kucherov have pumped home 25 goals in 16 games. #sizzle

Bolts' Palat Gets Power Play Marker In Game 1

News: Ondrej Palat scored the Lightning's only goal in Saturday's 2-1 loss to the Rangers. It came on the power play at 6:45 of the third period and knotted the game at ones. Analysis: He one-timed a Tyler Johnson cross-ice feed from the right circle and caught Henrik Lundqvist moving. He also came close to putting the Bolts up 2-1 late in the third when he redirected at Nikita Kucherov shot, but Lundqvist got the best of him.

Palat Nets Two Points, Bolts Move On

News: Ondrej Palat assisted on Nikita Kucherov's first-period goal and potted one of his own on the power play in Tuesday's Game 6 clincher against Montreal. Analysis: It's been a pretty slow playoffs for Ondrej Palat, but he's been picking up steam lately, having racked up two goals and five points in the final four games of the series against Montreal. He'll look to keep it going in the next round against either the Rangers or the Caps.

Palat Lone Bright Spot For Bolts In Game 4

News: Ondrej Palat factored into both Lightning goals in Thursday's Game 4 loss to Montreal, picking up a power-play goal and a power-play assist. Analysis: Faced with a 5-0 deficit, Ondrej Palat did his part in the attempt to get the Lightning on the comeback trail, but his teammates didn't do much. The Czech winger has not impressed in these playoffs, collecting a modest six points with just eight shots on goal in 11 games. He's failed to put a shot on goal in six individual contests, but at least Palat's got three points (and three shots) in the last two games, so maybe he's turned a corner.

Bolts' Palat Tallies Assist, Six Hits In Win

News: Ondrej Palat recorded an assist to go along with six hits in Wednesday's Game 3 2-1 triumph over the Canadiens. Analysis: Ondrej Palat was credited with a secondary helper on Tyler Johnson's game-winning goal, which came with just 1.1 seconds remaining in the third period. After a 63-point regular season, Palat has been quiet for most of the postseason with just a goal, three assists, and six shot attempts in the Bolts' 10 games. While he was able to come through in the clutch in Game 3, the overall trend of production doesn't offer a lot of encouragement.