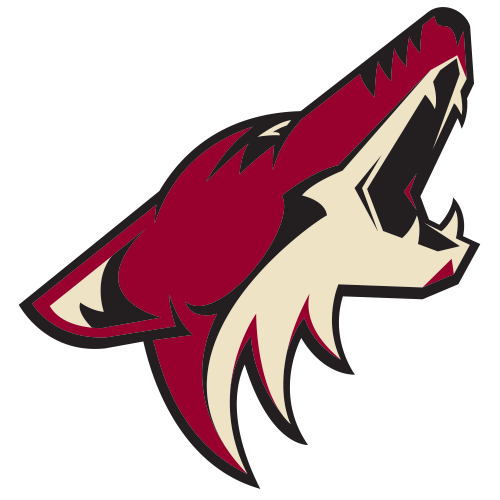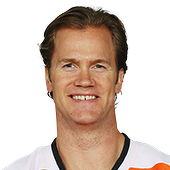 Chris Pronger
D / Arizona Coyotes / EXP: 18YRS
Height: 6-6
Weight: 220 lb
Age: 41
College: None
Own

0%

Start

0%

D Rank

NR
INJURY ALERT:
IR | Concussion |
Flyers Deal Pronger's Contract To Coyotes

News: Chris Pronger was dealt to the Coyotes over the weekend along with defenseman Niklas Grossmann in exchange for forward Sam Gagner, a conditional fourth-round draft pick in 2016 or a third-round pick in 2017, Sarah McLellan of the Arizona Republic reports. Analysis: Chris Pronger's playing career came to an end during the 2011-12 season due to post-concussion issues and an eye injury, but he still has two years remaining on the seven-year, $34.5 million contract he inked with the Flyers in the summer of 2009. His contract will cost the Coyotes $575,000 over both of the next two seasons and carries a cap hit of just under $5 million annually, which will help Arizona in their attempt to meet the league's salary-cap minimum. The 40-year-old Pronger, who was hired by the NHL's Department of Player Safety last season, is eligible to be voted into the Hockey Hall of Fame this week.

Flyers' Pronger Hired By NHL

News: Chris Pronger (concussion) has accepted a position to work in the NHL's Department of Player Safety, TSN's Bob McKenzie reports. Analysis: Chris Pronger hasn't played in a game since Nov. 19, 2011 and has no plans to return to professional hockey due to his recurring concussion symptoms, but a job with the NHL would seem to be an obvious conflict of interest while he continues to receive paychecks from the Flyers. The 39-year-old remains on the Flyers' payroll until the end of the end of the 2016-17 season, after signing a seven-year, $35 million deal with the club in 2009. He was placed on the team's long-term injured reserve list following training camp.

Flyers' Pronger Still Has Concussion Symptoms

News: Chris Pronger still suffers from concussion symptoms some two-and-a-half years after suffering his injury, reports TSN.ca. "I have them from time to time," Pronger said. "But I'm doing pretty well. For the most part, I'm pleased with the progress. Every once in a while you take a step backwards, but things have been progressing." Analysis: Chris Pronger last played Nov. 19, 2011, just a few weeks after he suffered the injury where he took a stick to the eye. He becomes eligible for the Hall of Fame in 2015 and will almost assuredly be a lock for the Hall, whether in his first year of eligibility or soon after.

Flyers' Pronger Headed To Long-Term IR

News: Chris Pronger (concussion) will begin the season on long-term injured reserve. Analysis: There is no timetable for his return, but Chris Pronger continues to avoid retirement with the hope of playing again down the line. In the meantime, he's expected to work as an additional scout within the organization, but it would be a surprise if he manages to get back on the ice again as a player.

Flyers' Pronger Not Ready To Retire

News: Chris Pronger has stated that he is not ready to officially retire as he recovers from post-concussion symptoms, this according to Rob Maaddi of The Associated Press. Analysis: It appears the 38-year-old defenseman is having a difficult time hanging up the skates. Chris Pronger still can't run or skate hard, is bothered by bright light and has lost some of his peripheral vision. Though he is still clinging on to the hope of a return, it is highly unlikely.

Flyers' Pronger Won't Be Cleared During Physical

News: Chris Pronger (concussion) will not be cleared upon arrival in Philadelphia for his upcoming physical, Tim Panaccio of CSN Philadelphia reports. Analysis: Considering the severity of his injury and the lingering nature of the symptoms, it is hardly a guarantee that Chris Pronger will be cleared to lace up his skates for game action again at any point down the road.

Flyers' Pronger (Concussion) Won't Be On Ice, But Will Attend Camp

News: Chris Pronger (concussion) will attend the Flyers' upcoming training camp, but won't be on the ice, Dan Murphy of Sportsnet.ca reports. Analysis: Chris Pronger has been out of action since November of 2011, and he still hasn't been medically cleared to return. At this point, there's really no telling if he'll see the ice this season, or ever again for that matter.

Flyers' Pronger (Concussion) Still Experiecing Symptoms

News: Chris Pronger is still experiencing post-concussion symptoms, CSN Philly reports. Analysis: General manager Paul Holmgren said Chris Pronger's status remains "status quo," so there has been little progress other than the fact that there is more of a gap between when Pronger is experiecing headaches. His career appears to be in serious jeopardy, as hasn't played a game since Nov. 19, 2011.

Flyers' Pronger (Concussion) Showing Improvement, Return Not Imminent

News: Chris Pronger (concussion) is showing signs of improvement but is not ready to skate yet, the Philadelphia Daily News reports. Analysis: Chris Pronger's career remains in serious jeopardy after missing most of last season with post-concussion syndrome, but it's at least encouraging to see that his condition is improving. "He's doing better, but not to the point where he can think about playing," Flyers GM Paul Holmgren said. Holmgren said it was too soon to consider if Pronger could begin skating anytime soon. Pronger will be 38 in October, so it wouldn't be a surprise to see him ride off into the sunset with what is almost certainly a Hall of Fame career.

Pronger scheduled for additional tests

News: Chris Pronger (headaches) is scheduled to have some testing done at the Flyers training facility next week according to NHL.com. Analysis: Chris Pronger continues to suffer from headaches stemming from post-concussion syndrome and will not be taking the ice as part of this testing. The 37-year-old defenseman is one that would benefit from the looming lockout as it appears he still needs time to recover.