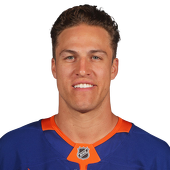 Own

50%

Start

30%

C Rank

NR
by RotoWire Staff | Special to CBSSports.com

Islanders' Anders Lee: Dishes out two assists in win

Lee recorded a pair of assists in Friday's win over the Ducks. It was the first points in five games for Lee, who skated on the second line with Josh Bailey and Frans Nielsen. Lee now has three goals and nine points in 18 games on the year. While the 25-year-old broke out for 25 goals last season, he's been credited with just eight shots on goal over his last five games, so he'll need to put more pucks on net to increase his current goal total. We wouldn't be too worried, though, as Lee is a sniper and this two-assist outing should put him back on the right track offensively.

by RotoWire Staff | Special to CBSSports.com

Islanders' Anders Lee: Nets goal on man advantage Saturday

Lee contributed a power-play goal to a 6-3 win over the Sharks on Saturday night. This was a strange play. Following a hard shot from Ryan Strome, Sharks goalie Alex Stalock appeared to lose sight of the puck and promptly took off his mask, but not before Lee dropped the puck in the net for his second goal and fourth point on the young season.

Isles Ink Lee To Four-Year Pact

News: Anders Lee signed a four-year, $15 million contract extension with the Islanders on Tuesday, Arthur Staple of Newsday reports. Analysis: Anders Lee shined in his first full NHL season in 2014-15, scoring 25 goals and chipping in 16 points in 76 games. For a time, he even saw top-line minutes alongside John Tavares, something that could occur with more regularity if the Islanders elect to part ways with Kyle Okposo during the summer. Regardless, the 24-year-old should be locked into a role on one of the Isles' two scoring lines until his deal expires at the end of the 2018-19 campaign.

Lee And Isles Have Yet To Begin Negotiations

News: The Islanders and Anders Lee have yet to begin negotiations on a new contract, according to Newsday's Arthur Staple. Analysis: While signing Anders Lee is important for the Islanders, he is a restricted free agent and thus unlikely to get an offer that would force the Islanders hand. They will sign Lee eventually, but he is not a priority at this point in time.

Islanders' Lee Likely Scratch Saturday

News: Anders Lee is likely to be a scratch for Game 6 on Saturday, Zac Boyer of the Washington Times reports. Analysis: Anders Lee will likely be replaced by Eric Boulton in the lineup. The 24-year-old had been ineffective through the first five games of the Islanders' series and all signs point to Lee sitting out for Game 6.

Lee Powers Isles' Ill-Fated Comeback

News: Anders Lee scored a pair of third-period goals Tuesday against the Flyers, but it wasn't enough to avoid a 5-4 loss. Analysis: With the Isles facing a 4-1 deficit in the third period, Anders Lee went to work. First he scored a goal to make it 4-2, and 11 minutes later, he scored his 25th goal of the year with 28 seconds remaining to tie the game. Unfortunately, the Flyers' Brayden Schenn struck with three seconds left to counterfeit Lee's comeback efforts. The 24-year-old had been slumping recently, to the tune of just one point in his prior 10 games, but he's now cleared 40 points in his first full NHL campaign, and Lee's shown this year that his future surely holds greater things.

Isles' Lee Builds Point Streak To Six

News: Anders Lee scored the Isles' only goal Tuesday in a loss to the Rangers, pushing his point streak to six games. Analysis: He's got just a single point in each of those six games, but hey, a streak's a streak, and no one's complaining about Anders Lee's 23 goals on the season. He continues to grow into one of the game's better young power forwards.

Isles' Lee Has Five-Game Point Streak

News: Anders Lee built his point streak to five games with an assist in Monday's win over the Maple Leafs. Analysis: It ties the longest scoring run of the season for Anders Lee, who has been exceptional since landing on the top line with John Tavares. Even so, there's a chance that Lee's fantasy value may have already hit its peak, as Tuesday's return of Kyle Okposo (detached retina) from IR will likely force the Islanders to drop one of their wings from the top line. It should make for an incredibly difficult decision, as like Lee, the winger on the side opposite Tavares, Josh Bailey, has also thrived. Continue to monitor the Isles' line arrangements in the days to come.

Isles' Lee Finds Back Of Net In Loss

News: Anders Lee netted his 21st goal of the season in Tuesday's 3-2 overtime loss to the Stars. Analysis: Anders Lee, a former sixth-round draft choice, has been one of the bigger surprises in the NHL this year. Only 30 skaters have more goals than the Minnesota native, and it's worth noting that he's fired 17 shots on goal in the past five games.

Hot Play Continues For Isles' Lee

News: Anders Lee contributed a goal, two PIM, and four shots on goal in Tuesday's win over the Coyotes. Analysis: Anders Lee's scoring surge since joining the Isles' top line has largely been responsible for his uptick in fantasy ownership, but his sizable contributions in other categories shouldn't be overlooked either. In addition to the seven goals and seven assists he's provided over his last 13 games, Lee has averaged 3.46 shots and 2.69 hits during that span.