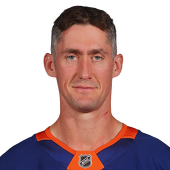 Own

60%

Start

46%

C Rank

40
by RotoWire Staff | Special to CBSSports.com

Islanders' Brock Nelson: Extends goal streak

Nelson scored two goals in Friday's 5-3 loss to Montreal to extend his streak to four games. His two-goal effort gives him five goals in his past four games as he continues his ascension on the Islanders' depth chart. A first-round pick from 2010, Nelson broke out with 20 goals last season, and with six goals in 19 games already, should be able to set a new career-high easily. He's got tremendous upside and certainly a player to watch on the waiver wire, if fantasy owners don't own him already.

by RotoWire Staff | Special to CBSSports.com

Islanders' Brock Nelson: Goals in three straight games

Nelson scored a goal for the third game in a row and pitched in an assist in Monday's 5-2 win over the Coyotes. Nelson has been skating on the top line with John Tavares recently, so it's no coincidence that he's now riding a three-game goal streak and four-game point streak -- a span in which he's collected six points. The 24-year-old now has 12 points in 19 contests this season and is an integral piece of the talented young forward group that supports John Tavares and Kyle Okposo in Brooklyn.

by RotoWire Staff | Special to CBSSports.com

Islanders' Brock Nelson: Two goals and two assists to start season

Nelson has tallied two goals and picked up two assists for the Islanders within their first five games. Nelson is off to a strong start this campaign after coming off a career-best, 20-goal 2014-15 season. The right wing has recorded a point in four of the five games he's played in this season and could continue to see opportunities when New York faces Columbus on Tuesday.

Islanders, Nelson Agree To Three-Year Deal

News: Brock Nelson signed a three-year, $7.5 million contract with the Islanders late Wednesday evening, NHL.com reports. Analysis: After the two sides failed to gain much traction in negotiations throughout the summer, Brock Nelson and the Islanders finally came to terms before Thursday's 7 a.m. ET deadline, when the winger would have needed to report for a pre-training camp physical in order to be eligible to play for the Islanders this season. The 23-year-old is coming off a career-best 20-goal season in 2014-15, and is expected to claim a spot in the team's top-six ranks during training camp.

Nelson, Islanders Still At An Impasse

News: Brock Nelson and the Islanders have yet to come to terms on a contract for the 2015-16 season, Newsday's Arthur Staple reports. Analysis: Brock Nelson and the Panthers' Jonathan Huberdeau are the most prominent of the NHL's dwindling list of still-unsigned restricted free agents, but both players are expected to reach agreements with their new clubs before training camp concludes. Nelson appears to be seeking a long-term contract on the heels of a 20-goal, 42-point season, but with no arbitration rights, he's had a tough time negotiating with the Islanders. The team appears to be unwilling to offer him much more than a two-year deal at this point, which might be what Nelson ultimately settles on.

Isles' Nelson Rejects Qualifying Offer From Isles

News: Brock Nelson has rejected the Islanders qualifying offer, reports Arthur Staple of Newsday. Analysis: Brock Nelson isn't going anywhere, he will play for the Islanders, but he will also have to agree to a new contract before September 17. That is the first day of training camp and owner Charles Wang has a rule, don't show up for the first day of camp, you don't play that season.

Isles Expected To Healthy Scratch Nelson

News: Brock Nelson is expected to serve as a healthy scratch for Thursday's Game 5 against the Capitals, Arthur Staple of Newsday reports. Analysis: After tallying two goals in the series opener, Brock Nelson has been largely invisible over the last three games, failing to record a point while attempting only two shots. With Mikhail Grabovski (concussion) returning to the lineup for Game 5, it looks like Nelson will lose out on a spot, as the 23-year-old remained on the ice with the Isles' expected healthy scratches during Thursday's morning skate. Affirmation on Nelson's scratch should come down during pregame warmups.

Isles' Nelson Scores Twice In Win

News: Brock Nelson potted two goals in Wednesday's 4-1 win over the Capitals. Analysis: Brock Nelson kicked off the scoring just six minutes into the first period, and sealed the deal with an empty netter at the end as well. The center finished the regular season with 20 goals and 22 assists in 82 games, and was impressive in just his second career playoff game.

Isles' Nelson Collects Secondary Assist

News: Brock Nelson was credited with a secondary assist in Saturday's 3-0 win over the Devils. Analysis: Brock Nelson was able to get back on the board Saturday, but with only 13 points since the beginning of January, the early-season honeymoon seems to be over. His ownership probably remains reasonably high in most leagues, but likely only because he's populating the rosters of fantasy owners who have long since abandoned managing their teams.

Isles' Nelson Claims Two Points In Win

News: Brock Nelson contributed a goal and assist and attempted five shots in Tuesday's 5-1 win over the Coyotes. Analysis: Brock Nelson would finish as the game's first star, but a more prominent role in the Isles' attack doesn't seem to be in the offing. The team has been satisfied with the play it has received from Anders Lee and Josh Bailey as the wings on the John Tavares line, leaving Nelson to stick in his third-line center role. Such an arrangement has generally been unfavorable for Nelson of late, as he's produced six points over his last 17 games.