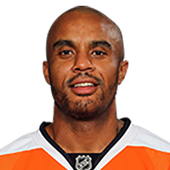 Own

1%

Start

0%

G Rank

NR
by RotoWire Staff | Special to CBSSports.com

Maple Leafs' Ray Emery: On tryout contract with AHL Toronto Marlies

Emery is on a tryout contract with the the AHL Toronto Marlies. He currently sits third on the depth chart with the team. The situation might not last long -- injured goalie Garret Sparks is due back soon and Antoine Bibeau will likely be back from the big club soon as James Reimer gets closer to full health. Emery is fully recovered from experimental surgery to halt avascular necrosis, which causes the deterioration of the ball in the hip. But Emery is unlikely to ever see NHL ice again -- the odds are long for him to return to the bright lights in an NHL city and he might end up in the ECHL sooner rather than later.

Bolts Sign Emery To PTO

News: Ray Emery signed a professional tryout offer with the Lightning on Tuesday, Joe Smith of the Tampa Bay Times reports. Analysis: With the news surfacing last week that Andrei Vasilevskiy would be sidelined for the next two-to-three months with a blood clot in his collarbone, the Lightning elected to bring in a veteran option in Ray Emery to compete with youngster Kristers Gudlevskis for backup duties behind No. 1 goalie Ben Bishop. Since coming out of nowhere to go 17-1-0 with a 1.94 GAA for the Blackhawks during their run to the Stanley Cup in the lockout-shortened 2012-13 season, Emery has floundered the last two seasons in Philadelphia, posting a GAA above 3.00 and a sub-.900 save mark. Even if he's able to hold off Gudlevskis for the backup gig in training camp, Emery will likely be let go by the Bolts once Vasilevskiy demonstrates he's healthy again.

Emery, Flyers Take Another Loss

News: Ray Emery gave up two goals on 26 shots Thursday in a 3-1 loss to Carolina. Analysis: Not a bad outing for Ray Emery, but the Flyers don't do a lot of winning these days. He's now got a six-game losing streak going, though it's some solace perhaps that four of those came in overtime.

Flyers Turn To Emery On Thursday

News: Ray Emery is slated to start Thursday's game against the Hurricanes, Sam Carchidi of the Philadelphia Inquirer reports. Analysis: With Ray Emery on track to become a free agent this offseason, this could be his final start for the Flyers, with Steve Mason presumably on track to start Saturday's season finale against the Senators. Emery will look to help the Flyers win their third straight game Thursday, while the Hurricanes have dropped their last two contests.

Flyers' Emery Takes Shootout Loss

News: Ray Emery gave up two goals on 26 shots before falling 3-2 in the shootout Saturday against the Hurricanes. Analysis: Ray Emery hasn't won since February 15 against Buffalo, although this was only his sixth start since. It's been a rough year all around for Emery, whose record sits at 10-10-7 with a 3.10 GAA and .893 save percentage through 30 appearances.

Flyers' Emery To Start Saturday

News: Ray Emery will start Saturday's game against Carolina, Tim Panaccio of CSN Philadelphia reports. Analysis: Steve Mason will start the second game of the back-to-back, Sunday against the rival Penguins. It's been a rough year in net for Ray Emery, but he'll at least catch a break here with the easier matchup.

Flyers' Emery Gives Up Five Goals In Loss

News: Ray Emery gave up five goals on 34 shots in Saturday's overtime loss to the Oilers. Analysis: Not a good night for Ray Emery, who made an unexpected start after projected starter Steve Mason felt ill after warmups. Emery drops to 10-10-6 on the season with a .892 save percentage and 3.15 GAA. He's a decent backup goalie, but his poor rebound control and lackluster rate stats make him unappealing in most fantasy leagues.

Flyers' Emery Finishes Game Thursday

News: Ray Emery stopped eight of the 10 shots he faced in relief of starter Steve Mason during Thursday's 4-1 loss to the Flames. Analysis: It was Mason who ended up with the loss on his ledger, as he was curiously pulled after conceding only two goals on 16 shots. The quick yank wasn't deemed to be injury-related, so Ray Emery won't be in line to see an uptick in starts in the near future. Though the Flyers' playoff hopes are fading fast, Mason will likely continue to bear the brunt of the duty in net until the team is officially eliminated from contention.

Flyers' Emery Loses In Shootout

News: Ray Emery gave up one goal on 28 shots in Sunday's shootout loss to the Senators. Analysis: A strong outing for Ray Emery, who falls to 10-10-5 on the season. He's got just one win in his last six games, making him an unattractive fantasy option down the stretch, especially when you consider the Flyers are out of the playoff race and the starting gig belongs to Steve Mason.

Flyers Could Start Emery On Sunday

News: Don Brennan of the Ottawa Sun suggests that Ray Emery is a candidate to start Sunday's game against the Senators. Analysis: Ray Emery last saw game action on Feb. 19, but with Steve Mason having started Saturday's win over the Wings, the Flyers could turn to Emery on Sunday against his former team.