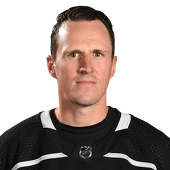 Dion Phaneuf
#3 D / Toronto Maple Leafs / EXP: 10YRS
Height: 6-3
Weight: 214 lb
Age: 30
College: None
Own

87%

Start

71%

D Rank

22
by RotoWire Staff | Special to CBSSports.com

Maple Leafs' Dion Phaneuf: Two more assists for much-maligned defender

Phaneuf picked up another two points via assists in Saturday's 4-2 loss to the Capitals. He now has 14 points in 23 games for one of his better offensive starts in recent, If he can stay healthy and continue to perform, Phaneuf can actually deliver about 40 points. And that's close to his best as a Leaf. He's a fine activation right now.

by RotoWire Staff | Special to CBSSports.com

Maple Leafs' Dion Phaneuf: Gets goal and assist

Phaneuf scored a goal and added an assist in Sunday's 4-3 loss to the Rangers. The points were his first in five games. Don't look now, but Phaneuf is actually on a 50-point pace. Where the heck did that come from? He hasn't performed this well in close to a decade, so take full advantage.

by RotoWire Staff | Special to CBSSports.com

Maple Leafs' Dion Phaneuf: Will play Tuesday

Phaneuf will be playing on Toronto's first line in Tuesday night's contest against the Stars in Dallas, Paul Hendrick of Leafs TV reports. Phaneuf can now officially be considered as the starter for the tilt with the Stars. He is likely to play on the first powerplay unit as well.

by RotoWire Staff | Special to CBSSports.com

Maple Leafs' Dion Phaneuf: Participates in morning skate

Phaneuf (illness) took part in Tuesday's morning skate in preparation against Dallas, Mark Masters of TSN reports. Phaneuf's participation Tuesday morning bodes well for his chances to play in Tuesday's match. However, his availability is uncertain and will be made clear as game time approaches.

by RotoWire Staff | Special to CBSSports.com

Maple Leafs' Dion Phaneuf: Dealing with flu

Phaneuf came down with the flu but is traveling with the team on their road trip, Jonas Siegel of TSN Radio 1050 reports. The team didn't release any further update on his status, and although he was able to skate for 26:15 worth of ice time in Saturday's loss, it's possible the illness forces Phaneuf to miss Tuesday's contest against the Stars. There should be more clarity on the situation prior to puck drop Tuesday.

by RotoWire Staff | Special to CBSSports.com

Maple Leafs' Dion Phaneuf: Resurrecting reputation under coach Mike Babcock

Phaneuf picked up his eighth assist of the season in Wednesday's loss to Winnipeg. He has eight points in 12 games this season and that puts him a tie for the team lead in points. Phaneuf is being used effectively this season by coach Mike Babcock and it's paying off in spades. He doesn't have to line up against the opposition's best players, so the pressure is off and that gives him some time and space to actually deliver offence. And Phaneuf is delivering at a mid-50s pace. Yes, you read that right.

by RotoWire Staff | Special to CBSSports.com

Maple Leafs' Dion Phaneuf: Quietly putting up points

Phaneuf has quietly put up three points -- all assists -- in the Leafs' first three games. OK, so that snuck up on us. Coach Mike Babcock has been proclaiming that Dion will have the best season he's had in a long time, but we hadn't even noticed his output so far. Maybe that was because we also didn't notice the typical gaffes that exposed him in his own zone the last few seasons -- his ice time is lower, so he's playing within his game. We're holding our breath a little right now -- we don't want to jinx it by speaking too soon.

Leafs' Coach: Best Year In Long Time For Phaneuf?

News: Dion Phaneuf has been working hard this summer and his new coach Mike Babcock says the defender is "going to have the best year he's had in a long time," according to the Toronto Sun. Analysis: Babcock is a big supporter of Dion Phaneuf, a player he was eager to get to Detroit last season at the deadline. Part of Babcock's plan will be to give him a day off each week from dealing with the hoards of media that follow the team and making the dressing room a safe place for him, good game or not. "We're not leaving him hung out to dry, either on the ice, with the media or in town," continued Babcock, in an apparent slap to the previous regime. Phaneuf could return to the 40-point mark if he's deployed the right way and protected, just like the coach says. His fantasy relevance might just return this season.

Leafs' Phaneuf: No Worlds Because Of Injury

News: Dion Phaneuf revealed after the season that his hand is still bothering him and he won't be participating in the World Championships as a result, reports Steve Simmons of the Toronto Sun. Analysis: He injured his hand in a fight in January, which aggravated an existing issue at the time. Apparently his hand is still swollen, so it's rest for the much maligned captain who may have played his last game for Toronto.

Leafs' Phaneuf Will Play Friday

News: Dion Phaneuf (illness) will play Friday against the Flames, Terry Koshan of the Toronto Sun reports. Analysis: Although he missed Friday's morning skate with an illness, Dion Phaneuf will indeed be in the Leafs' lineup Friday against Calgary. He's tallied three goals and 22 assists in 56 games with Toronto this season.