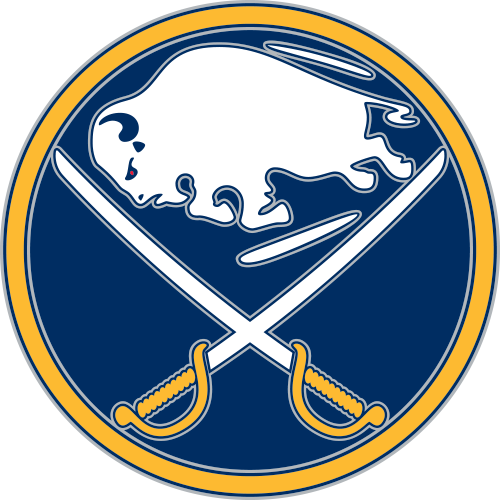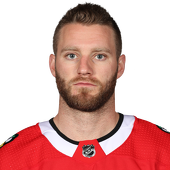 Cody Franson
#46 D / Buffalo Sabres / EXP: 6YRS
Height: 6-5
Weight: 213 lb
Age: 28
College: None
Own

43%

Start

33%

D Rank

39
by RotoWire Staff | Special to CBSSports.com

Sabres' Cody Franson: Notches two points, including first goal

Franson scored his first goal of the season and chipped in a power-play assist Tuesday in a win over the Lightning. While he's been a reliable presence on the Buffalo blue line, Franson's offensive game has only come around in fits and stats, with Tuesday arguably marking his finest effort of the year. All his points have come in the last nine games after he opened his Sabres career with six scoreless efforts.

by RotoWire Staff | Special to CBSSports.com

Sabres' Cody Franson: Tallies two helpers in huge 7-2 loss to Montreal

Franson was the lone bright spot for Buffalo in a 7-2 beatdown at the hands of the Canadiens on Friday, recording two assists. The rearguard somehow skated to an even rating despite the carnage going on around him while picking up his first points of the season. Franson is far from the best fantasy option on Buffalo's blue line given the emergence of Rasmus Ristolainen and the impending return of Zach Bogosian, but the 28-year-old has a couple 30-point seasons under his belt and is worth marking down on watch lists in deeper leagues.

by RotoWire Staff | Special to CBSSports.com

Sabres' Cody Franson: Returns to practice

Franson returned to practice Tuesday after taking a maintenance day on Monday. Franson should be good to go Wednesday against Toronto, his former team. He has yet to score a point in five games this season, but continues to be a staple on the power play. He's worth keeping an eye on in fantasy leagues given his offensive potential. Consistency continues to be the biggest problem, however, with six shots on goal against Columbus bust just one shot in his next two games.

by RotoWire Staff | Special to CBSSports.com

Sabres' Cody Franson: Day-to-day with undisclosed issue

Franson took a maintenance day Monday and coach Dan Bylsma indicated that he's day-to-day. It's unclear exactly what sidelined Franson on Monday, but it seems likely he's just dealing with some soreness. The Sabres don't play until Wednesday, so there it's still quite possible he'll be available for the contest against the Maple Leafs, but his presence, or lack thereof, at practice Tuesday and morning skate Wednesday should provide a bit more light on his potential availability.

Sabres' Franson To Help Power Play

News: According to General Manager Tim Murray, Cody Franson is expected to be a big help on the Sabres' power play, reports the Olean Times Herald. Analysis: Murray cited Cody Franson's shot from the point and his overall offensive skill as keys to improving Buffalo's power play, which ranked last in the league the previous season. Though Franson will likely play on the second or third pairing on even strength, he'll likely lead all Buffalo defensemen in ice time on the power play, which makes him a potential sleeper in fantasy. The Sabres attack was revamped and will have newcomers Evander Kane and Jack Eichel to start the season. Franson is much better playing the right side even though fellow righties Zach Bogosian, Rasmus Ristolainen and Mark Pysyk are also expected to make the team. Franson has scored more than 30 points in each of the past two seasons and should be able to replicate that kind of success this year.

Sabres Sign Franson

News: Cody Franson agreed a two-year, $6.65 million contract with the Sabres on Thursday, TSN's Bob McKenzie reports. Analysis: Cody Franson waited far longer than expected to reach a deal, but one of the summer's last remaining big names finally gets taken off the market. The 6-foot-5 defenseman had a good start to last season in Toronto, producing 32 points in 55 games, but struggled mightily after being dealt to Nashville, where he scored just four points in 23 games. The Sabres were short on veteran defensemen and had ample cap room, so Franson should represent a good fit. Franson immediately steps into the Buffalo lineup as a top-four defenseman and a power play option. He's worth considering as a late-round flier due to his offensive potential, but the Sabres may still prefer to have Zach Bogosian and Rasmus Ristolainen log the big minutes on the right side of the defense.

Franson Draws Free Agent Interest

News: Though Cody Franson remains unsigned, the blueliner indicated Tuesday that he's in contact with a number of teams, sportsnet.ca reports. "There's probably five or six teams we're talking to. There are some very interested ones, but some teams are in cap situations and all the rest that comes with it," Franson noted Tuesday. "Everything is just kind of slowly rolling." Analysis: Cody Franson, who is coming off three consecutive one-year deals, is hoping to ink a long-tern contract this time around, though apparently there is nothing imminent on that front. The 27-year-old notched seven goals and 36 points over 78 games between Toronto and Nashville this past season and at this juncture, the 6-foot-5 blueliner remains one of the top talents remaining in free agency.

Preds' Franson Will Play Friday

News: Cody Franson will play on Friday in Game 2 of Nashville's playoff series against the Blackhawks, Brooks Bratten of NHL.com reports. Analysis: As expected, Cody Franson will return to the Predator's lineup on Friday against the Blackhawks. He'll likely return to his spot on the team's third defensive pairing. Franson has tallied one goal and three assists in 23 games with Nashville this season.

Predators' Franson (Upper Body) Expects To Play

News: Cody Franson (upper body) expects to play Friday against the Blackhawks, Kristopher Martel of FOX Sports reports. Analysis: Cody Franson sat out Wednesday's opener due to the undisclosed upper body injury, but he told reporters Friday that he anticipates playing in Friday's Game 2. He'll likely return to his spot on the third defensive pairing.

Preds' Franson Will Miss Game 1

News: Cody Franson (upper body) will sit out Wednesday's playoff opener against the Blackhawks, Adam Vingan of The Tennessean reports. Analysis: Cody Franson was present for Wednesday's morning skate, but remained on the ice for extra work after the regulars departed. The 27-year-old, who contributed only one goal and four points in his 23 games with Predators after being acquired in a Feb. 15 trade, will be replaced on the third defensive pairing by Anton Volchenkov. Franson is still being regarded as day-to-day.