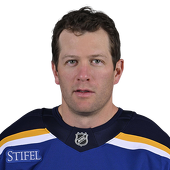 Ryan Suter
#20 D / Minnesota Wild / EXP: 10YRS
Height: 6-1
Weight: 198 lb
Age: 31
College: Wisconsin
Own

99%

Start

88%

D Rank

19
by RotoWire Staff | Special to CBSSports.com

Wild's Ryan Suter: Drives comeback, but falls short in loss

Suter scored a shorthanded goal and added an assist in Tuesday's 3-2 loss to Buffalo. The Wild fell into an early 3-0 hole, but Suter started a spirited comeback attempt by charging the other way shorthanded and benefiting from a fortunate bounce. He then had the primary assist on Thomas Vanek's game-tying tally late in the third, but that wasn't quite enough to make up the deficit. The goal was Suter's first since Dec. 15, as he doesn't put the puck in the net that often, but has been firing it without hesitation this year -- with 103 shots in 42 games, he's on pace to blow away his career high in that category. Perhaps not coincidentally, Suter also remains on pace to exceed 50 points for the first time in his career.

by RotoWire Staff | Special to CBSSports.com

Wild's Ryan Suter: Starting hot streak in aftermath of slump

Suter was credited with a pair of assists and a plus-4 rating Tuesday in a win over Columbus. That's three helpers in two games for Suter on the heels of a seven-game slide without a point. Sure, these were secondary assists, but they count just the same. It's been an unexpectedly productive campaign for the veteran defenseman -- known more for his ability to shut down opposing offenses, Suter's on pace to blow away his career high of 46 points, set in 2011-12 with the Predators.

by RotoWire Staff | Special to CBSSports.com

Wild's Ryan Suter: Has first multi-point game in weeks

Suter picked up two assists -- one on the power play -- and went minus-1 in Thursday's 5-2 win over the Rangers. It'd odd to see Suter end up on the negative side of the ledger -- the first time that's happened in a month. But multi-point games have been nearly as scarce for the veteran blueliner lately, as his last came Nov. 21 against Nashville. In the space between, he'd gathered just three points in 10 games, but with a goal Tuesday and now this performance, it looks like Suter's getting right back on track.

by RotoWire Staff | Special to CBSSports.com

Wild's Ryan Suter: Reducing minutes remains goal

Suter was a plus-2 and had 29:12 of ice time in Saturday's win over Colorado. He skated in a defensemen pairing with Jared Spurgeon. With Marco Scandella back after missing time due to injury, head coach Mike Yeo said he'd like to reduce Suter's ice time, the Minneapolis Star Tribune reports. The Wild always talk about reducing Suter's minutes (he's led the league in ice time the last three seasons), but it never seems to happen. Still, Suter averaged over 30 minutes the last nine games with several defensmen hurt, so he could see a slight decrease.

by RotoWire Staff | Special to CBSSports.com

Wild's Ryan Suter: Contributing never-before-seen offense

Suter notched the primary assists on both Jason Zucker goals Thursday in an overtime win against Carolina, adding two PIM and a plus-2 rating. With 14 points in 15 games, Suter's doing things on the offensive side of the ice that we've never seen from him before. Sure, most of it has been concentrated in the area of helpers, which can be fickle, but this nearly point-per-game pace is still quite the surprise. The 30-year-old blueliner has found the scoresheet in six of the last seven games while continuing to play his typical heavy minutes.

by RotoWire Staff | Special to CBSSports.com

Wild's Ryan Suter: Delivers helper Tuesday

Suter notched an assist in a 5-3 win over the Jets on Tuesday night. Suter is averaging 26:47 TOI per game, which is currently the third most in the NHL this season. With that much time on the ice, he should continue to get plenty of chances to work his magic with the puck. While Suter has never been much of a scorer, he is highly proficient in setting the table for goals -- the blueliner has 10 helpers and that has him on pace for 58 assists in 2015-16, which would be a career high in the unlikely event that he sustains the lofty setup production.

by RotoWire Staff | Special to CBSSports.com

Wild's Ryan Suter: Builds on early offensve surge with two goals

Suter scored his first two goals of the season Tuesday in a win over Edmonton. He opened the scoring in the first period, then helped the Wild mount a third-period comeback with his game-tying tally nearly midway through that frame. Despite having missed the scoresheet in consecutive games prior to Tuesday's action, Suter's off to a surprisingly fast start offensively, having racked up eight points in nine games. He also scored as many goals Tuesday as he did in 77 games last season. Still, considering his career high is a solid, but non-elite 46 points, expect Suter to balance out this hot start with some cooler stretches.

by RotoWire Staff | Special to CBSSports.com

Wild's Ryan Suter: Records sixth assist of 2015-16 season

Suter picked up an assist in Thursday's contest with Columbus. Suter has scored in five of six games this season, with a grand total of six points. His assist Thursday came after dancing down the left wing boards and feeding Zach Parise on the backdoor. The play was a reminder of Suter's offensive talent, which has been on display much more often this season than in previous years. Suter's average time on ice is 25:52 this season, about three minutes fewer than he has played since joining the Wild in 2012-13, and this reduced ice time may mean fresher legs for Suter and allow him more license to get involved in the offense.

by RotoWire Staff | Special to CBSSports.com

Wild's Ryan Suter: Collects two helpers in win

Suter collected two assists in a game-high 24:07 of ice time in Saturday's win over the Blues. A strong showing for Suter, who also finished with four blocked shots. Skating on the team's top defensive pairing and first power-play unit, expect another strong offensive season from Suter, who has piled on three helpers through two games thus far. Considering the 30-year-old has posted eight consecutive seasons between 30-50 points, you know what to expect from the 6'1" defensive force.

Could spike offensively with Jared Spurgeon

News: Ryan Suter, a left-handed shot, could benefit offensively from Jared Spurgeon, a right-handed shot, playing on his right side. According to Wild head coach Mike Yeo, "That could open some things up through the neutral zone, but I would say more specifically the offensive zone - getting some pucks coming across to him, having somebody that would be on their forehand, that could help him and benefit him to create a little bit more offense." Analysis: Ryan Suter is the leader of a strong Minnesota defense that collectively allowed just 201 goals last season, tied with St. Louis for second best in the Western Conference en route to a plus-30 goal differential last season. Sutter has averaged 37.6 points per season since coming over to the Wild in 2012-13.