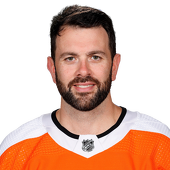 Keith Yandle
#93 D / N.Y. Rangers Rangers / EXP: 9YRS
Height: 6-1
Weight: 190 lb
Age: 29
College: None
Own

99%

Start

89%

D Rank

24
by RotoWire Staff | Special to CBSSports.com

Rangers' Keith Yandle: Five game slump

Yandle has just point (assist) in his last five contests. Just his second three game point-scoring drought, despite logging third pairing ice time, the 29-year-old defenseman isn't likely to stay in any rut for too long, stay patient. Yandle is plus-4 with 10 points through 20 games played.

by RotoWire Staff | Special to CBSSports.com

Rangers' Keith Yandle: scores first of the year against former teammates

Yandle scored his first goal of the season in Thursday's 4-1 victory over Arizona. What could be sweeter than your first goal of the season? How about against your former team. The top-four defenseman is off to a very solid beginning to the season with five points through the team's first eight games.

Rangers' Yandle (Shoulder) Feels 100 Percent

News: Keith Yandle (shoulder) says his shoulder is 100 percent and feels no ill effects from the injury he sustained during the playoffs, Andrew Gross of The Record reports. Analysis: The entire Rangers' top four played through a spate of injuries during the postseason, most of which weren't revealed until after their season ended. Keith Yandle seemed to play better during the playoffs than he did during the regular season for the Rangers, as he struggled to adjust to his new surroundings after being moved at the deadline. With a full training camp under his belt in addition to the games he played last season, Yandle should be more settled in his role as a scoring defenseman for a Rangers team that looks poised to make another deep run in the playoffs.

Rangers' Yandle Played With Sprained AC Joint

News: Keith Yandle (shoulder) played with a sprained AC joint for much of the Rangers' playoff run, Andrew Gross of The Record reports. Analysis: The injury didn't noticeably affect Keith Yandle's playing time or production during the playoffs, but the fact that New York was so banged up on the blue line (Ryan McDonagh, Marc Staal, and Dan Girardi also played through injuries) likely contributed to their demise in the Eastern Conference Finals. The injury shouldn't prevent Yandle from being back at full health when training camp commences in September.

Yandle Helps Rangers Force Game 7 Against Tampa

News: Keith Yandle scored his second goal of the playoffs and added a power-play assist Tuesday in a Game 6 victory against Tampa Bay. Analysis: He's played his best hockey since joining the Rangers -- by far -- in the Eastern Conference finals against the Lightning. Over the first six games, Keith Yandle's racked up seven points and a plus-6 rating, as this series' fast-paced play has been right up his alley. The Rangers will be counting on Yandle to help drive their offense from the blue line in Game 7 on Friday.

Yandle Finally Breaks Through For Rangers

News: Keith Yandle scored his first goal of the playoffs and handed out two assists -- one on the power play -- in Friday's Game 4 victory over Tampa Bay. Analysis: The goal was a lucky one -- he fired a shot that was headed well wide of Tampa goalie Ben Bishop, but ended up deflecting in off a Lightning defenseman and into the net. Nonetheless, it's a fitting reward for Keith Yandle's tremendously improved play over the last few games. He's got nine points in these playoffs now, with five of them (and a plus-4 rating) having come in the last two games.

Rangers' Yandle Adds Two Assists Wednesday

News: Keith Yandle racked up two assists in Wednesday's 6-5 OT loss to the Lightning. Analysis: Keith Yandle hasn't been quite as productive as the Rangers hoped he would be when they acquired him from the Coyotes at the trade deadline, but his speed has been a key component of New York's dangerous blue line depth. He was one of the few bright spots defensively Wednesday night, finishing with a plus-2 rating to go along with his two points.

Rangers' Yandle Registers Assist, Five SOG In Win

News: Keith Yandle finished with an assist and a team-high five shots on goal in Friday's 3-2 Game 5 overtime victory over the Capitals. Analysis: The Rangers were on the brink of elimination from the postseason late in the third period before Keith Yandle helped intervene, setting up Chris Kreider to knot the score at 1-1 with 1:41 remaining in regulation. Yandle picked a good time to generate just his third point of the postseason, but the Rangers may need more production out of the star blueliner in order to come back from a 3-2 series deficit.

Rangers' Yandle Returns To Practice

News: Keith Yandle (general soreness) resumed practicing Wednesday, Pat Leonard of the New York Daily News reports. Analysis: Keith Yandle has been held out of practices for the last week-plus, but it hasn't yet put his availability at risk for any of the Rangers' games. His involvement in Wednesday's session virtually ensures that he'll be good to go for Thursday's Game 1 against the Capitals. Yandle is expected to be joined on the third pairing by Kevin Klein, who is poised to play for the first time since breaking his arm March 11.

Rangers' Yandle Misses Practice

News: Keith Yandle (soreness) did not practice Tuesday. Analysis: As Andrew Gross of the Record notes, Keith Yandle -- who is dealing with overall body soreness -- has not practiced or participated in a morning skate with the Rangers since April 18, when the blueliner absorbed a Blake Comeau body check. That said, Yandle hasn't missed any game action since then, with the Daily News relaying that the defender is slated to remain in the Rangers' lineup for Game 1 of the team's second-round playoff series.