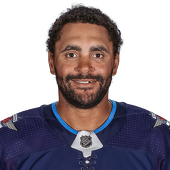 Dustin Byfuglien
#33 D / Winnipeg Jets / EXP: 10YRS
Height: 6-5
Weight: 265 lb
Age: 30
College: None
Own

100%

Start

94%

D Rank

10
by RotoWire Staff | Special to CBSSports.com

Jets' Dustin Byfuglien: Talies game-winner

Byfuglien tallied the game-winning goal and an assist in Friday's game against Minnesota. In addition to a pair of points, Byfuglien had six shots, a plus-2 rating and 23:47 of ice time. It was a great night for Big Buff.

by RotoWire Staff | Special to CBSSports.com

Jets' Dustin Byfuglien: Scores in loss

Byfuglien scored his first goal in five games en route to a 3-2 loss Monday against St. Louis. Winnipeg as a whole has struggled this year, starting the season 8-9-2 and losing seven of their last eight games (1-6-1). Byfuglien hasn't been immune to the Jets' struggles either, as he has scored just 10 points in 19 games, good for a scoring rate of 0.523 points per game. Since Byfuglien joined the Winnipeg franchise in 2010-11, he was scoring at a rate of 0.697 points per game prior to this season. Big Buff is only 30 years old, so it's doubtful that he's on the decline, but it will continue to be difficult to produce offensively if the Jets' are unable to turn their poor play around.

by RotoWire Staff | Special to CBSSports.com

Jets' Dustin Byfuglien: Solid start to season

Byfuglien has registered four goals, four assists, and has a plus six rating in 15 games this season. Byfuglien is now in his fifth year with Jets and is on pace for another 40 plus point season. The anchor of the defense has tallied eight points in 15 games this season and is currently ranked 20th among defensemen in points. Byfuglien will likely continue to see 23 minutes of ice time a game and lead the first-unit power play that has scored on 18 percent of its opportunities.

by RotoWire Staff | Special to CBSSports.com

Jets' Dustin Byfuglien: Will play Tuesday against Rangers

Byfuglien (leg) will play Tuesday against the Rangers. Byfuglien injured his leg late in the third period of Monday's tilt against the Islanders, but the ailment apparently isn't serious enough to hold him out of Tuesday's matchup with the Rangers. The big defenseman has two points (one goal, one assist) through three games with the Jets this season.

by RotoWire Staff | Special to CBSSports.com

Jets D Dustin Byfuglien suffers leg injury late on Monday

Jets defenseman Dustin Byfuglien injured his leg late in the third period Monday, but coach Paul Maurice didn't offer an update on his status after the game, Ken Wiebe of the Winnipeg Sun reports. The extent of Byfuglien's injury remains a bit unclear, but more will likely become known in the near future. The Jets play again on Tuesday, so his status during the morning skate should provide a decent outlook on his potential availability for the game.

Leaves team, but will play Thursday

News: Dustin Byfuglien left the ice during practice Wednesday due to the birth of a child, but he will be in the lineup Thursday against the Bruins, Ted Wyman of the Winnipeg Sun reports. Analysis: Dustin Byfuglien continues to levy for a contract extension, but those talks have been stale of late. Proving his dedication to the team, he will be in the lineup for Thursday's season opener despite the birth of his child. He's expected to serve exclusively on defense for the Jets this season.

Jets, Byfuglien Not Progressing In Contract Talks

News: Jets GM Kevin Cheveldayoff said last week that the team and Dustin Byfuglien's representatives have yet to make much progress on a contract extension for the defenseman, the Winnipeg Free Press reports. "Dialogue is ongoing at different stages with different people," Cheveldayoff said. "Again, there's lots of moving parts that come into play. Some of it is things that are in your control. Some are things that are out of your control with respect to maybe other people in the marketplace or other contracts." Analysis: Dustin Byfuglien is entering the final year of his five-year, $26 million deal and is slated to become an unrestricted free agent next summer. It doesn't sound as though the two sides have hit a point of no return in negotiations, so expect talks to progress over the next few months. Though he's occasionally spent time at forward since the Jets franchise relocated to Winnipeg, it appears coach Paul Maurice remains committed to using Byfuglien exclusively on defense this season, where he'll retain his most fantasy value.

Jets' Byfuglien Played With Dislocated Rib

News: Dustin Byfuglien played with a dislocated rib in the Jets' playoff series against the Ducks, 680 CJOB Sports reports. Analysis: The fact that Dustin Byfuglien was nursing an injury during Winnipeg's series against Anaheim leads one to wonder if it affected his play, as he only managed to tally one point in the series after registering 45 points during the regular season. He should be ready for the beginning of next season.

Jets' Byfuglien Tallies Assist In Game 4 Loss

News: Dustin Byfuglien supplied a power-play assist in Wednesday's Game 4 loss to the Ducks. Analysis: It goes down as the only point of the postseason for Dustin Byfuglien, who struggled to make a mark throughout the series on the offense end. He at least provided a physical presence on the Jets' back end, accruing 17 hits and blocking five shots over the four games.

Suspension Over For Jets' Byfuglien

News: Dustin Byfuglien has completed his four-game suspension and will be eligible to return to the Jets' lineup Saturday against the Flames. Analysis: The Jets managed to secure a playoff spot despite Dustin Byfuglien's absence down the stretch, but the physical defenseman will have an opportunity to get back on the ice once more before the regular season draws to a close. While Winnipeg has little incentive to play its regulars for their usual amount of minutes in a mostly meaningless finale, Byfuglien might be one of the few exceptions since he hasn't played in a game since March 31. Given his incredible production this season from the blue line (18 goals, 45 points, 202 hits, 122 PIM in 68 games), it still appears worthwhile to use Byfuglien in daily formats.